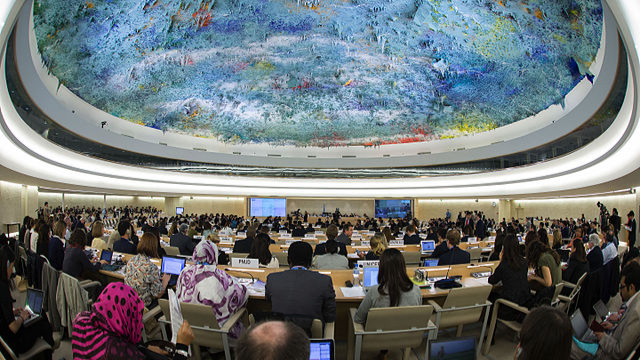 China's appointment to a United Nations human rights panel has sparked a global outcry, especially among rights activists and ethnic minority groups subject to Beijing's rights abuses and discrimination.
The country was appointed on Wednesday to a panel where it will play a key role in selecting U.N. Human Rights Council's investigators charged with monitoring human rights, including abuses of the freedoms of speech, the right to health, enforced disappearances and arbitrary detention, the NGO U.N. Watch said in a report.
The group's executive director Hillel Neuer said the appointment was "like making a pyromaniac into the town fire chief," the report said.
"It's absurd and immoral for the UN to allow China's oppressive government a key role in selecting officials who shape international human rights standards and report on violations worldwide," it quoted Neuer as saying.
China will be able to influence the selection of at least 17 investigators over the next year, as well as vetting and recommending candidates for critical human rights posts.
Veteran rights activist Yang Jianli, who has acted as adviser to U.N. Watch, said the move was fresh proof that the U.N. Human Rights Council is now a defunct organization.
"China's appointment to the advisory panel proves once again that the United Nations is no longer able to fulfill its proper functions," Yang said.
"To say that the U.N. Human Rights Council is now purely cosmetic is putting it mildly; actually it now defends human rights abusers," he said.
'Like appointing a wolf to protect sheep'
In Dharamsala, India, a spokesman for the Central Tibetan Administration in exile said the move was "very unfortunate."
"It will greatly disturb the world order and restructure the narrative around human rights," T.G. Arya said.
"Tibetans, Chinese, Uyghurs, Mongolians and the people of Hong Kong, who are all victims of the Chinese Communist Party's oppressive regime, all now fear that they will not get fair hearing," he said. "It is like putting an eagle in a dovecote."
He warned: "If China's diplomatic arm-twisting continues undeterred in this way, it will encourage the rise of totalitarianism."
The International Campaign for Tibet said China's appointment to the panel was "a blow to the global human rights system."
"At the UN Human Rights Council, China obstructs civil society participation and makes a mockery out of established human rights mechanisms, such as the Universal Periodic Review," it said.
Dolkun Isa, president of the Munich-based World Uyghur Congress (WUC) exile group, citing China's incarceration of up to 1.8 million Uyghurs and other Muslim minorities in internment camps since April 2017, said putting China on the panel was "like appointing a wolf to protect sheep."
"In order to deflect international condemnation and cover up its crimes against humanity in East Turkestan, China has been aggressively manipulating the United Nations mechanisms and monopolizing important position to promote its disinformation and propaganda campaigns," he added. East Turkestan is many of the 10.5 million Uyghurs' preferred name for the Xinjiang Uyghur Autonomous Region (XUAR), established by China in 1955, six years after Beijing's new communist government asserted control over the region.
The Uyghur Human Rights Project (UHRP) said Beijing should play no role in the selection of U.N. rights experts and investigators.
"The Chinese government is committing crimes against humanity as we speak," UHRP Executive Director Omer Kanat said. "What are the chances that the Chinese representative will agree to have truly independent monitors in these roles?"
Veto power to Beijing
The group said China has failed to answer outstanding requests and reminders from at least 17 UN experts investigating cultural rights, freedom of assembly and expression and enforced disappearances, among other abuses, some of which date back two decades.
"It intimidates victims who try to bring cases to the UN and has repeatedly blocked any independent investigation of its arbitrary detention of 1.8 million to two million Uyghurs and other Turkic Muslims," the UHRP said.
"When UN experts are permitted to enter the country to investigate, many have documented harassment, intimidation, a refusal to be granted access to certain locations or individuals, and unacceptable government controls throughout the visit," it said.
The five-nation panel, now consisting of China, Chad, Spain and Slovenia (with one state awaiting nomination), makes crucial decisions about which candidates pass through the initial stages in the appointment process, it said.
"The Chinese mission in Geneva will effectively hold veto power over any candidates it does not favor," UHRP said, warning that China is already trying to rewrite the definition of human rights at the U.N. to suit its own purposes.
In Washington, seven Republican U.S. Senators sent a tletter o UN Secretary General Antonio Guterres opposing the appointment, citing its controversial handling of the Wuhan coronavirus outbreak.
"The Chinese government's decision to deceive the international community about the grave dangers of the initial 2019 novel coronavirus (COVID-19) outbreak in Wuhan, China, violates any credibility on human rights and should disqualify them from a position on the Human Rights Council Consultative Group," said the group, which included former Republican presidential primary candidates Ted Cruz and Marco Rubio.
"Through intimidation of its medical first responders, censorship of online forums, and threats of severe punishment for anyone who dared to speak out with the truth, the Chinese Communist Party engaged in its most egregious human rights abuse: the unchecked spread of a new and dangerous virus on an unwitting global population."
Reported by Xue Xiaoshan for RFA's Mandarin Service, by Lobe for the Tibetan Service, and by Alim Seytoff for the Uyghur Service. Translated and edited by Luisetta Mudie.

Source: Copyright © 1998-2016, RFA. Used with the permission of Radio Free Asia, 2025 M St. NW, Suite 300, Washington DC 20036. https://www.rfa.org.