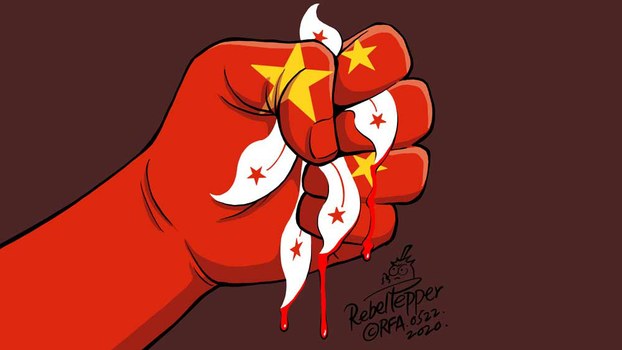 The ruling Chinese Communist Party (CCP) has signaled a further clampdown on dissent in Hong Kong, with a public denunciation of a pro-democracy group and apparent plans to make changes to the city's judiciary.
Zhang Xiaoming, deputy director of the Hong Kong and Macao Affairs Office under China's State Council, vowed that "anti-China" disruptive elements would be driven out of public life.
In a speech to an online conference, Zhang called on Hong Kong to start putting "patriotism before the core values of democracy, freedom, and human rights advocated by Hong Kong society."
"It is only natural to demand that those who govern Hong Kong must be patriots," Zhang said, adding: "Those who oppose China in order to create chaos in Hong Kong need to get out."
Current affairs commentator Johnny Lau said the term "patriot" was vague enough to enable its use at the whim of the authorities.
"He is using this very vague concept of patriotism to regulate and bind political actors in the future," Lau told RFA. "The definition of who is a patriot is pretty vague, and can just be defined by the government."
"This means that the authorities will be able to act arbitrarily towards anyone based on whether they are deemed patriotic or not, whenever they like," he said.
Zhang also called for "reform" of Hong Kong's judicial system.
"Even in Western countries, judicial systems have to catch up with the times and reform constantly," he said.
His comments came after the Hong Kong Bar Association (HKBA) criticized the recent disqualification of four pro-democracy lawmakers on Beijing's say-so.
"The entirety of the Government's approach in stripping the four legislators who have been chosen by the electorate in their respective functional or geographical constituencies of their right to continue in office, determined exclusively by the executive, and without affording them an opportunity to be heard, violates the basic principles of fairness and due process inherent in the Rule of Law," it said in a statement on its website.
Zhang's comments follow repeated demands for "judicial reform" in China-backed media and among pro-China politicians, who have accused magistrates of bias for acquitting people facing charges linked to last year's protest movement.
Pro-China figures are also accusing the Hong Kong Alliance in Support of the Patriotic Democratic Movement in China, which organizes an annual candlelight vigil to mark the June 4, 1989 Tiananmen massacre, of violating a draconian national security law imposed on Hong Kong since July 1.
Stepping up suppression
Chung Kim-wah, former assistant social science professor at Hong Kong's Polytechnic University, said the authorities will continue to step up suppression of all forms of peaceful dissent or opposition to the party line.
"Given the situation, it is natural that the Alliance is in the line of fire, because it has called for decades for a reappraisal of the 1989 Tiananmen protests [styled a 'counterrevolutionary riot' by the CCP]," Chung told RFA.
He said an op-ed article published this week in the pro-China Commercial Daily newspaper by mainland Chinese scholar Tian Feilong was clearly a warning shot to the group under the new national security regime.
"Tian Feilong basically accused it of accepting overseas donations to foment a color revolution, among other things," he said. "He doesn't need to present evidence — just saying these things is enough."
The National Security Law for Hong Kong outlaws words and deeds deemed by the authorities to constitute separatism, subversion or terrorism, or collusion with a foreign power, including any speech likely to turn people against the CCP or the Hong Kong government.
Its implementation prompted a number of countries to end their extradition agreements with Hong Kong, with the United States warning its citizens they could be at risk of arbitrary arrest, while rights groups say the definitions are vague enough to allow the city's newly established national security police to target peaceful political activity.
A national security hotline set up last week to encourage anonymous tip-offs received nearly 10,000 reports in its first week of operation.

'Red lines'
Former Alliance chairperson Andrew To said Tian's article was a political denunciation in the style of the Cultural Revolution (1966-1976), and will lay down new "red lines" for public discussion of China's past in Hong Kong.
"We will have to stick to the party line, so if the CCP calls something a riot, you have to call it a riot, too," To told RFA. "Either that or you will be denounced as unpatriotic."
"I think Beijing will going after [civil society groups], one by one," he said. "The fact that they are denouncing the Alliance means that they will be going after anyone who carries on talking about June 4, or taking part in public memorials."
"That's the way they operate," he said.
Andrew Shum, who founded the NGO Civil Rights Watch, said the accusation of fomenting a "color revolution" will likely be leveled at any pro-democracy group or protest movement from now on.
"I think Beijing is trying to create a chilling effect, so that people start to worry about what they can do and say, including … taking part in the candlelight vigils," Shum said.
"People will worry that maybe there are certain things we can't do any more, whether they should do it anyway," he said. "We worry that our democratic freedoms are constantly shrinking."

Reported by Man Hoi Yan and Tseng Yat-yiu for RFA's Cantonese and Mandarin Services. Translated and edited by Luisetta Mudie.
Source: Copyright © 1998-2016, RFA. Used with the permission of Radio Free Asia, 2025 M St. NW, Suite 300, Washington DC 20036. https://www.rfa.org.