The Inner Mongolia government also orders schools to phase out Mongolian-medium teaching by the third grade.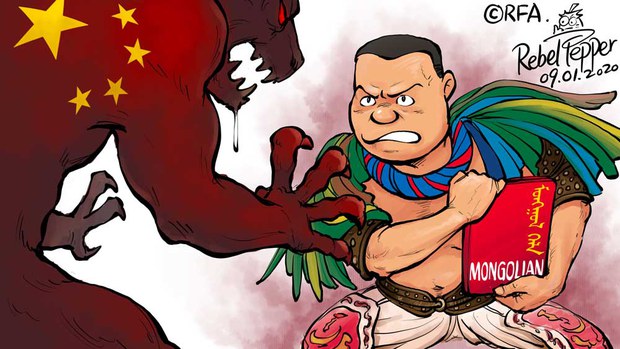 The ruling Chinese Communist Party (CCP) has stepped up moves to eliminate the Mongolian language in schools in its northern region of Inner Mongolia, ordering Mongolian-medium primary schools to switch to Chinese-medium teaching by the third grade, RFA has learned.
The move comes after local education authorities quietly ordered Mongolian-medium schools in the region to begin switching to Chinese-medium classes in late August, sparking a regionwide protest and class boycott that saw thousands of ethnic Mongolians arrested in the crackdown that followed.
Now, the Inner Mongolia Autonomous Region government has ordered Mongolian-medium primary schools to end all Mongolian-medium teaching by the third grade, delivering all lessons in Chinese.
Ethnic Mongolians holding official posts in school CCP committees and educational and cultural institutions are already being replaced with majority Han Chinese officials, according to Tie Mulun, a Japan-based member of the exile group Great Hural Assembly of Southern Mongolia.
Tie said the authorities have "various plans for the mandatory promotion of Chinese culture" to be implemented in 2021.
"Mongolian cadres are holding political meetings around the end of this year, at which they [are expected to] denounce and criticize each other," Tie told RFA on Tuesday. "
"The party secretaries and principals of Mongolian-medium schools are mostly ethnic Mongolians right now," he said.
"Starting on New Year's Day, the CCP party secretaries in Mongolian-medium schools will be replaced, with a view to making sure they are all Han Chinese by March," Tie said.
He said Mongolian-medium schools are also being required to hold a national flag-raising ceremony every morning before class.
In Bairin Right Banner, a county-like administrative division, the local education bureau is also requiring Mongolian-medium schools to enroll Han Chinese pupils, imposing a 50 percent target on principals.
"Mongolian schools in Bairin Right Banner will soon be a thing of the past, because they have ordered Mongolian-medium secondary schools to admit Han Chinese students, up to 50 percent," Tie said.
There are also plans afoot to cut back on Mongolian-language programming on state-run Inner Mongolia TV, with more shows about Han Chinese and CCP history, and an end to Mongolian-language news broadcasts, Tie told RFA.
"There will be changes to programs on Inner Mongolia TV," he said. "Mongolian-language programming may gradually disappear; [the government says] it is not appropriate for Inner Mongolia."
Han ethnonationalism
Japan-based former university professor Yang Haiying said he had heard the same news from the region.
"It shows that the CCP has stepped up its practice of Han ethnonationalism, to the extent that they want to place Han Chinese party secretaries in all of the workplaces [in culture and education]," Yang said.
"Previously, they wanted Han Chinese to hold the top posts in the party, government and military, but not so much in education," he said.
"This is a total suppression of any so-called autonomy," Yang said, in a reference to the official name of the Inner Mongolia Autonomous Region.
Since protests over the changes to language policy rocked the region, the government has also been mass recruiting secondary school teachers from elsewhere in China to work in the region's schools, publicly available recruitment notices have revealed.
An estimated 10,000 people were arrested or placed under other forms of detention since hundreds of thousands of Mongolian students and their families staged a regionwide civil disobedience campaign against the phasing out of Mongolian in schools that were previously Mongolian-medium.
While many have since been released, some high profile activists including rights lawyer Hu Baolong and activist Yang Jindulima remain in incommunicado detention, according to Nomin, an ethnic Mongolian currently in the U.S.
Government censors have also mass deleted social media posts and accounts, and posted agents in Mongolian-language chat groups to quash any dissent or real-time news coming out of the region.
Reported by Qiao Long for RFA's Mandarin Service. Translated and edited by Luisetta Mudie.
Source: Copyright © 1998-2016, RFA. Used with the permission of Radio Free Asia, 2025 M St. NW, Suite 300, Washington DC 20036. https://www.rfa.org.