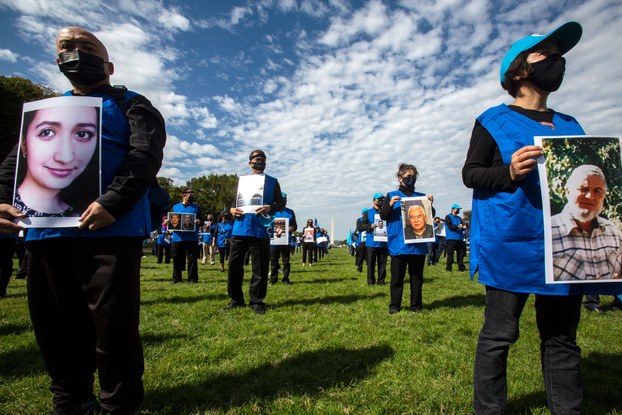 Hundreds of Tibetans, Uyghurs and Hong Kongers and supporters including U.S. lawmakers rallied in in Washington Thursday to mark China's National Day with protests over deepening Chinese repression in those regions.
The rally near the U.S. Capitol — part of a chain of protests in 60 cities from Canada to Sweden to New Zealand called "Resist China: A Global Day of Action"  — highlighted repression in Hong Kong, Tibet, and Xinjiang while calling attention to heavy-handed language policies in Inner Mongolia and threats to Taiwan.
Hong Kong, Tibet, and Xinjiang are each formally "autonomous regions" of the People's Republic of China that have experienced increasingly heavy-handed rule from Beijing during the eight-year tenure of Chinese leader Xi Jinping.
Grievances toward Beijing by Uyghurs and Tibetans stretch back to the founding of the People's Republic of China (PRC) 71 years ago Thursday, a development that brought the regions under repressive communist rule and ended centuries of independence or varying degrees of autonomy from imperial Beijing.
The target of Thursday's protests in world cities including Washington, Istanbul and Bangkok focused on present-day Chinese actions in Xinjiang, chiefly Beijing's sprawling network of re-education camps and program of forced labor by current and former camp inmates.
China is believed to have detained up to 1.8 million Uyghurs and other Muslim minorities since April 2017, subjecting them to political indoctrination.
Tibet protesters and supporters focused on longstanding repression of religion and erasure of cultural identity, as well as recent developments including a media blackout of the Himalayan region and policies that replace the Tibetan language with Chinese as the medium for education.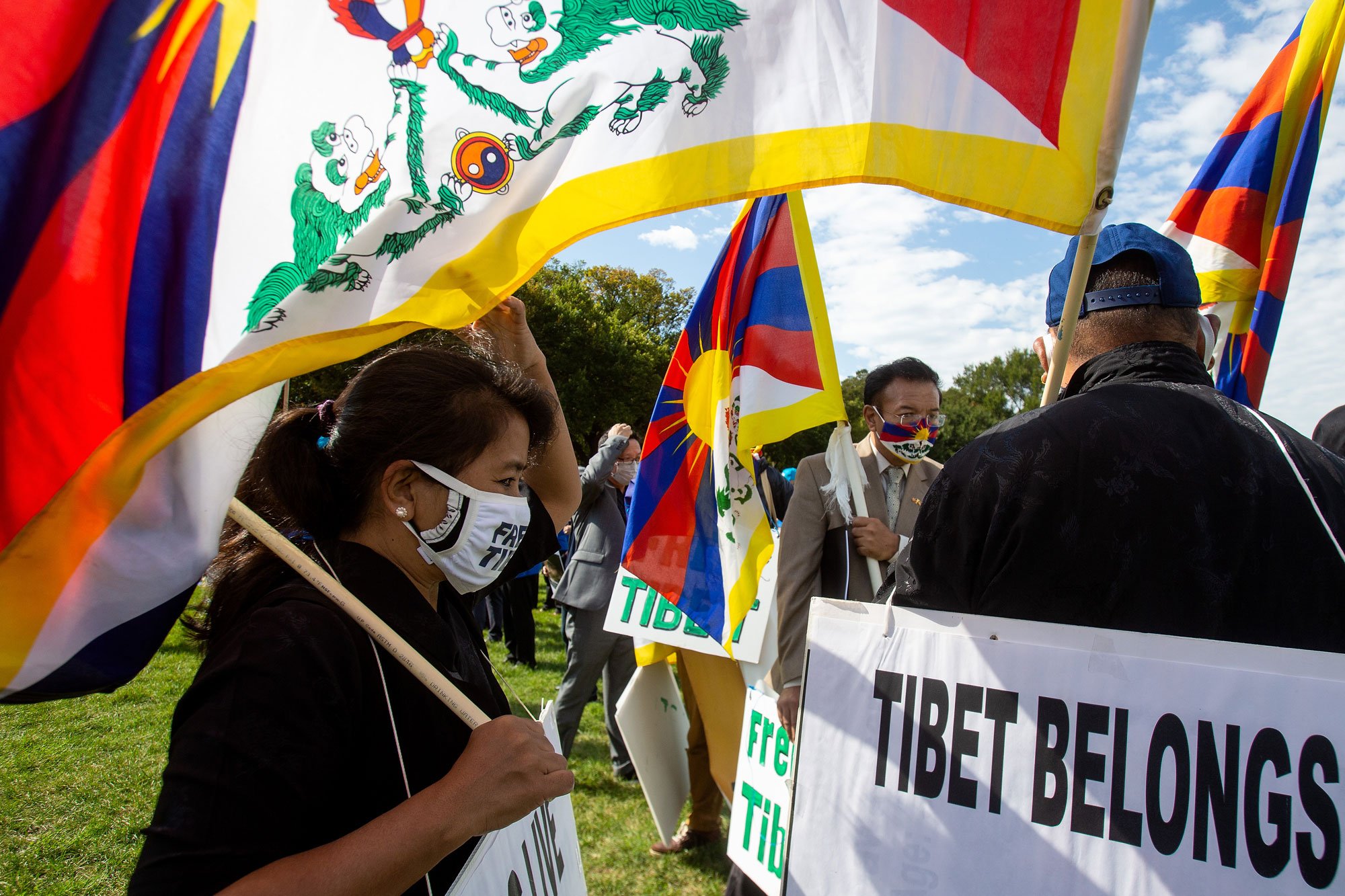 Flags and slogans
Hong Kong's simmering resentment at Chinese political encroachment since it came under Beijing's control in 1997 broke into the open in 2019 with widespread protest that were met with heavy police force.
China responded by imposing a harsh national security law in Hong Kong from July 1 that has brought civil liberties in the once freewheeling former British colony closer to mainland norms.
Against blue early autumn skies on Thursday, protesters held high "Free Tibet" and "Free Southern Mongolia" posters, photos of Uyghurs who were disappeared by the Chinese government, and the light blue star and moon flag representing East Turkistan, the Uyghurs preferred name for their region, the snow mountain lion flag of Tibet, and the black flag of Hong Kong protesters.
"The Chinese regime is foolishly clinging to their evil ways," said Campaign for Uyghurs founder and director Rushan Abbas.
"The name of China has been ruined, and this shame will not be erased for a thousand generations. We demand of the entire world: Do not be counted with them. The conscience of the world is being tested today!" he told the crowd.
In a statement from Germany, World Uyghur Congress president Dolkun Isa called the PRC's foundation day "a very sad anniversary for the Uyghur people."
"All promises to the Uyghur people have been broken. Instead of granting autonomy, self-governance and human rights, Uyghurs are now experiencing a genocide," he said.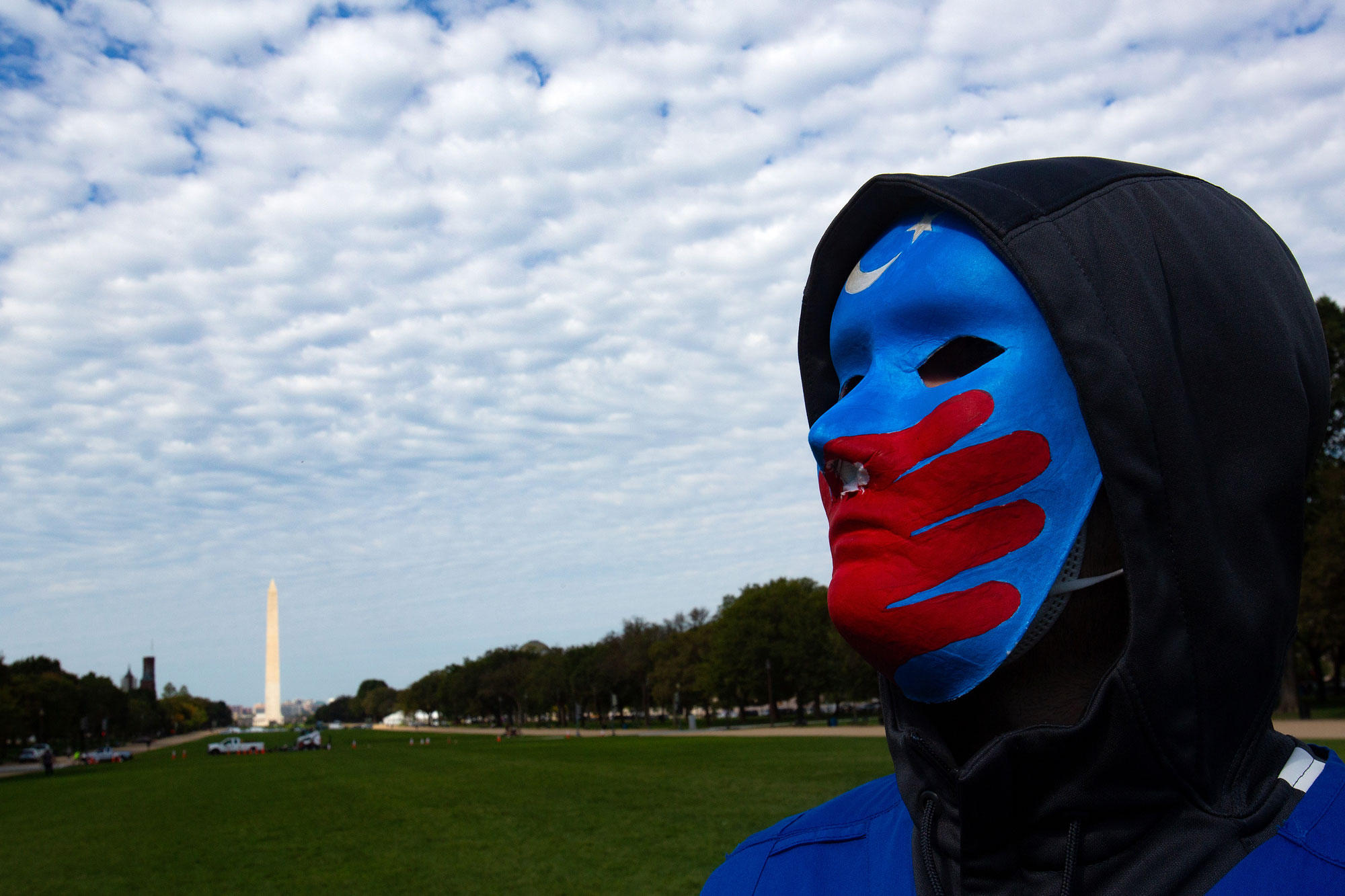 Turkey to Thailand
Joyce Ho, an 18-year-old Hong Kong human rights activist, wore a black mask to the rally and called on young people to speak up against repression.
"The protests in Hong Kong were mainly promoted by young people, demonstrating the influence and power of young people. It is our responsibility to support democracy and human rights movements, because we are the future of this world," she said.
Yang Jianli, founder of a U.S.-based activist group called Citizens Force, told the crowd that the Chinese Communist Party's extermination of minority cultures and oppression of Hong Kong threatened Taiwan.
Under Xi Jinping, Yang said "the persecution methods are more cruel than before, including the punishment of torture for every political prisoner."
"In China we see that many ethnic minorities face persecution, but Han people are also subject to much political persecution." Yang Jianli said, referring to the largest ethnic group, accounting for more than 90 percent of Chin's 1.4 billion people.
The AFP news agency reported that about 500 demonstrators marched in the Turkish city Istanbul on Thursday to protest over China's treatment of Uyghurs.
They held up pictures of their missing families and displayed banners reading: "Where's my family?", "Free my family" and "Shut down concentration camps!"
Hong Kong's South China Morning Post reported that about two dozen mostly college students in Bangkok gathered opposite the Chinese embassy, bearing messages of support for protesters in Hong Kong as well as Tibetans and Uyghurs.
The newspaper quoted organizer Napassorn Saengduean, a political science student at Bangkok's Chulalongkorn University, as saying her group, Anti One China TH, aimed to raise awareness among Thais that "the Hong Kong national security law and the human rights abuses in Xinjiang and Tibet" – had effects on the world stage, including on democracy in Thailand.
Reported by Alim Seytoff for RFA's Uyghur Service and by the Mandarin Service. Written in English by Paul Eckert.
Source: Copyright © 1998-2016, RFA. Used with the permission of Radio Free Asia, 2025 M St. NW, Suite 300, Washington DC 20036. https://www.rfa.org.