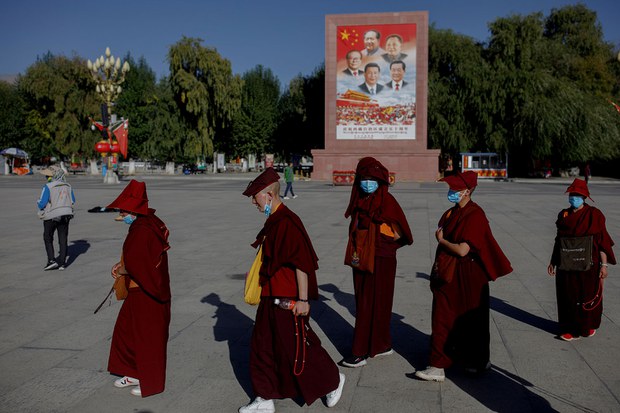 China declared in late November that it had officially met the target of eliminating extreme poverty by 2020, one of Communist Party chief Xi Jinping's signature initiatives to reach the CCP's goal to build a "moderately prosperous society" before the party's 100th anniversary in 2021. In a three-party series, Rita Cheng of RFA's Mandarin Service examines the impact of poverty alleviation policies on ethnic minorities.
The ruling Chinese Communist Party (CCP) is forcing Tibetans into labor, military training, and "re-education" to eliminate the "harmful influence" of their religion, under the guise of a poverty alleviation scheme in the Himalayan region, researchers, media reports and government documents show.
While government figures announced the removal of the "poverty-stricken" designation from all 74 counties that carried it at the end of 2019, such apparent economic gains have come at a massive cost to local people, and to Tibetan culture.
A report from the Washington-based Jamestown Foundation in September found that the CCP is changing the statistics at least partly by pushing large numbers of Tibetan rural laborers off the land and into recently built military-style training centers.
These training centers turn them into factory workers, mirroring a program in the western Xinjiang region that rights groups have branded coercive labor, Reuters and the Jamestown Foundation reported, with details of the schemes also prominently reported in Chinese government documents online.
State media reports indicate the CCP has set quotas for the mass transfer of rural Tibetans out of poverty-stricken areas to other locations in Tibet, or elsewhere in China.
A notice posted to the website of Tibet's regional government website in August said more than half a million people had been trained as part of the project in the first seven months of 2020 – around 15 percent of the region's population, Reuters reported.
Independent researcher Adrian Zenz has called the policy "the strongest, most clear and targeted attack on traditional Tibetan livelihoods that we have seen almost since the Cultural Revolution [1966-1976]."
Reuters said it had corroborated Zenz's findings and found additional policy documents, company reports, procurement filings and state media reports that described the program.
China's Ministry of Foreign Affairs has strongly denied using forced labor as part of the scheme.
Grid surveillance
Zenz told RFA that a police surveillance state brought to Tibet by former CCP regional chief Chen Quanguo had effectively militarized the region with the use of a "grid" surveillance network.
According to the 2019 Bulletin of the People's Government of the Tibet Autonomous Region, the region finds it necessary to use military-style training to change people's ideas about employment, and that such training programs include Chinese language training and "political education," similar to the model used in Xinjiang's mass incarceration program.
It said skills training should be geared to demand from central government-level and state-owned enterprises in the region, and that available jobs should be described before the people were trained to fill them, "to order."
The Tibetan Autonomous Region work report for 2019 showed that 571,000 members of traditional farming and herding communities had been retrained for such employment.
In 2020, it plans to train a further 100,000 people from rural counties to order, and to move some 600,000 people under the scheme.
Attempts to elicit comment by email from the Chinese embassy in the United States had met with no reply by the time of writing.
Dorjee Tseten, executive director of the New York-based Free Tibet Student Movement, said that poverty alleviation was a euphemism to describe what is effectively a mass, forced labor program.
"Forcing people into so-called training camps is not poverty alleviation," he said. "The CCP's intention is to make it easier to monitor and control Tibet on a large scale."
"Their goal is to get Tibetans out of their hometowns, change their way of life, and eliminate our religion and culture," he said. "They also use technology to control Tibetans' access to information, and to make them more dependent on the government."
'Feel the party's love'
According to Zenz, the CCP is running at least two different vocational training and labor placement programs in region.
As well as "re-education" camps similar to those in Xinjiang, a much larger "surplus rural labor" scheme also pushes Tibetans into vocational training designed to fill employer demand.
Official documents issued by the Tibetan regional government also call for militarized vocational training centers to "transform the out-of-date mindset of workers" and "counteract the negative influence of religion."
According to Taiwan's United Daily News, Wu Yingjie, CCP party secretary for the region, called at a press conference on poverty alleviation for more work targeting the "way of thinking" of Tibetans, including motivating them to "take a rational view of religion."
People of all ethnic groups should "feel the party's love, obey the party, and follow the party's lead," Wu was quoted as saying by the paper.
Dorjee Tseten called on Beijing to allow independent foreign media to operate freely in Tibet, if it has any genuine results from "poverty alleviation" programs to show the rest of the world.
"If the Chinese government has really made progress, as it claims, in helping Tibetans out of poverty, then why hide it?" he said.
"They should let the media see for themselves … what is the Chinese government afraid of?"
Reported by Rita Cheng for RFA's Mandarin Service. Translated and edited by Luisetta Mudie.
Source: Copyright © 1998-2016, RFA. Used with the permission of Radio Free Asia, 2025 M St. NW, Suite 300, Washington DC 20036. https://www.rfa.org.