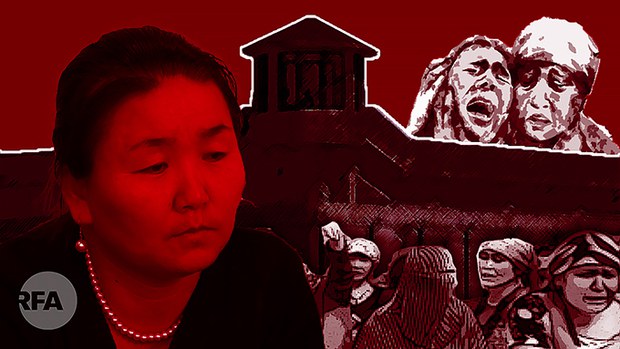 In the early hours of Friday morning, China's media regulator issued a blanket ban on BBC broadcasts throughout its territory, including Hong Kong, saying it had engaged in "untruthful" reporting and damaged "national unity."
"The State Administration of Radio and Television (SART) will not allow BBC World News to continue to be disseminated in China, and will not accept its application for any broadcasting in the coming year," the SART said in a statement on its website.
In a possible reference to the BBC's recent interviews with Uyghur women detailing rape and sexual assault in Xinjiang's mass internment camps, the agency said reporting by the BBC had "violated the requirement that its reporting be truthful and fair, harmed China's national interests and undermined China's national unity."
The ban also applies to the daily rebroadcasting of eight hours of BBC World Service radio content in Hong Kong, via government broadcaster RTHK's Radio Four channel.
British Foreign Minister Dominic Raab on Friday condemned the decision by China to ban all BBC broadcasting on Chinese territory, saying it was an attack on press freedom.
"China's decision to ban BBC World News in mainland China is an unacceptable curtailing of media freedom," Raab said.
"China has some of the most severe restrictions on media and internet freedoms across the globe, and this latest step will only damage China's reputation in the eyes of the world," he said.
Restrictions and misinformation
In Washington, State Department spokesman Ned Price also accused Beijing said the ban on the BBC was 'troubling.'
"It's troubling that as (China) restricts outlets and platforms from operating freely in China, Beijing's leaders use free and open media environments overseas to promote misinformation," Price said.
Earlier this month, the State Department responded to the BBC's report on rape and sexual assault in Xinjiang's camps by saying that there must be serious consequences for those involved in abuses at the camps, where at least 1.8 million ethnic Uighurs and other Muslims are believed to be incarcerated.
The Foreign Correspondents' Club of China (FCCC) said the ban on the BBC was "regrettable," and could be intended to create a chilling effect on other foreign media organizations operating in China.
"The FCCC is concerned that such language is intended to send a warning to foreign media operating in China that they may face sanctions if their reporting does not follow the Chinese party line about Xinjiang and other ethnic minority regions," it said, adding that BBC content had never been freely available to the average Chinese citizen in the first place.
"China has for many years severely restricted the foreign news that its own citizens can see by using internet censorship to block the websites of most major foreign news organizations, including the BBC," the group said via its Twitter account.
"Before this ban, the BBC World News TV channel was distributed only in certain hotels, apartment buildings, and venues licensed for use by foreigners. Even in those approved locations the BBC was censored, with screens routinely going dark as soon as reports about China began," it said.
The FCCC said the ban was likely a response to a decision by U.K. media regulator Ofcom to revoke the broadcast license of Chinese state broadcaster CGTN, as it is ultimately controlled by the Chinese Communist Party (CCP).
Reported by RFA's Mandarin and Cantonese Services. Translated and edited by Luisetta Mudie.
Source: Copyright © 1998-2016, RFA. Used with the permission of Radio Free Asia, 2025 M St. NW, Suite 300, Washington DC 20036. https://www.rfa.org.