After removing the crucifix from Xiahuang village's church on Christmas Day, government officials ordered to vacate the place of worship on January 1.
by Wang Yong
Since the signing of the Vatican-China deal of 2018, the situation of the Chinese Catholic communities that refuse to be registered has gone from bad to worse. The southeastern province of Jiangxi is no exception, as the persecution of Catholic conscientious objectors, declining to join the Chinese Patriotic Catholic Association (CPCA), continues in the new year.
"You will be in a worse situation in 2020," the director of the local Religious Affairs Bureau told the congregation of Xiahuang village's Catholic church on January 1. At about 6 p.m. that day, the statue of Mary, which was installed at the church six months ago at the cost of nearly 40,000 RMB (about $ 5,800), was removed on orders by Fuzhou city's Linchuan district government.
As the crane was lifting the white marble statue, weighing approximately half a ton, its head detached, falling on the ground with a loud thud. "Our hearts truly hurt at that moment. Not because of the money, but because the government is destroying our belief," a congregation member told Bitter Winter.
A week before the statue of Mary was demolished, on Christmas Eve, nine district and village government officials drove believers out of the church. On Christmas Day, officials returned, accompanied by police officers, and ordered to take down the church's crucifix.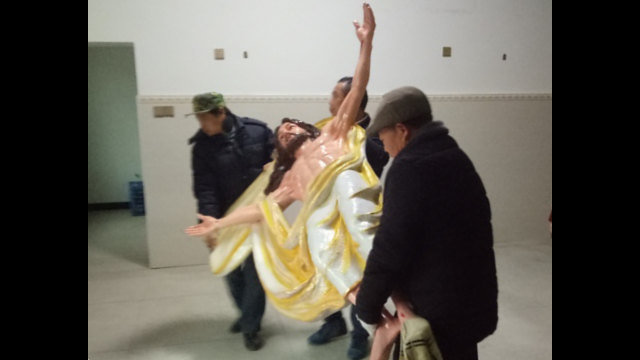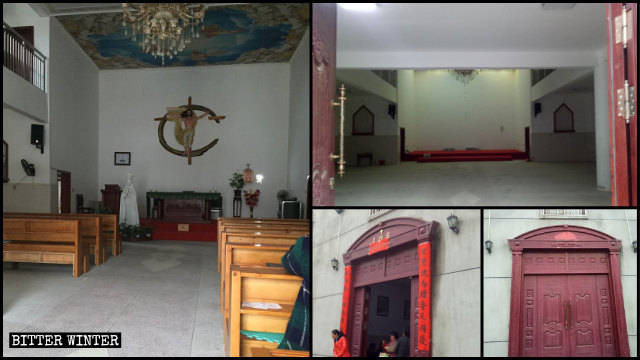 "We'll mend the statue ourselves. We'll show the evidence to the world how the CCP persecutes us while promoting 'harmonious society' and boasting about the freedom of religion," another believer added. "The church is empty now. They even removed desks and chairs."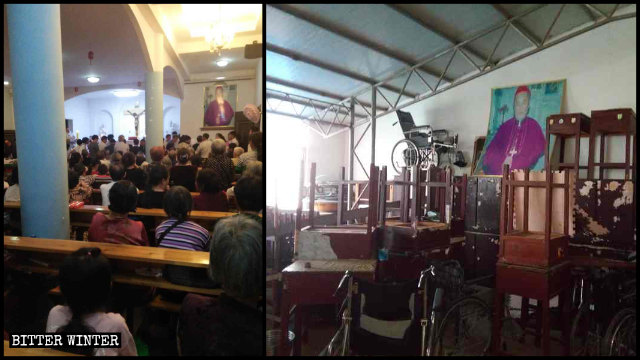 The church's priest encouraged the congregation to hold on to their belief no matter how hard it will become. An elderly believer commented that most of the churchgoers are in their seventies or eighties, and they are incapable of resisting the government. "We have to suffer in silence and swallow our sorrows," she said with sadness.
Video: The crucifix is being removed from the wall.
Other Catholic churches in the Linchuan district have also been subjected to government crackdowns. The Xijia Church, built in 2013 at the cost of about one million RMB (about $ 144,000), 200 square meters in size, was shut down in early May 2019, on the grounds that "the congregation was too large." Believers removed all religious statues and symbols, hiding them away. Soon after, the government posted a slogan promoting the core socialist values at the church entrance.
With no place to worship, the congregation continued to meet in secret. They celebrated Christmas Mass in an uninhabited and cold house. Despite their attempts to keep the celebration secret, the local police summoned the church leader for questioning afterward.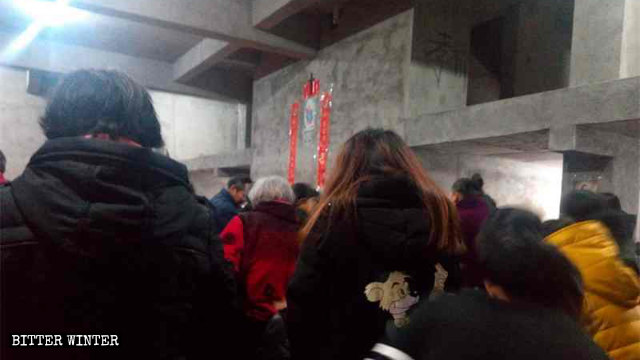 Source: Bitter Winter