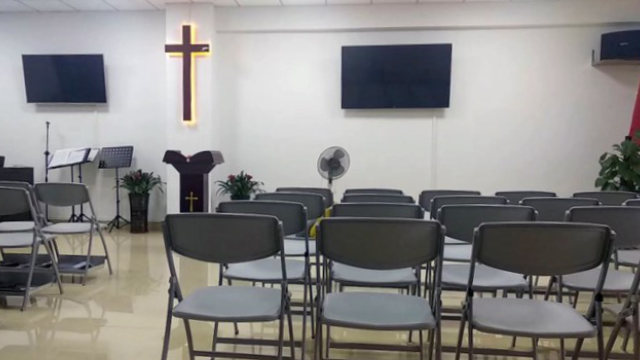 The CCP continues to suppress unauthorized places of worship, beating believers, looting church property, and imposing hefty fines on landlords.
Believers beaten, valuables looted
On December 1, 2019, more than 200 public security personnel and officials from the government of Lanxi city in the eastern province of Zhejiang stormed into a house church meeting venue. After shutting off electricity, they ordered the congregation to stop gathering.
When the believers in the venue complained about the invaders' brutal behavior, the violence didn't subside. On the contrary, more people were beaten. A young man was so severely hit that he could not stand up. His mother stepped forward to prevent officers from beating him but was pushed to the ground, injuring her arm. The venue director was also ruthlessly beaten.
Several believers were taking photos, but their cellphones were confiscated. The police also seized the church's donation box and forcibly escorted the director and three believers to the local police station for questioning, where they were ordered to sign applications to join the state-run Three-Self Church.
The officials threatened to cancel pensions and subsistence allowances for elderly believers if they were discovered assembling again. One of the officials claimed that by forcing them to join the Three-Self Church, the government wants to control their church and manage its finances.
Tens of thousands of RMB and all valuables, including kitchen utensils, have been taken away, and the entrance to the venue was welded. This house church was established 28 years ago, and it has been continuously persecuted. One of the congregation members has been previously detained for ten days for hosting religious meetings.
A previously raided and suppressed Sola Fide house church in Quanzhou city in the southeastern province of Fujian suffered another crackdown on November 15, when more than 40 government personnel forcibly entered the venue and confiscated two laptops (worth 4,000 RMB or $ 570) and 45 Bibles. They ordered the congregation to stop gatherings.
"The government feels insecure, fearing that religious people cannot be controlled," a person working in the church told Bitter Winter. "The CCP believes that the disintegration of the Soviet Union has been influenced by religion, so it does not tolerate Christianity." He believes that the government uses the Three-Self Church to control religion, and that the churches joining it will denigrate to CCP's tools.
Landlords fined for renting to churches
In December last year, at least 16 house church venues were shut down in Yongkang, a county-level city in Zhejiang; the landlords of many were threatened by the government.
A Yongkang resident, who used to rent his property to a house church, told Bitter Winter that government representatives threatened to arrest and send him to "study CCP's policies on religion" if he continued to rent to people of faith. They said that he would be fined 100,000 RMB (about $ 14,000). Consequently, he terminated the lease contract with the church.
Meanwhile, city government officials threatened to fine the landlord of another house church venue 100,000 RMB (about $ 14,000) and forcibly installed a video surveillance camera by the entrance to her house.
A village official was repeatedly summoned by his superior because he had approved a house church gathering in a rented house in the village. He was told that "house church venues are all illegal," and as a CCP member, "his decision to allow a house church to rent property in the village demonstrates problems of his political stance." The church had to move out of the rental property, even though the contract had not expired, suffering considerable financial losses.

Source: Bitter Winter