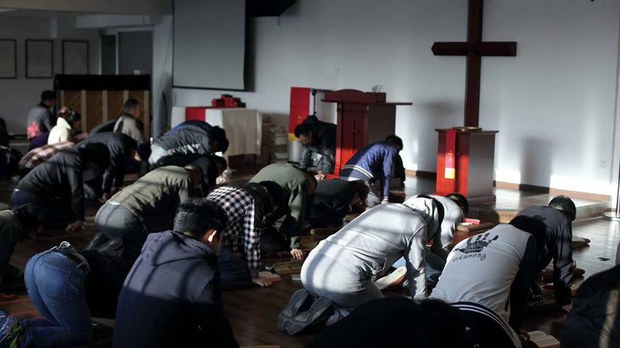 A prominent pastor of an unofficial Protestant "house church" in Beijing has been denied his state pension, with officials citing a criminal conviction linked to his faith activities, RFA has learned.
House church elder Xu Yonghai, who just turned 60, was turned away by a Beijing municipal government service center after he went there to claim his first pension payments.
Xu, formerly head of the Beijing Sheng'ai Protestant Family Church Fellowship, should have received his first payments this month, but instead was denied the money, with officials citing his "criminal record."
Xu stood trial on charges of "leaking state secrets overseas" in 2004 after he campaigned online on behalf of jailed Chinese Christians, and has repeatedly been placed under shorter-term detention by police in the years since.
"What am I supposed to do now? I don't have any money to live on, nor to get medical treatment if I need it," he said.
"A lot of my income from employment during [my working] years was given over to the the state, to my employer, to contribute to my pension," Xu said. "That money should be mine, and now they've taken it away from me."
"The court only stripped me of my political rights [when I was sentenced] back then; it didn't confiscate any of my property," Xu said.
Beijing-based housing rights activist Ni Yulan, who is also a church elder, said she has also been denied her state pension.
"After Pastor Xu was arrested, his wife was later transferred to [a different job]. She then resigned and later found another employer," Ni said.
"Now they rely on his wife's salary alone to get by," she said. "You can only get a retirement pension if those in power say so."
Crackdown on Chinese Christians
The denial of Xu's pension comes amid an ongoing crackdown on Chinese Christians under ruling Chinese Communist Party (CCP) leader Xi Jinping.
Authorities in the southwestern province of Sichuan last week raided a homeschooling group run by former members of the banned Early Rain Covenant Church in the provincial capital, Chengdu.
"At 7:00 this morning, a large group of police officers, education bureau officials, national security officers, and urban management officers surrounded a home where homeschooled children of Early Rain Covenant Church were playing together," the church said in a post on its Facebook page on Jan. 14.
"The police are now raiding the home. There are a large number of police officers outside and inside of brother Liang Huali and Sister Shu Qiong's home, and they are currently removing brother Liang's personal belongings. Please pray!," it said.
A Protestant church member who gave only a surname, Zhang, said Shu and Liang had been occupying a sub-divided apartment in Chengdu, and the children had gone there to play during homeschooling amid coronavirus pandemic restrictions currently in place in the city.
"They took away many of Brother Liang's personal belongings and brought him to the police station," Zhang said. "They didn't released them until the same evening, and slapped [Liang] in the face."
According to the U.S.-based Christian rights group ChinaAid, a large number of Liang's books were taken away by the police, along with Shu Qiong's laptop. Dozens of boxes of books stored in Liang's house by another Christian from the church were also seized.
Police also detained church member Sun Ailun.
Local police have stepped up surveillance of churches ahead of Lunar New Year in February, and some church members have a security detail outside their front door.
Officials around the country have banned gatherings amid a second wave of COVID-19 cases in a number of northern cities.
Ban on gatherings
Pastor Zhan Gang of the Jiaozhou Bay Church in the eastern province of Shandong said the ban has already been publicized there.
"We have stopped worshiping ahead of the Spring Festival. They have stopped everywhere," Zhan said. "There is no timeframe for when we can start again."
"The government is using the pandemic to suppress the growth of religious activity," he said.
Earlier this month, Wang Haifeng of the Beijing Municipal Commission for Ethnic and Religious Affairs, told a news conference that the city authorities were shuttering 155 religious venues in the city as part of pandemic restrictions.
A pastor of a house church in Beijing's Fengtai district who gave only the surname Li said churches there had been told to stop gathering, too.
"The (CCP-approved) Three-Self Patriotic Association churches here in Beijing were notified two weeks ago that gatherings are no longer allowed," Li said.
"People are being encouraged to report any gatherings … so all we can do is move them online," he said.
The CCP under Xi Jinping regards Christianity as a dangerous foreign import, with party documents warning against the "infiltration of Western hostile forces" in the form of religion.
The ruling party embraces atheism, yet exercises tight controls over any form of religious practice among its citizens.
China is home to an estimated 68 million Protestants, of whom 23 million worship in state-affiliated churches under the aegis of the Three-Self Patriotic Association, and some nine million Catholics, the majority of whom are in state-sponsored organizations.
Reported by Gao Feng and Qiao Long for RFA's Mandarin Service. Translated and edited by Luisetta Mudie.
Source: Copyright © 1998-2016, RFA. Used with the permission of Radio Free Asia, 2025 M St. NW, Suite 300, Washington DC 20036. https://www.rfa.org.