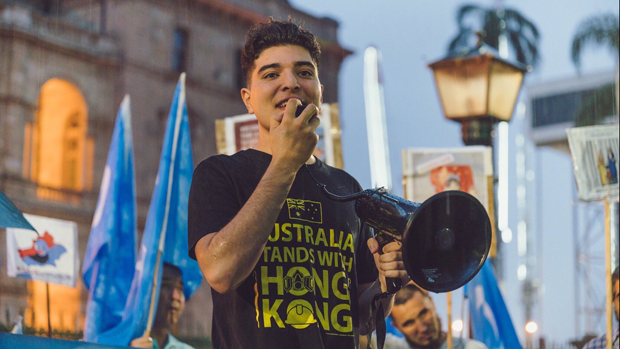 An Australian student is facing expulsion by the University of Queensland after he publicly questioned the school's close relationship with China and was termed an "anti-China separatist" by a Chinese diplomat with close ties to the school.
The university is taking disciplinary action against conservative student activist Drew Pavlou, who has repeatedly criticized the university's close ties with the Chinese Communist Party.
The university has accused Pavlou, 20, of harming its reputation, engaging in intimidating and disrespectful conduct and disrupting the running of the university, among other charges.
Pavlou — who has said he suffers from depression — faces 11 allegations of misconduct, including activities that the authorities say breached its integrity and harassment policies and the student charter, the Sydney Morning Herald reported.
The authorities have presented as "evidence" of his alleged misconduct social media comments he made regarding the pro democracy movement in Hong Kong, in which he claimed to be speaking "on behalf of the university" following his election as student representative to the university senate.
On the petition website Change.org, more than 11,000 people had signed a petition calling for the disciplinary procedure against Pavlou to be dropped by 17.45 GMT on Thursday.
Pavlou has also reported being physically attacked by Chinese Communist Party supporters during a campus brawl at UQ sparked by Chinese students' opposition to a Hong Kong protest-related activity.
According to UQ, Pavlou also allegedly placed a sign on the UQ Confucius Institute — a cultural organization embedded in campuses around the world and directly staffed and controlled by the Chinese government — in March, declaring it was a "biohazard" amid the coronavirus epidemic, according to a post he made on Facebook.
Critic of UQ's China ties
Pavlou has said he is being singled out because of his specific criticisms of UQ's relationship with China.
A UQ spokeswoman denied this on Wednesday. "The university rejects Mr Pavlou's statement that the university's process is an attempt to penalize him for airing his political beliefs," she told RFA.
Xu Jie, the Chinese Consul General in Brisbane, has previously accused Pavlou of engaging in "anti-China separatist activities." China's Global Times tabloid newspaper, published by Communist Party paper the People's Daily, has made similar claims.
Xu was awarded the post of visiting professor by UQ vice president Peter Hoj on July 12, 2019, a move which also drew criticism from Pavlou at the time.
Feng Chongyi, a political researcher at the University of Technology in Sydney, said UQ is very likely retaliating against Pavlou's criticisms of China.
"It is totally unacceptable for somebody to be [disciplined] over their [political] speech in Australia," Feng said. "It is unacceptable that UQ has no hesitation in breaching someone's human rights because of the benefits of their China deals."
"The university is exactly like the Chinese Communist Party … targeting him for his speech and then saying it's for other reasons."
Feng said China has supporters and agents throughout public life in Australia, including politics, business and higher education.
Wu Lebao, an international student at the Australian National University, said UQ could easily go along with claims by Little Pink Chinese nationalists that criticism of China is racist in making charges against Pavlou.
Solidarity with Hong Kong, Tibet and the Uyghurs
He said the Little Pinks carry out monitoring operations to keep track of anyone taking part in events showing solidarity with Hong Kong, Tibet or the Uyghurs, and taking Beijing's propaganda war to streets and campuses around the world.
Wu cited the intimidation and disruption of Hong Kong students and their supporters on UQ campus last July.
"Instead of punishing them, they are going along with the Chinese Communist Party's wishes, which are to punish opponents of Beijing," he said. "This incompatible with freedom of speech here in Australia."
"Western governments and universities are reluctant to risk the accusation that they are persecuting so-called minority groups," Wu said. "But these Little Pink students have direct connections to the Chinese embassy and act as thugs for a totalitarian regime. They don't represent an ethnic minority."
U.S.-based legal scholar Teng Biao agreed.
"[This is] about revenge against Pavlou for his long-term human rights activism," Teng said. "It is also the latest example of the overseas influence of the Chinese Communist Party and of self-censorship by Western universities to pander to Beijing."
"If this attempt succeeds, it will be a serious infringement of Australian citizens' freedom of speech, and will have a chilling effect, meaning that fewer people will dare to criticize the Chinese Communist Party," he said.
Sulaiman Gu, a research student at the University of Georgia said he has long been concerned about Pavlou, who he said had received death threats last year.
"The school is trying to expel the victim, and there is a political motive behind it," Gu said. "If an Australian citizen can be expelled from universities in their own country for criticizing China … this will turn those universities into Beijing's party schools, just without the party committee."
Australia feels the heat from Beijing
Pavlou, who also criticized China's system of internment camps that hold as many as 1.8 million Uyghurs and force them to undergo political indoctrination, received sympathy from exile Uyghur intellectuals and groups, many of whom face harassment from Chinese agents in foreign countries.
"It's disturbing that a student activist is on the verge of being expelled from an university in a democratic country for exercising his free speech. It's another example of CCP's nefarious influence that threatens fundamental freedoms of people in a democracy," U.S.-based Uyghur attorney and activist Nury Turkel told RFA's Uyghur Service.
"The University of Queensland should not cave into foreign influence to silence an Australian student who is exercising his freedom and constitutional rights to raise awareness on the human rights abuses, especially the arbitrary detention of millions of Uyghurs in China's concentration camps," he added.
Australian author and professor of public ethics Clive Hamilton's book, Silent Invasion: China's Influence in Australia, was initially turned down by three publishers citing fears of reprisals from Beijing.
Finally published in February 2018, Silent Invasion argues that Australia's elites, and parts of the country's large Chinese-Australian diaspora, have been mobilized by Beijing to gain access to politicians, limit academic freedom, intimidate critics, gather information for Chinese intelligence agencies, and organize protests against Australian government policy.
According to Reuters, the Chinese Communist Party was behind a massive cyber attack on the Australian national parliament ahead of May's general election.
The agency cited the country's cyber intelligence agency, the Australian Signals Directorate (ASD), as saying that Beijing was responsible for the attack on the parliament and the three largest political parties, and that originated with the Ministry of State Security in Beijing. The findings were initially kept secret to avoid damaging trade ties.
Canberra last year said it would crack down on suspected Chinese Communist Party influencers in the country following the introduction of new laws targeting activities by lobbyists and agents of foreign governments in June 2018, and later denied a passport to a top Chinese businessman.
In February 2019, the authorities rejected the citizenship application of a prominent Chinese billionaire and revoked his permanent residency there over concerns about his ties to Beijing.
Huang Xiangmo had made donations of nearly U.S. $1.9 million to political parties in Australia over the five years prior to lodging his application.
Reported by Ng Yik-tung and Sing Man for RFA's Cantonese Service, and by Alim Seytoff for the Uyghur Service. Translated and edited by Luisetta Mudie.

Source: Copyright © 1998-2016, RFA. Used with the permission of Radio Free Asia, 2025 M St. NW, Suite 300, Washington DC 20036. https://www.rfa.org.