The municipal government launched a unified crackdown campaign, resulting in demolitions and takeovers of religious venues across rural areas.
by Li Guang
Folk religion temples, an integral part of life in rural China, face increasing persecution at the hands of the communist regime, as local authorities implement crackdown campaigns to repurpose and even demolish them on central government's orders.
The government of Dongyao town, administered by the county-level city of Linzhou in Henan Province, recently launched a campaign to purge 14 folk religion temples in five villages under its jurisdiction. To present the rectification procedures and boast about their "achievements," town officials displayed informational placards, entitled Summary of Conversion and Use of Folk Religion Activity Venues in Dongyao Town, in the targeted venues.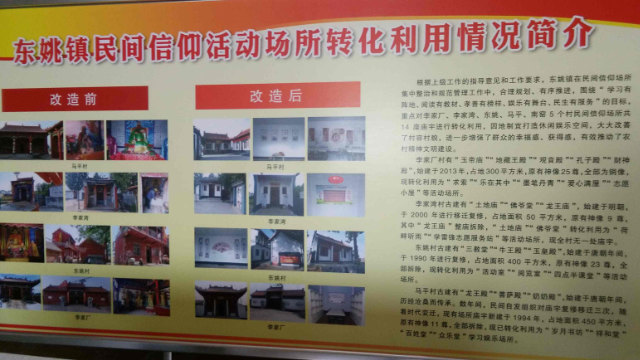 According to these posters, "no more temples exist" in Lijiawan village. The Dragon King Temple was demolished, while two other folk religion temples, the Tudi Temple and the Foye Hall, were taken over by the government. All three venues were built in the Ming dynasty (1368–1662).
In Maping village, the Dragon King Temple, the Bodhisattva Hall, and the Nainai Temple— all built in the Tang dynasty (618–907)—have been repurposed for government use.
The Jade Emperor Temple in another Dongyao village, also built in the Tang dynasty, was converted into an activity center in late May, after officials ordered to demolish its 23 statues of deities.
In Linzhou's Wulong town, the Baiyi Hall has been converted into an evening school for farmers. All religious elements in the temple have been replaced with Communist Party propaganda. An informational placard explains that the town's religious venues are being "transformed" according to the Plan for Comprehensive Rectification and Regulatory Management of Folk Religion Venues in Linzhou City. Two folk religion venues in the town were demolished, and two others, in addition to the Baiyi Hall, were repurposed for public use.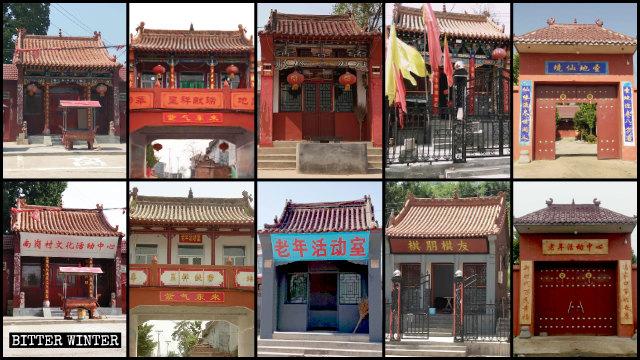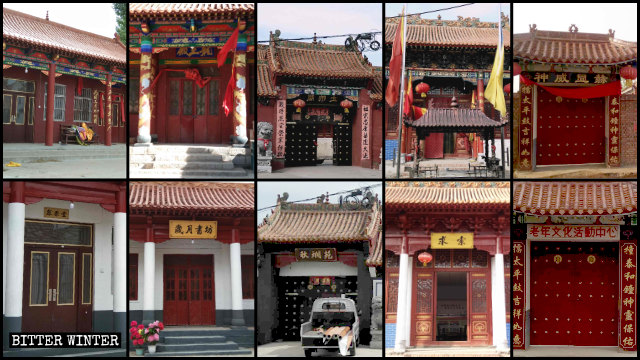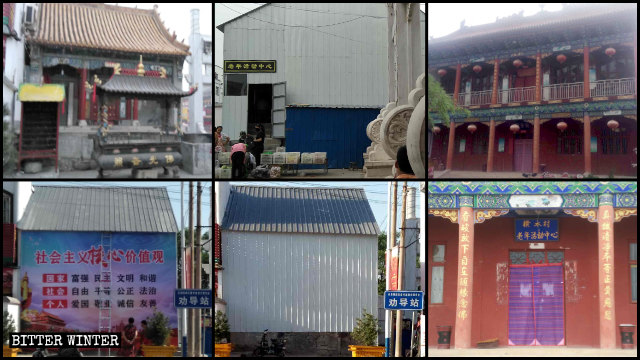 A Wulong town government employee explained that larger temples are repurposed, while smaller ones are usually demolished.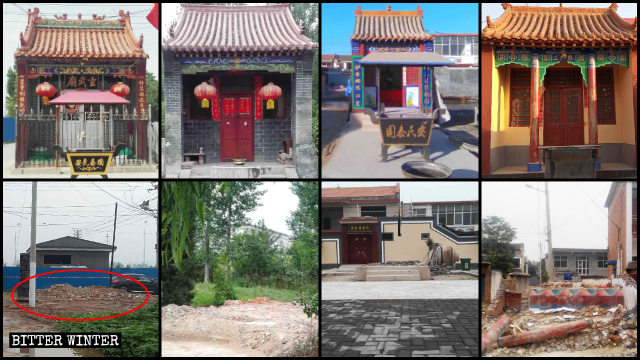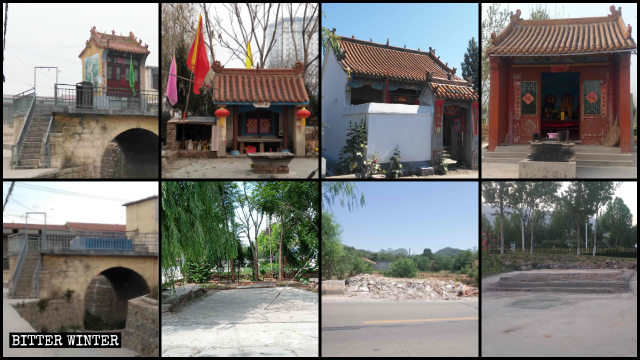 According to the information displayed in the repurposed Nianfo Hall in Dongzhang village under the jurisdiction of Linqi town, the temple had been converted into a cultural, sports, and entertainment center in the name of "destructing feudal superstition." The CCP widely used this pretext to crack down on religion during the Cultural Revolution.
"Temples are converted under a unified campaign launched by the city, and local governments are pressured to implement it," a Dongzhang village official explained. "We must take before-and-after photos of the temples and send them to higher authorities. Religious Affairs Bureau and United Front Work Department officials come for inspections after conversions."
The Tudi Temple in a Donggang town-administered village was demolished in May. A local official explained that the venue was destroyed because it was located in front of the village committee office.
The Dragon King Temple and Dragon Mother Temple in Rencun town, both spanning the history of over 600 years, were demolished on June 13. The next month, other folk religion temples in the town were converted into storage facilities, natural gas management offices, fire stations, and the like.
"Village officials and residents don't want to demolish temples, but they surrender after threats and intimidations by the town government," a Chadian town resident revealed.
"Town officials started issuing orders to demolish temples ahead of a Linzhou city mayor's visit," a temple director from Hejian town recalled.
At 10 p.m. on April 16, government-hired personnel smashed all statues in the Jade Emperor Temple in a Hejian-administered village and demolished some of the temple's buildings. Signboards "Civilization Practice Station for a New Era" and "Lei Feng Volunteer Service Station" were displayed on the two remaining structures. Some villagers guarded the temple, attempting to prevent its demolition, but it was taken over by the town government as soon as they left.
At 11 p.m. on June 1, the Chadian town government sent about 30 workers to demolish statues in Xianzhang village's Guanyin Hall. Accompanying police officers chased away onlookers who tried to take photos.
In late June, three small temples (the Dragon King Temple, Sanguan Temple, and Tudi Temple) in Tangyin county's Longhu village were demolished at night. "The government is afraid to do this at daytime," villagers commented.
Source: Bitter Winter