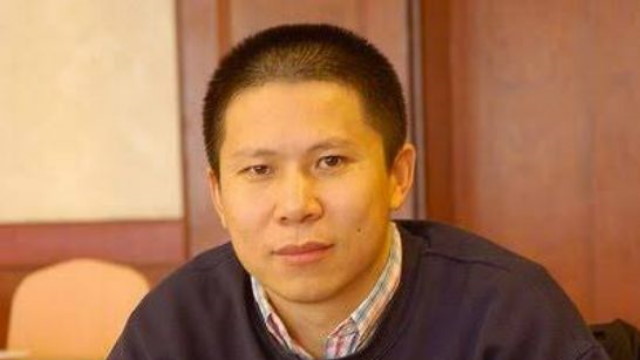 Chinese police have launched a nationwide operation detaining at least eight people and questioning others, following a Dec. 13 meeting of liberal-minded activists and lawyers in the southeastern province of Fujian.
Authorities in the eastern province of Shandong set up a police task force after the meeting in the Fujian port city of Xiamen, and had detained eight people in Fujian, Shandong, Beijing, Hebei, Sichuan, and Zhejiang by Jan. 1.
The overseas-based Chinese Human Rights Defenders (CHRD) network said a similar gathering took place one year ago in Shandong, which could explain the leading role of the Shandong police.
Rights lawyers Ding Jiaxi and Huang Zhiqiang and activists Dai Zhenya, Li Yingjun, and Zhang Zhongshun were among those detained.
Rights lawyer and university professor Liu Shuqing, 43, was detained by police in Shandong's provincial capital Jinan on Dec. 31, on suspicion of "subversion of state power."
"Police used force to kick open the door of his residence without any warning," CHRD said, adding that Liu had recently undergone cardiac surgery. Liu was allowed back home on Jan. 1, the group said.
In the eastern city of Hangzhou, veteran activists Zhu Yufu, Wu Zexi, Xin Zhongcheng, Mao Lijun, and Tang Xiaoyun were detained and interrogated for a day on Dec. 29 after they had dinner with someone who attended the Dec. 13 meeting, CHRD said.
The rights website Civil Rights and Livelihood Watch said many of the activists were detained on suspicion of "incitement to subvert state power."
CHRD called on the ruling Chinese Communist Party to release all the detainees immediately, as their right to freedom of peaceful assembly is protected under international human rights treaties.
Others also held
Rights lawyer Ding Jiaxi, 52, was detained in his hometown of Beijing on Dec. 26 by Shandong police, and police searched his home and confiscated belongings without a search warrant, it said.
Ding's wife Luo Shengchun said her husband had likely attended the meeting in Xiamen.
"He said he was going to meet friends for a meal," Luo said. "I've asked all [the other families], and they all said it seems that their husbands went to Xiamen."
On the same day, university professor Zhang Zhongshun was detained on suspicion of subversion at his home in Yantai, Shandong, despite not having attended the Fujian meeting.
Xiamen-based Dai Zhenya, 46, was meanwhile detained on similar charges. He is being held under "residential surveillance at a designated location" that hasn't been disclosed, CHRD said.
Zhang's wife Yang Hongni said the family had planned to visit relatives in the United States on the Jan. 15 and had tried to get police to rescind her husband's travel ban.
"I have no news of Zhang Zhongshun," Yang said. "It's probably because he went to Xiamen."
Going to a cold place
Lin Yanping, wife of Dai Zhenya, said she was told her husband would need warm winter clothes where he was going.
"In the living room, they told us that they were from the Xiamen police department, and told us to get some very warm clothes for him, because he'd be going to a cold place for investigation," Lin said.
"A police officer told us that the [other officers] were from Shandong and that he might be taken to Shandong, allegedly for inciting subversion of state power," she said.
Lin said the family has been unable to find out any more about Dai since.
"We have no information," Lin told RFA. "We went to that police station and asked which police agency in Shandong took him away."
"They wouldn't tell us, so we are very worried now. I don't know about this Dec. 13 taskforce. I just want to know where he is," she said.
Activist Li Yingjun, a factory worker from Fujian's Zhangzhou city, was also held on the same day, while lawyer Huang Zhiqiang, 47, was detained on Dec. 29, in the eastern province of Zhejiang on suspicion of "picking quarrels and stirring up trouble," a charge often leveled at peaceful critics of the regime.
Meanwhile, in the southwestern province of Sichuan, police detained businessman-turned-activist Wei Xiaobing, 42, after he distributed T-shirts printed with slogans supportive of the pro-democracy movement in Hong Kong.
No clear theme
An employee at the Civil Rights and Livelihood Watch website said the latest crackdown was unusual in that there was no clear theme connecting all of the detentions.
"In the past, they would divide the opposition into categories, so you would get waves of crackdowns on activist websites, or on lawyers, or the one-off crackdown on the New Citizens Movement," the employee said.
"This time it was very complicated."
Zhu Yufu's U.S.-based son Zhu Xi said his father is still under close surveillance by the state security police, and that the additional security will likely continue at least until after the annual parliamentary sessions in March.
"This time around it has been quite strange: I think a lot of people are very nervous," he said.
Repeated calls to the Shandong provincial police department went unanswered during office hours, while calls to the political department of the ministry of public security in Beijing were met with the sound of a fax machine.
An official who answered the phone at the political department of the Xiamen police department declined requests for an interview.
"We don't know the situation you asked about … so you have to ask the department that is handling the case," the official said. "I can't answer you about the legal matters. You will have to ask a lawyer."
'China can't go on like this'
New Citizens' Movement founder Xu Zhiyong is currently on the run after penning a New Year's message to China's citizens, calling on them to think about whether they want to carry on with an authoritarian government or movement towards democratic constitutionalism, an idea that President Xi Jinping has said has no place in his vision for China.
"We are sadly seeing that the Chinese economy is deteriorating, while the stability maintenance regime is depleting national wealth accumulated over more than three decades, and stagnation and poverty are looming," Xu wrote.
"China cannot go on like this. Think about it, people! What kind of China do we want to leave for future generations?"
Reported by Wong Siu-san and Sing Man for RFA's Cantonese Service, and by Xue Xiaoshan for the Mandarin Service. Translated and edited by Luisetta Mudie.
Source: Copyright © 1998-2016, RFA. Used with the permission of Radio Free Asia, 2025 M St. NW, Suite 300, Washington DC 20036. https://www.rfa.org.