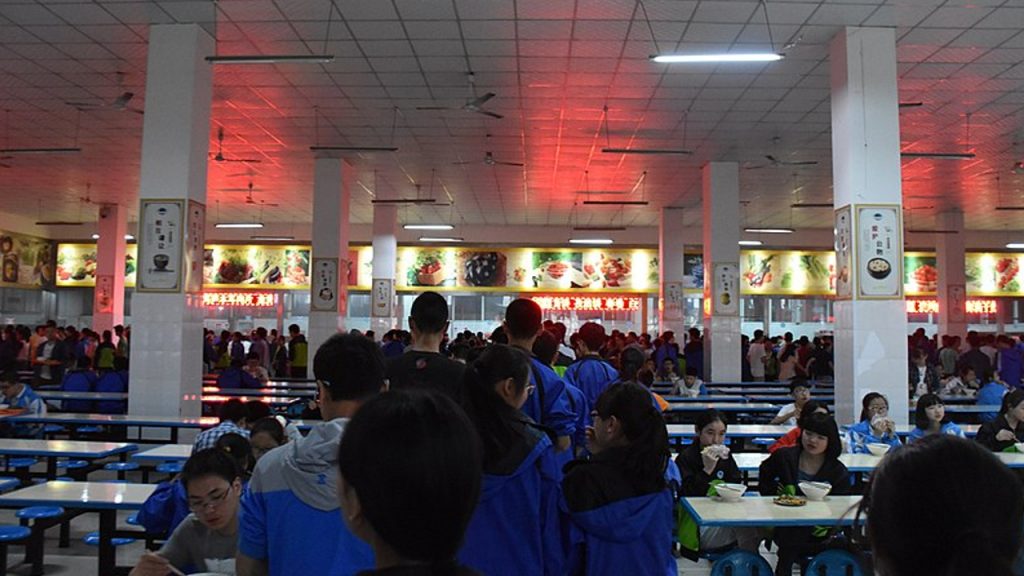 Officials at a university in northwest China's Xinjiang Uyghur Autonomous Region are forcing students and staff to forgo their Muslim dietary restrictions in favor of traditionally pork-heavy Han Chinese cuisine, saying halal food is associated with religious extremism.
A report recently published on the official website of Kashgar University, in the XUAR's Kashgar (in Chinese, Kashi) prefecture, detailed an Oct. 22 meeting entitled "Remain Committed to Removing Extremism From Eating," during which deputy secretary of the school's Communist Party committee Ji Peng announced that all students and staff must swear an oath to "follow Chinese food culture."
Ji informed students and staff that integrating cuisine would "promote exchanges" and "foster prosperity and development" between all ethnic groups, and called on them to "stand firm" in fighting against "pan-halalism," which he called a tool of the "three evil forces" of "terrorism," "extremism," and "separatism," used to promote their agenda in the name of religion.
Muslims are barred under their religion from consuming non-halal items such as pork, alcohol, blood, and the meat of animals that have not been slaughtered based on religious practices.
The details of the Oct. 22 meeting were made public amid recent reports that Chinese authorities have closed down all halal restaurants on university campuses in the XUAR and had initiated a campaign to remove halal signage from restaurants owned by Muslims in the region.
When asked by RFA's Uyghur Service for further information about the new policy, a staffer at Kashgar University immediately hung up the phone.
A second call was answered by a staffer who said he was unaware whether there is a halal restaurant on campus, despite the university's location in a mostly Muslim Uyghur-populated area of the region, and referred further inquiries to the school's website.
Various other reports over the past two months suggest that top XUAR officials have also launched a campaign against "pan-halalism" throughout various government departments, which sources say has now spread to the region's universities.
On Sept. 5, days after covering a government campaign in Kashgar's Maralbeshi (Bachu) county to fight extremism, Chinese state television reported live on an advocacy campaign against halal food, during which a Uyghur staffer from the county's department of land and water management stated that the dietary restrictions of Uyghurs were "creating a barrier" between them and Han Chinese.
On Oct. 5, the Ministry of Justice in the XUAR capital Urumqi organized an advocacy meeting which called on all staff members to fight against "pan-halalism" and refrain from following dietary restrictions.
And on Oct. 7, the official Tengritagh news website ran a story about Ablikim Momun, the head of Maralbeshi's Alaghir township, who it said invited Uyghur cadres to a Chinese restaurant to eat a meal made with pork, and praised him as a model official for doing so.
Sources in the XUAR have also reported that working groups have been sent to villages to promote the eating of non-halal food, claiming that separating foods into the categories of halal and haram—or what is permissible and what is forbidden, according to Muslim tradition—is a sign of "extremism."
'Assault on beliefs'
In recent years, authorities in the XUAR have forced Uyghurs to sign pledges that they will not fast during the holy Islamic month of Ramadan in a bid to further undermine the religious traditions of the mostly Muslim ethnic group.
Officials have typically forced restaurants to stay open and restricted access to mosques during Ramadan, and last year sources told RFA that Uyghur Communist Party cadres, civil servants and government retirees were made to sign documents that said they would neither fast nor pray during the holy month, ostensibly to set an example to other Uyghurs in the community.
Turghunjan Alawudun, director of religious affairs for the Munich-based World Uyghur Congress exile group, told RFA that the policy of equating halal food with religious extremism signalled a new high-water mark for Chinese authorities in "attacking the religious beliefs of the Uyghur people."
"Being a Muslim, one has the duty to separate halal and haram, and our people have adhered to this basic principle of Islam since ancient times," he said.
"Branding people as religious extremists due to their choice of halal food is a serious assault on their beliefs."
Alawudun called for growing pressure from the international community against China's "repressive policies on the religious freedom of the Uyghur people," with a particular emphasis on the leaders of Muslim nations.
On Tuesday, the United Nations Universal Periodic Review (UPR) began its assessment of China's human rights record amid a global outcry over the mass incarceration of an estimated one million Uyghurs and other minority ethnic Muslims in "re-education camps" in the XUAR.
Beginning in April 2017, Uyghurs accused of harboring "strong religious views" and "politically incorrect" ideas have been jailed or detained in re-education camps throughout the XUAR, where members of the ethnic group have long complained of pervasive discrimination, religious repression, and cultural suppression under Chinese rule.
While Beijing initially denied the existence of re-education camps, the Uyghur chairman of Xinjiang's provincial government, Shohrat Zakir, told China's official Xinhua news agency last month that the facilities are an effective tool to protect the country from terrorism and provide vocational training for Uyghurs.
Reporting by RFA's Uyghur Service and other media organizations, however, has shown that those in the camps are detained against their will and subjected to political indoctrination, routinely face rough treatment at the hands of their overseers, and endure poor diets and unhygienic conditions in the often overcrowded facilities.
Reported by Mihray Abdilim for RFA's Uyghur Service. Translated by RFA's Uyghur Service. Written in English by Joshua Lipes.
Source: Copyright © 1998-2016, RFA. Used with the permission of Radio Free Asia, 2025 M St. NW, Suite 300, Washington DC 20036. https://www.rfa.org.