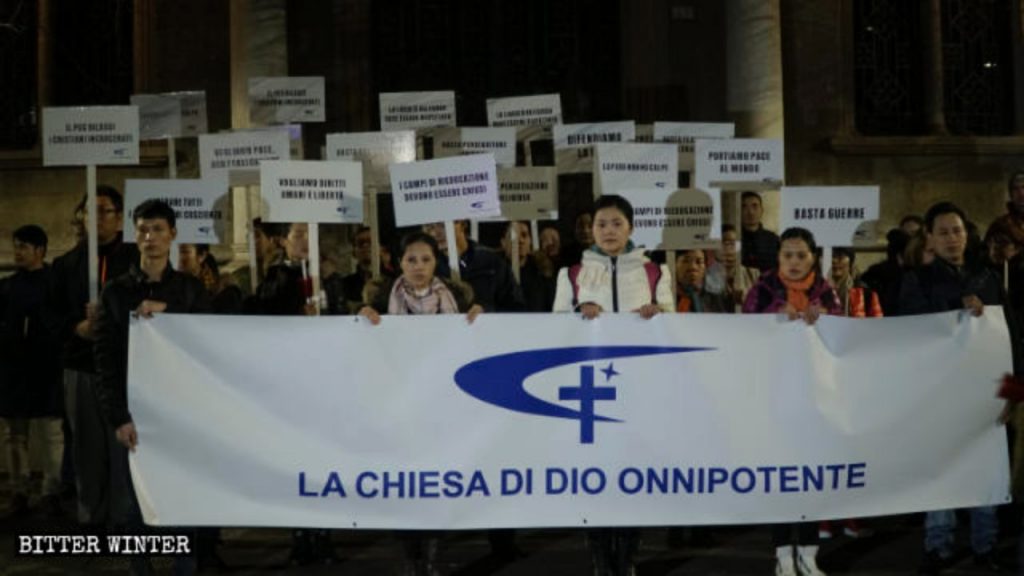 ADHRRF – On Human Rights Day, The Church of Almighty God (CAG) Christians who fled from China to Italy participated street activities in Milan and Rome, condemning and exposing Chinese Communist Party's horrible abuse of human rights. On January 18, CAG Christians, once again, became part of the Peace Torchlight Procession, calling the CCP to stop persecuting religious beliefs.
This activity was co-organized by the Rho government and 11 associations, including Christian Associations of Italian Workers, Society of Saint Vincent de Paul, and Multicultural Oasis Association. It aimed to arouse attention from all walks of life on world peace, on acceptance of and help to immigrants and refugees in Italy with love, and on building up a peaceful society.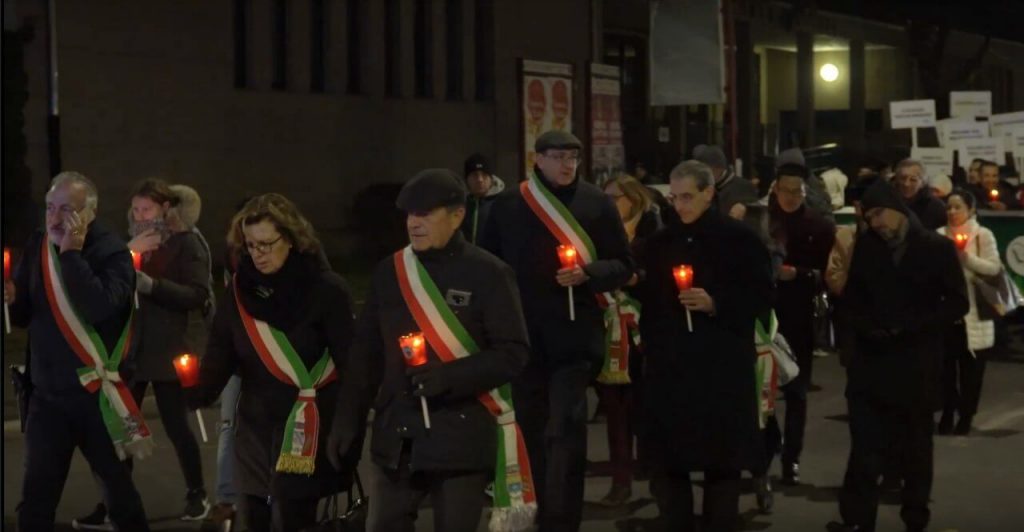 More than 100 volunteers, including CAG exiles in Italy who escaped persecution, alien Muslims, and local Catholics, formed a parade. With torchlights symbolizing peace, they, following the mayor of Rho and other mayors, marched steady towards Meda Auditorium.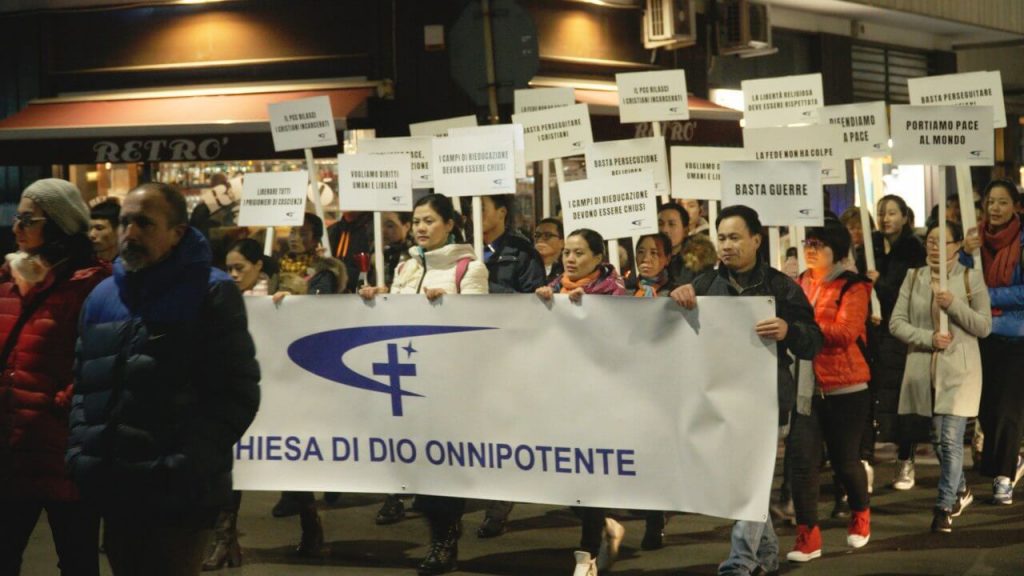 Among these marchers, CAG Christians held banners, such as "Fight against the CCP tyranny", "No religious persecution", and "We want democracy and freedom", etc., calling on the Chinese government to stop religious persecution and give Christians the right to religious belief.
The Church of Almighty God is the house church most persecuted by the CCP government. In recent years, the authorities' effort to crack down on this church has been continuously increased. In 2018, multiple crackdowns against the church and its members have been carried out nationwide, and according to the church's incomplete statistics, more than 10,000 of its members have been illegally arrested that year.
Marco Respinti, director of Bitter Winter, a magazine on human Rights, called the persecution of CAG members in China "a terrible thing", and appealed, "All religions should be united to absolutely protect the right of belief, because everyone has the right to express their own beliefs. If such serious problem continues to happen to Chinese religions, then this issue is always worthy of our attention."
He further explained that the persecution against religion in China, especially against Christians, has led to a large number of refugees. Because a lot of fake news on religions by the CCP is circulating in the West, many people have no real knowledge of these Chinese religious refugees.
As many countries in the West do not understand their persecution, their asylum applications have been met with extreme difficulty. Most of their applications have been rejected. Therefore, even though they have succeeded to flee China, their freedom and security are not secured well. They still face immediate repatriation to China and potential arrest and persecution by the CCP government.
Three CAG members who had been returned to China, as Human Rights Without Frontiers recently reported, have been arrested.One is now under residential surveillance; one was sentenced to three and a half years in prison for "participation in xie jiao activities"; one was arrested by the police and disappeared, whose whereabouts are still unknown.
Marco Respinti appealed to Italian government for awareness of the difficulty of these Christian asylum seekers. He said, "The government, in a sense, must pay attention to this fact, as religious freedom is the first human right Italian government must acknowledge."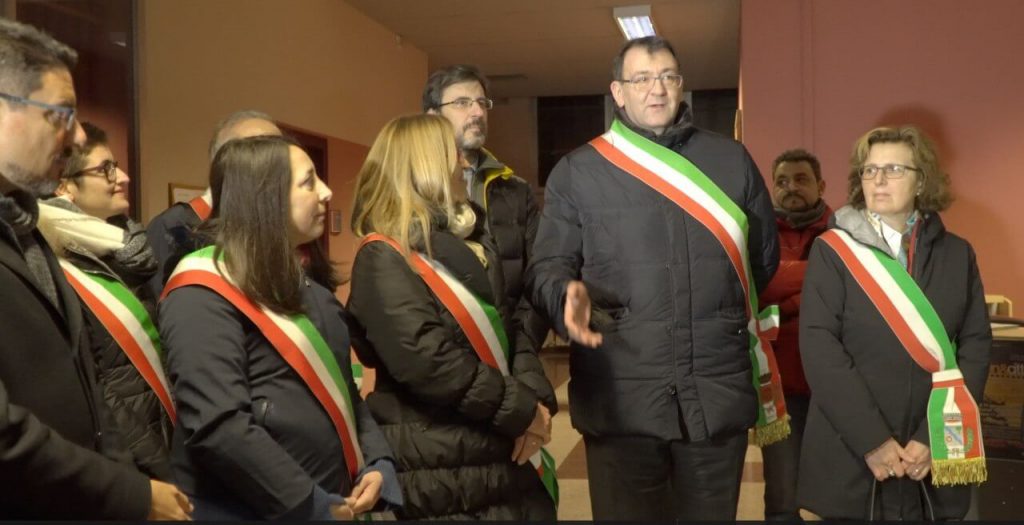 After the demonstration, the municipal representatives gave speeches at Meda Auditorium and expressed that the refugees who lost their homes because of war, poverty and/or persecution were in a bad situation. The public needed to pay attention to and accept them, and the government would work hard to improve their living condition and space in Italy.
Reported by correspondent Aijie