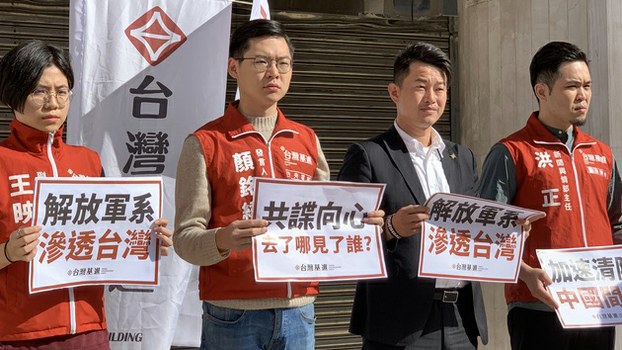 Allegations have been reported in an Australian newspaper of apparent dirty tricks by Beijing, in cahoots with Taiwan's pro-China opposition Kuomintang (KMT) party, ahead of the presidential election on Saturday.
The allegations relate to self-identified Chinese spy Wang Liqiang, also known as William Wang, who is currently in hiding in Sydney with his wife and child after making information available to Australian intelligence officers about Beijing's overseas infiltration and influence campaigns, particularly in Taiwan.
Taiwan President Tsai Ing-wen last year ordered an investigation into allegations by Wang that China has been using a Hong Kong-based real estate company as cover to infiltrate the democratic island and influence its politics and media.
Authorities on the democratic island then detained Xiang Xin and Kung Ching, two directors of the Hong Kong-based China Innovation Investment firm.
Australia's The Age newspaper reported on Wednesday — citing sources in Australian security agencies — that Wang had received attempted bribes and threats from two men beginning on Dec. 24 in a bid to get him to record a video retracting his information and claiming it was planted by Tsai's ruling Democratic Progressive Party (DPP).
Tsai is seeking a second term as president in an election on Saturday, and her popularity has been boosted by her insistence that Beijing is a major threat to the island's freedom and democracy.
Taiwan's national security agency has repeatedly warned of Chinese efforts to infiltrate and influence the outcome of Saturday's poll, and the island recently passed a law banning political campaigning and donations linked to foreign powers.
According to The Age, former KMT legislator and opposition party deputy secretary general Alex Tsai sent Wang text messages, including one which read: "If you take up the offer by the end of this month, everyone will help ensure you safely return to mainland China, and at the same time will help you resolve all your debts."
Tsai later offered Wang the opportunity to settle in Taiwan.
Wang said in a series of interviews with Australian media outlets in November that he engaged in espionage in Taiwan, Hong Kong and Australia, including infiltrating Taiwan's city elections of 2018 and the upcoming 2020 presidential election. Wang said he was hired by China Innovation Investment Ltd. (CIIL) CEO Xiang Xin as a spy.
A 'businessman' named Sun
A Chinese man who identified himself as a "businessman" and gave the surname Sun also warned Wang that he could be extradited to China and killed or his family on the Chinese mainland punished if he did not co-operate, The Age reported.
If proven, the approaches to Wang would be in breach of Australian foreign interference laws, which ban using bribery or threats in order to advance the interests of a foreign power.
Tsai confirmed to the paper that he and Sun had been in contact with Wang, but denied any wrongdoing.
However, the paper cited security sources as saying that Tsai had sent Sun a message in which he appeared to refer to the script Wang was being pressured into reading on camera.
Speaking to journalists in Taipei, Tsai echoed Beijing's claim that Wang Liqiang is not a spy, and said he had been trying to get Wang to "tell the truth."
But the DPP said Tsai wasn't admitting the whole truth, in a reference to the reported attempt to frame the DPP as having "fabricated" Wang's spy story ahead of the election.
DPP lawmaker Kuan Bi-ling said there is no evidence backing the claim that the DPP had done any such thing.
"These people are trying to save Xiang Xin [who is currently being investigated by Taiwan over the spying allegations] and strike a blow to the Taiwan general election at the same time," Kuan said. "They are trying to cook something up to drag the DPP into this."
The Australian Federal Police said they were investigating allegations of threats made against a man, after being contacted by Reuters.
Front company for Communist Party?
Xiang Xin and Kung Ching, the two directors of China Innovation Investment are being investigated over suspected violation of national security laws, and are currently unable to leave the country.
The couple are suspected of violating Article 2, section 1 of the law, which forbids people to "set up, finance, host, manipulate, direct or develop organizations on behalf of [China]."
If found guilty, those who break this law can receive a jail term of more than seven years and a multimillion-dollar fine.
Wang alleged that Xiang and Kung's company was used as cover for the ruling Chinese Communist Party to wield political influence in Taiwan and Hong Kong, via the media and other organizations.
Xiang, Kung and others had applied to the Investment Review Commission for approval for a NT$100 million investment on Dec. 30, 2016, officials said.
Chang Ming-bin, executive secretary of the Investment Review Commission under the ministry of economic affairs, said at the time of Wang's initial allegations that China Innovation Investment's history was "not straightforward," and that it had been turned down for an investment application on national security grounds as early as 2016.
Taiwan began a transition to democracy following the death of Chiang Ching-kuo in January 1988, starting with direct elections to the legislature in the early 1990s and culminating in the first direct election of a president, Lee Teng-hui, in 1996.
It has never been controlled by the Chinese Communist Party, nor formed part of the People's Republic of China.
Beijing wants to rule Taiwan under the "one country, two systems" concept used to take back the former colonial cities of Hong Kong and Macau, and has refused to rule out annexing the island by force.
Tsai has repeatedly said that Taiwan's 23 million people have no wish to give up their sovereignty.
She has also been an outspoken critic of the Hong Kong government since the anti-extradition, pro-democracy protest movement gripped the city in early June, and has repeatedly warned that Taiwan could suffer a similar loss of freedom and democracy if it entertains China's plan.
Reported by Hwang Chun-mei for RFA's Mandarin Service and by Chung Kuang-cheng for the Cantonese Service. Translated and edited by Luisetta Mudie.
Source: Copyright © 1998-2016, RFA. Used with the permission of Radio Free Asia, 2025 M St. NW, Suite 300, Washington DC 20036. https://www.rfa.org.