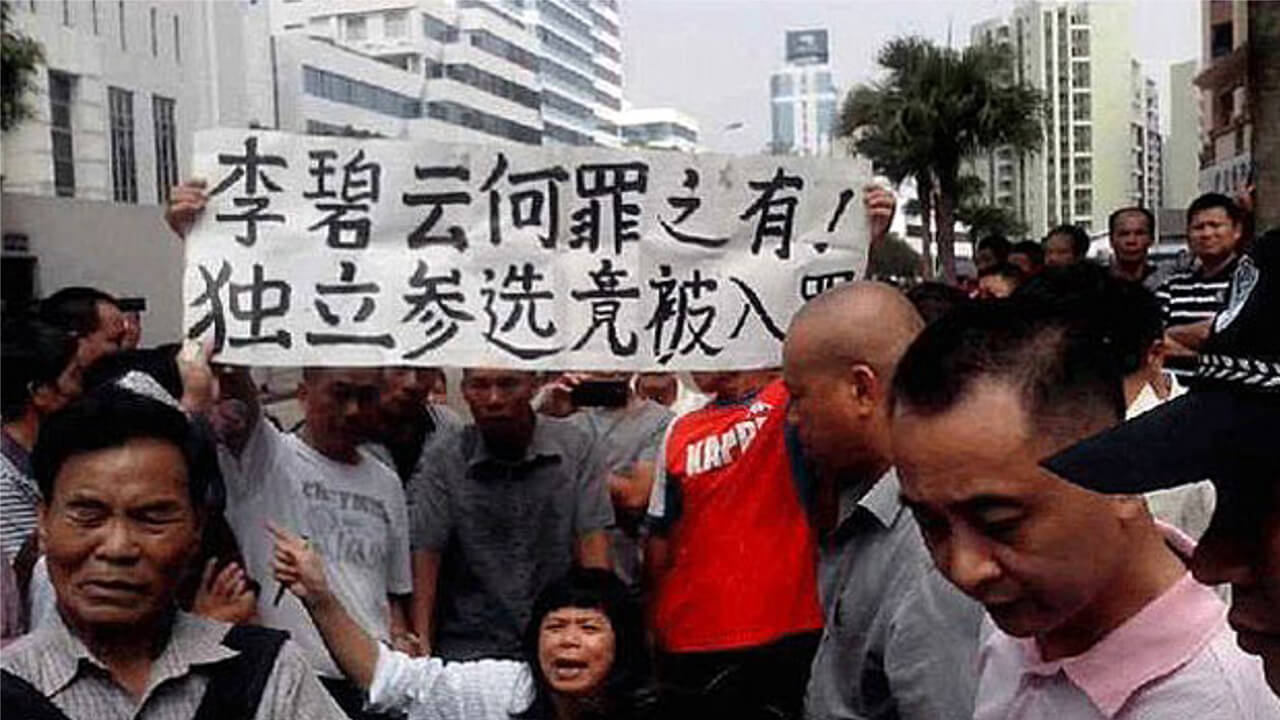 Authorities in the southern Chinese province of Guangdong have evicted the sister of a prominent election activist and beaten her siblings, who tried to prevent her home from being demolished, RFA has learned.
Li Biyun, who has been held in lengthy detention for trying to stand as an independent candidate in elections to her district People's Congress, said her sister Li Caiyun had also been taken away to an unknown location after refusing to sign a document allowing the government to appropriate her home for demolition purposes.
On Saturday, as Li Biyun and her brother Li Tianqiang were bringing groceries to Li Caiyun's home, they were confronted by more than 100 people, including officials of the Daliang neighborhood committee and a demolition team with a mechanical digger, Li told RFA.
The pair tried to stand in the way of the demolition work, but were pinned to the ground and beaten. Li Biyun sustained injuries, including a broken bone in her right hand, she said.
Repeated calls to the Daliang police station in Guangdong's Shunde city rang unanswered during office hours on Monday.
An official who answered the phone at the Desheng residential community police station provided another phone number, which was answered by an official who declined to comment.
"You'll have to come here in person if you're a reporter," the officials said. "Come here yourself and ask us."
Meanwhile, Li Biyun said she has made repeated calls to report her sister as missing, as well as making a number of calls to local officials, but police have refused to accept her reports.
"I reported this to the police; I tried everything, but they refused to accept it as a case," Li said. "I made a lot of calls and they accused me of harassing the emergency number."
She said the authorities have now apparently put a block on her cell phone.
"I can't make any calls at all now," Li said. "I don't know if I will be able to again soon."
Evictions, demolitions
The demolition of Li Caiyun's home and her "disappearance" came after Li Biyun spoke out about a recent campaign of forcible evictions and demolitions by the Shunde authorities, which sparked a public protest on Sunday by residents of the Chihua residential community in Chencun township.
"Things are really crazy in Shunde right now, and they are using a lot of force to carry out all of these illegal demolitions and evictions," she said on Sunday.
"The [clashes] happened last night because village officials in Chencun appropriated the land by force, and residents demanded that they open up village records to the public," she said. "A large number of people turned out … to express resistance and to demand that the land be returned to the villagers."
Photos of the protest showed around 100 people holding a banner that read: "The township government is stealing Chihua's land."
Last week, five elderly protesters were detained for protesting the loss of their land, while seven were detained after a group went to the next level of government to demand the recall of Chencun officials, sources told RFA.
In December 2014, Li Biyun was dumped at high speed by the side of the road after being jailed on public order charges during which she alleged torture at the hands of police.
A court in Shunde had found Li guilty of "obstructing civic duties" after she tried to stand as an independent candidate in elections to her district People's Congress.
Since her detention, she has suffered severe medical problems linked to her mistreatment at the hands of the authorities.
Widespread popular support
In 2011, Li joined dozens of political activists across China in a campaign to file applications to stand for election to district-level National People's Congress (NPC) bodies, in spite of official warnings that there is "no such thing" as an independent candidate.
Li's candidacy enjoyed widespread popular support after her earlier advocacy work on behalf of local residents whose farmland had been sold off by local government for development.
Activists tried to use a clause in the election rules which allows anyone with the endorsement of at least 10 constituents to seek nomination.
Many of the candidates, like Li, hailed from the least privileged groups in Chinese society, including those who have been forcibly evicted from their homes or who have long campaigned for their legal rights.
Apart from a token group of "democratic parties" that never oppose or criticize the ruling party, opposition political parties are banned in China, and those who set them up are frequently handed lengthy jail terms.
Reported by Yang Fan for RFA's Mandarin Service, and by Yeung Mak for the Cantonese Service. Translated and edited by Luisetta Mudie.
Source: Copyright © 1998-2016, RFA. Used with the permission of Radio Free Asia, 2025 M St. NW, Suite 300, Washington DC 20036. https://www.rfa.org.