Building on the experiences in Xinjiang, the CCP steps up its suppressive policies against Islam in other "autonomous" regions inhabited by ethnic Muslims.
by Ma Xiagu
Ningxia Hui Autonomous Region and other localities populated by ethnic Muslims have become the new targeted areas for CCP's brutal suppression of Islam. Zhang Yunsheng, a member of the standing committee of the CCP and party secretary in charge of political and legal affairs in Ningxia, has reportedly commented that the region "should draw experiences from the good practices and measures of Xinjiang" to curb so-called "religious extremism and terrorism." To "de-extremize" Hui Muslims, Xinjiang-style suppressions have been launched across northwest China: Islamic symbols and signs are being removed, the control over imams intensifies, in an attempt to erode the Muslim faith and replace it with the CCP's ideology.
Imams forced to undergo ideological transformation
Imams play an important role in passing down the traditions of Islam among Muslims. Therefore, the CCP seeks to diminish the influence of the Islamic faith by ideologically transforming imams.
An imam who requested anonymity revealed to Bitter Winter that the Ningxia Academy of Social Sciences in Yinchuan city now functions as a training center to indoctrinate imams and other religious leaders who serve in state-sanctioned mosques in the region with the CCP's ideology, policies, and regulations.
"Every day of the year, Islamic religious leaders are 'educated' there, new groups coming and leaving," the imam said. "Some of the classes last three to five days, and some seven to ten days."
Meanwhile, imams in other places of Ningxia are also required to attend "classes" on national policies and economy, technology, and similar topics, organized by local religious affairs bureaus.
According to the imam, such "classes" are no different from indoctrination. "The government seeks that we promote these things among Muslims on its behalf after we are indoctrinated, and thus they will achieve the goal of diluting Muslims' religious awareness," the imam explained.
Imams also face restrictions on what they can preach. "The regime doesn't allow us to preach in accordance with the teachings of the Quran and requires us to talk about state policies before expounding scriptures," an imam from Yinchuan told Bitter Winter. He added that every time they are required to read to their congregations a government document, they have to be photographed holding it by the chest. Their preaching has to be recorded as well. He explained that the photos and videos should be handed to the local Religious Affairs Bureau, or they will be punished.
The imam lamented that it is getting harder and harder to follow his chosen path. His words seem to reflect the arduous conditions in which Muslims in China are fighting to survive.
State pours money to create "sinicized" mosques
Linxia Hui Autonomous Prefecture in Gansu, a province neighboring Ningxia, is often referred to as the "little Mecca in China" because of a significant population of Hui Muslims. They have also been heavily targeted by the regime.
Numerous mosques in Linxia have been rectified to look "more Chinese," traditional Islamic-style elements removed and replaced with the ones reflecting traditional Chinese architecture. The prefecture that was once permeated with Hui culture and customs lost its ethnic and religious characteristics.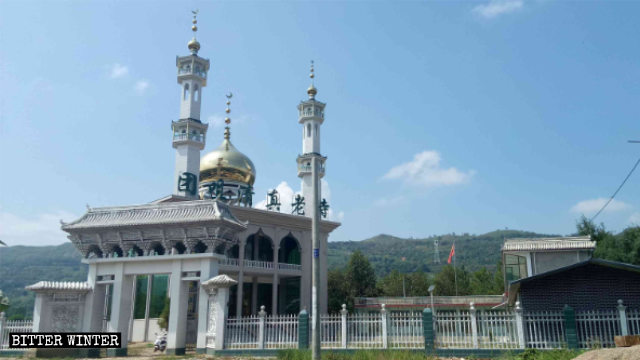 The renovation of a mosque in Tuanju village of Linxia was finished in 2018, but this year, the local government dismantled its dome at the cost of 980,000 RMB (about $ 140,000). The local Muslims don't have any say in the process, as officials had threatened to raze the mosque to the ground if they voiced discontent.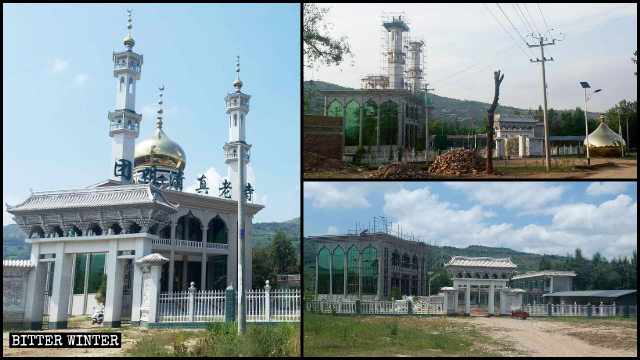 Similarly, Mochuan Great Mosque, located in Hanji town of Linxia county, which can accommodate about 6,000 people, was renovated last year. But in June, it underwent forced remodeling, the government spending 3 million RMB (about $ 430,000) on it. Its exquisite dome and four minarets were also ordered to be demolished. The mosque was built with the money donated by believers, totaling over 100 million RMB (about $ 14.3 million).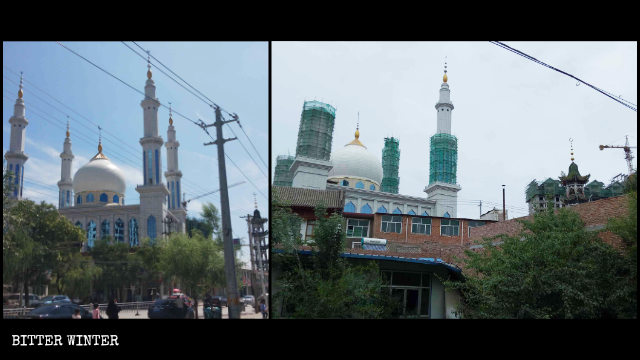 In April, the government spent about 500,000 RMB (about $ 71,400) to "sinicize" a mosque on Binhe West Road in Linxia city.
Source: Bitter Winter