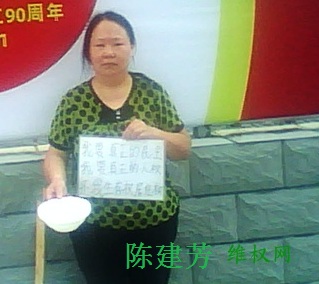 Human rights groups have called on China to free a prominent Shanghai activist arrested more than six months ago and who has been held incommunicado ever since.
Chen Jianfang is currently being held in the Shanghai Detention Center and is at serious risk of being tortured, they say.
Chen, 49, was arrested by authorities along with her husband on March 20. He was released on bail on April 3, but Chen was formally arrested on May 22 on suspicion of "subversion state power," a charge that carries a possible life sentence.
State prosecutors indicted her on Aug. 30 and transferred the case to the Shanghai No. 1 Intermediate People's Court.
"Chen has been denied the right to a fair trial. She has not been allowed a single meeting with the lawyer of her choice throughout her detention," six rights groups said in an open letter sent to Chinese authorities on Oct. 21.
"Chen was subjected to months of enforced disappearance. Nothing is known about her condition at the detention center," the letter added.
Chen's arrest came just days after she wrote an essay in which she paid tribute to her "spiritual teacher," rights activist Cao Shunli, on the fifth anniversary of her death in police custody on March 14, 2014, the Chinese Human Rights Defenders (CHRD) a network of rights groups said in a copy of the letter posted on its website.
"Chen Jianfang's indictment follows a recent uptick in the Chinese government's harsh persecution of human rights defenders in China," the letter said. "We call on the Chinese government to immediately and unconditionally release Chen Jianfang … and all other human rights defenders detained in retaliation for exercising their rights."
Chen, a housing activist was recently named a recipient of the fourth Cao Shunli Memorial Award for Human Rights Defenders by Civil Rights & Livelihood Watch, Human Rights Campaign in China, and CHRD.
Chen, who hails from a rural community, began her crusade for land and housing rights after government-backed developers took her family's land.
She has campaigned against mass evictions to make way for Shanghai's skyscrapers and high-speed railway projects.
Source: UCANEWS