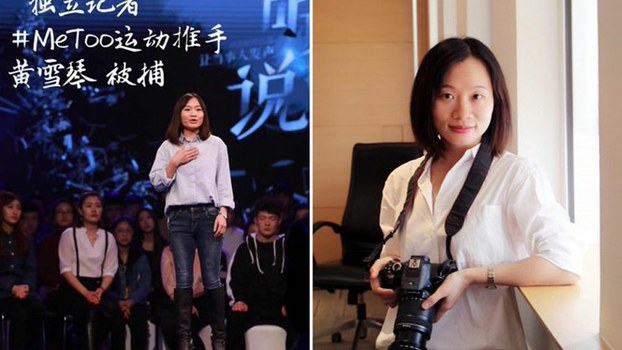 Authorities in the southern Chinese province of Guangdong have detained an outspoken writer and #MeToo movement activist after she published an article about the Hong Kong protest movement.
Huang Xueqin, also known as Sophia Huang, was detained on Oct. 17 by police in Guangdong's provincial capital Guangzhou, on suspicion of "picking quarrels and stirring up trouble," a charge that is often used to target peaceful critics of the ruling Chinese Communist Party.
Huang is currently being held in Guangzhou's Baiyun District Detention Center, where police have interrogated her about a post she made about Hong Kong's anti-extradition movement on June 10, the rights website Civil Rights and Livelihood Watch reported.
"This is yet another case of a Chinese citizen being detained for reporting the truth about, or showing solidarity with, the Hong Kong anti-extradition movement," the report said.
Huang, a former reporter for the New Express newspaper and the Southern Metropolis Weekly, typically reports on rights issues in her work, and has penned articles on sexual harassment, gender, pollution and vulnerable groups in Chinese society.
Before being detained, she had been an outspoken member of the country's #MeToo movement, and had carried out a survey of sexual harassment and assault cases among Chinese women working in journalism.
Many women who have tried to defend human rights in China have faced persecution, including arbitrary detention, torture and inhumane punishment by medical deprivation, according to the Chinese Human Rights Defenders (CHRD) network.
Huang was already under a travel ban imposed following her return from a trip to Hong Kong and Taiwan from February through August.
She had previously assisted in the investigation and reporting of a number of high-profile sexual harassment allegations against professors at Peking University, Wuhan University of Technology, Henan University and Sun Yat-sen University in Guangzhou.
Police harass Huang's family
Huang was present at a million-strong protest in Hong Kong on June 9 against plans to allow extradition to mainland China, and published a report on her experiences there the following day.
She said police had harassed her family members in Guangzhou the day after the article was posted.
"Because of this article, the Guangzhou police came knocking at my family home late at night, and harassed family members," she said. "My parents were terrified."
Huang had planned to study for a postgraduate degree in law at the University of Hong Kong in September, but was unable to get there after police confiscated her travel documents.
She was detained after she went to the police station to try to get her passport on Oct. 17, the Civil Rights and Livelihood Watch report said.
The #MeToo movement in China became a hot topic on social media when Beihang University fired a professor, Chen Xiaowu, after he was publicly accused by his former PhD candidate Luo Xixi of sexual harassment and assault.
Luo's #MeToo whistleblowing was among the first to make headline news in China, but when feminists posted photos of themselves on social media to mark International Women's Day, hoping to build an online movement, their content was deleted immediately by government censors.
Huang's 2018 study looked at responses from mostly heterosexual women journalists in the 18-34 age range, 83.7 percent of whom reported sexual harassment in the workplace.
More than 90 percent of the perpetrators were male, with more than 40 percent holding a position of power over the victim, as their boss or supervisor.
Reported by RFA's Mandarin and Cantonese Services. Translated and edited by Luisetta Mudie.
Source: Copyright © 1998-2016, RFA. Used with the permission of Radio Free Asia, 2025 M St. NW, Suite 300, Washington DC 20036. https://www.rfa.org.