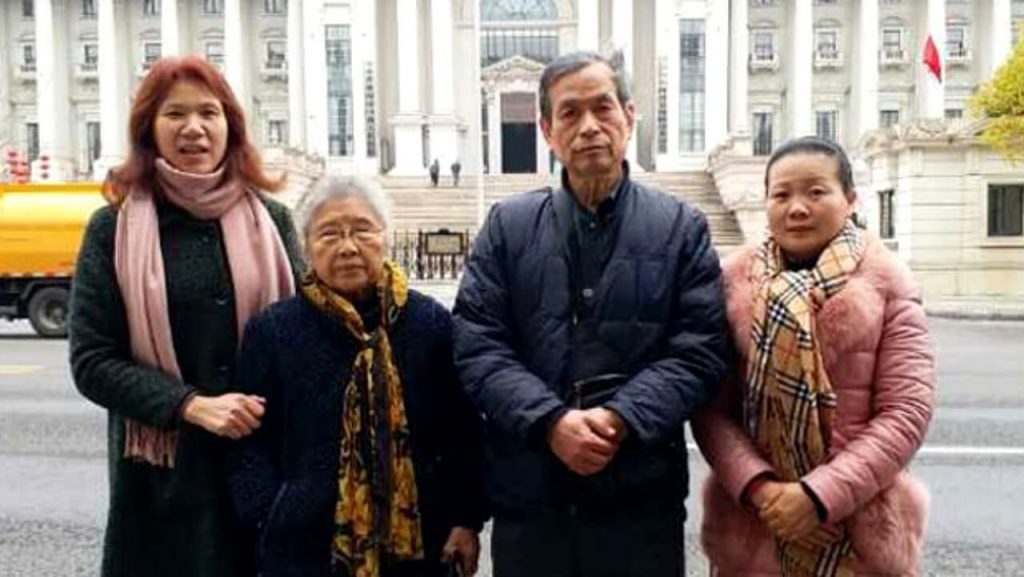 Authorities in the southwestern Chinese province of Sichuan are holding the elderly mother of jailed rights activist Huang Qi after detaining her in Beijing last December.
Pu Wenqing, 85, has been a vocal campaigner for Huang's release on urgent medical grounds, and says the charges against him are politically motivated, with no evidence to back them up.
She was forcibly detained and pushed to the ground by authorities in Beijing on Dec. 7, after traveling there to press her son's case, and was incommunicado for several weeks afterwards.
But she returned to Sichuan, where she hired Jiangxi-based lawyer Zhang Zanning to represent Huang, and made another ateempt to visit her son at the Mianyang Detention Center on Thursday.
Pu also met with diplomats from Germany, Italy, the the U.K., U.S. and Switzerland on Thursday, a source close to her said.
"They were very concerned about Huang Qi's situation," the source said. "We explained what had been happening with the lawyer's attempts to meet with Huang Qi in the past couple of days, and our fears for Huang's health."
"The diplomats said they were extremely concerned about the situation."
Fellow rights activist Chen Mingyu said the meeting had triggered a raid by state security police, who had taken away the activists supporting Pu.
"A bunch of them forced their way in through the door [of Pu's home] … and yelled at us to leave," Chen said. "They were very rude, and they said we all knew what we had done [wrong]."
Sleeping in the same bed
While the activists were released after questioning, several state security police were left on guard at Pu's home, she said.
"There are two men sleeping in Huang's mother's lounge, and there's a woman sleeping in the same bed as her in the bedroom," Chen said. "There's also a woman sleeping in the other bedroom."
"The police keep constant watch on the lounge, and they won't let anyone in who isn't with them," she said. "Huang's mother was really upset, and she said she didn't want to go on living; that she was going to commit suicide."
Chen said the authorities had refused to recognize Zhang Zanning as Huang's new defense attorney.
"I contacted this lawyer, who had agreed to act as Huang's defense, and … they told him before he had even traveled to [Sichuan] that he shouldn't come, because the authorities were putting pressure on his law firm," she said.
"They said they couldn't guarantee his firm's existence if he defended in this case."
Zhang confirmed Chen's account when contacted by RFA on Friday.
"They refused to accept my letter of instruction," he said. "They also refused to allow me to meet with him."
Faking documents
One of Huang's former defense attorneys, Liu Zhengqing, was warned off further involvement in Huang's case and lost his license to practice as a lawyer.
Last month, a former police officer from Mianyang accused police in the town of faking documents to use against Huang.
Huang, 56, stood trial in January at the Mianyang Intermediate People's Court on charges of "leaking state secrets" and "leaking state secrets overseas," amid concerns that he could soon die in detention.
Chen also accused the police of torturing him, Huang and a third defendant, Yang Xiuqiong, in a bid to force a "confession" from them.
Huang was recently identified by Paris-based press freedom group Reporters Without Borders (RSF) as one of 10 citizen journalists in danger of dying in detention.
Huang, who founded the Tianwang rights website, has repeatedly denied the charges and refused to "confess."
Huang's Tianwang website had a strong track record of highlighting petitions and complaints against official wrongdoing, and injustices meted out to the most vulnerable in society, including forced evictees, parents of children who died in the devastating 2008 Sichuan earthquake, and other peaceful critics of the ruling Chinese Communist Party.
Reported by Gao Feng for RFA's Mandarin Service, and by Ng Yik-tung and Tam Siu-yin for the Cantonese Service. Translated and edited by Luisetta Mudie.
Source: Copyright © 1998-2016, RFA. Used with the permission of Radio Free Asia, 2025 M St. NW, Suite 300, Washington DC 20036. https://www.rfa.org.