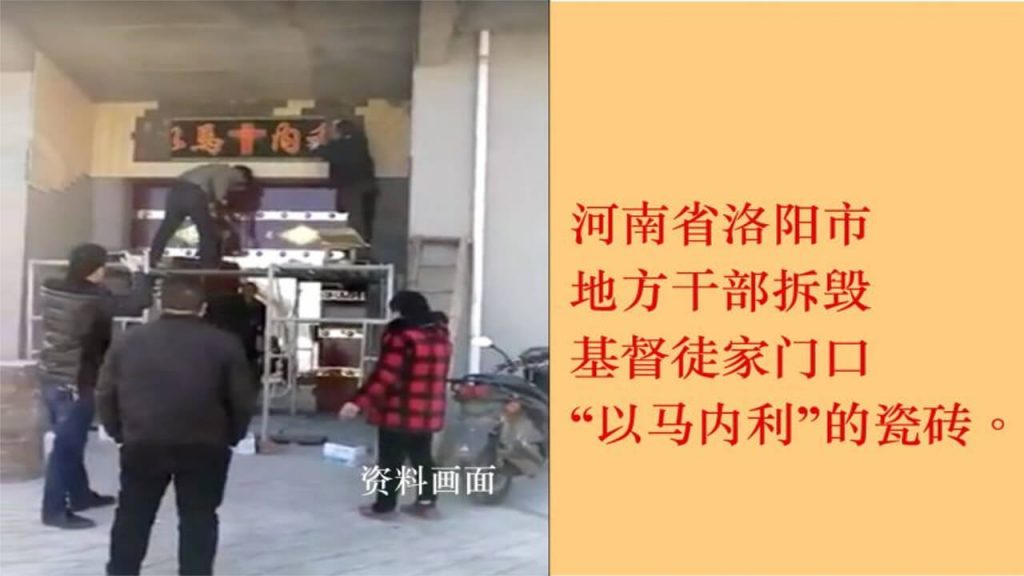 ADHRRF – In early February 2018, Henan Luoyang Bureau of Religious Affairs held meetings of municipal departments and religious groups to strengthen the special punitive campaign against religious faith further. Then, they instigated village cadres and masses to tear off the gospel couplets in Christians' home, remove the tiles with the word "Immanuel" from the doors and monitor Christians' religious activities. The authorities' persecution against house churches has seriously disturbed people's daily lives and has forced some Christians to leave home and go into hiding.

The following are the relevant reports of Luoyang Yiyang government agitating grassroots to monitor Christians:
Arouse the Masses to Conduct Surveillance
According to Chen Xianglan, a sanitation worker in a town in Yiyang County, all the local sanitation workers, including her, were summoned to the conference room of township government at 9 a.m. on February 13, 2018. A township cadre said in the meeting, "The government is to rectify the religions and ban the gospel preaching. Within your working area, make sure no door is pasted with couplets about believing in Jesus during the Spring Festival. Believers in Jesus are not allowed to host wedding or funeral ceremonies. Don't use their band. You must monitor believers in your working area and stop them in time once you find them involved in these activities. If they don't listen, report it to the government. They will tackle it. Let's wait and see. The believers in God will be fixed seriously."
Mobilize Grassroots Cadres to Make a Name List of Christians
Christian Li Xinhua, a villager in Yiyang County, told the reporter that on the afternoon of March 5, 2018, the committee of the village where her sister-in-law lives held a meeting of production team leaders. One team leader disclosed to her sister-in-law, "The committee's meeting was carried out to make a name list of Christians and members of the Eastern Lightning and hand it to the superiors for a large-scale arrest…. Your sister-in-law is a church leader and will also be arrested." Learning this news, Li Xinhua had to leave home hiding herself to escape the CCP's arrest and didn't dare to return home.
Assign Special Personnel to Monitor Christians
On March 10, 2018, Zhang Feng, a Christian in Yiyang County, was told by her son-in-law, "Mom! You should believe in God only at home. Don't go elsewhere! My classmate (a village cadre) said that now the government will punish the believers in God. Our city is a key target. Some special personnel are sent to every village for monitoring. They will report as long as strangers or two or three people are found to gather in a house. Church leaders are important arrest targets."
Investigation Teams Settle in Major Counties and Districts for Crackdown
In addition to launching grassroots monitoring of Christians, the Chinese Communist authorities have also sent investigation teams to settle in the major counties and districts. According to the sister of Christian Liu Huiqin, the municipal officials said at a faculty meeting that the number of believers in China exceeds that of the CCP members and that their cohesion is far stronger. Therefore, the central authorities will take measures for restriction. They also said that Shandong and Henan have the largest numbers of believers in God. Since the number of believers in Henan Yiyang County is relatively large, the central authorities will send investigation teams to this county to crack down on believers.
After that, the school where Liu Huiqin works also held a faculty meeting. At the meeting, the principal said: "There are too many believers in our county, and there are also more Christian churches than average in the country. So our county is one of the (government's) key targets to be cleaned up." He also stressed that the current situation is different from the past because the government is intensifying the top-down crackdown on Christianity.
It is understood that in this special crackdown campaign, the list of Christians has been reported to the higher authorities by the village cadres. The authorities will dispatch personnel from the provincial government directly to the towns for secret investigation and monitoring of Christians. Some analysts believe that the CCP government's control and persecution of religious beliefs have become increasingly savage, which indicates that Chinese Christians have entered a "cold winter" of faith and are facing more brutal persecution. Their situation is worrying!