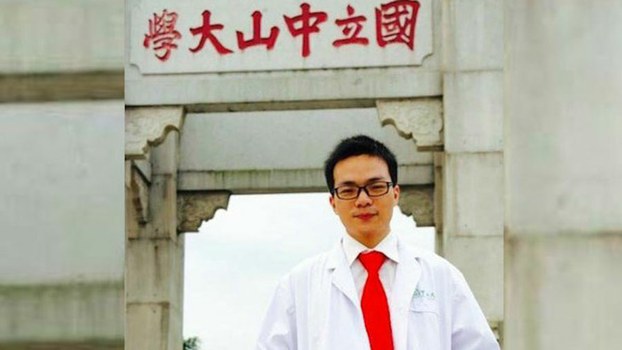 A labor rights worker, a volunteer and an intern were reported incommunicado in the southern Chinese city of Guangzhou on Thursday, while mainland Chinese activists who took part in the Hong Kong protests were sent for "drug rehabilitation," RFA has learned.
Chen Weixiang, who worked for the Xin Huanwei group focusing on labor rights for street cleaners and sanitation workers, was detained on the afternoon of Dec. 17 by police at his home in Guangzhou, a person familiar with the situation told RFA.
Recent graduate and intern Lu Haoju was detained at the same time, the source said.
Yang Zhanqing, a friend of Chen's, said Chen was detained by officers from the Nanshitou Street police station in Guangzhou's Haizhu district.
"We don't know what the charges are or where they are being held," Yang said. "We have had no news so far."
He said a third person — a volunteer — linked to Xin Huanwei was also incommunicado, believed detained.
"One of my former classmates, she was involved in [Chen's] project, and she is now out of touch," Yang said. "I think they were taken away by Guangzhou police between 4-5 p.m. on Dec. 17. There were three of them."
"My guess is that they are targeting him because of Xin Huanwei, but a more direct reason could be that he recently helped some sanitation workers to stand up for their rights [with legal assistance]," Yang said.
"One instance was a case of wage arrears for sanitation workers, and another was a sanitation worker who got fired, then died, so it became a compensation case," he said. "Both of these cases touched on vested interests in local government."
No tolerance left for civil rights organizations
Chen had only recently returned to China after gaining a master's degree in the United States, Yang said.
But he said the ruling Chinese Communist Party had no tolerance left for civil rights organizations like Chen's.
"According to my experience and that of my former colleagues and people I know, any independent, privately run NGO that stands up for people's rights will be threatened and harassed with detentions and demands that it cease operating," he said.
An officer who answered the phone at the Nanshitou Street police station declined to comment, saying interviews had to be approved at district level.
"If you want an interview, you'll have to go higher up … the Haizhu police department," the officer said.
Chen Weixiang graduated from Sun Yat-sen University School of Medicine in 2015, but was rejected from further medical training because of his labor activism.
After studying for a master's degree at Penn State University in the United States, he returned to China in August and set up services for sanitation workers, including Xin Huanwei.
'Compulsory detoxification'
Meanwhile, authorities in Guangdong's Dongguan city have detained activist Hu Haibo after he traveled to Hong Kong to support the pro-democracy movement there.
Since his return from Hong Kong, Hu was designated a "drug addict" by police and referred for "compulsory detoxification" at a rehab center last month, fellow activist Chen Yanhui told RFA.
"We are guessing that he may not have been cooperating after being admitted [to rehab] so it was changed to compulsory detoxification," Chen said. "He refused to accept their drugs and injections because he had never done drugs in the first place."
According to the Civil Rights and Livelihood Watch website, Hu could be incarcerated for up to two years under the compulsory program.
Chen said Hu's father had visited him at the center on Wednesday, but the visit was controlled and monitored at all times by police, who forced the pair to speak Mandarin rather than their native language.
"Maybe they were worried that Hu would disclose some information about life inside, because he was being treated differently from other drug addicts there," Chen said.
A Hong Kong resident who knew Hu said he had never seen any evidence of drug-taking during their time as roommates.
Reported by Wong Siu-san and Sing Man for RFA's Cantonese Service, and by Qiao Long and Gao Feng for the Mandarin Service. Translated and edited by Luisetta Mudie.
Source: Copyright © 1998-2016, RFA. Used with the permission of Radio Free Asia, 2025 M St. NW, Suite 300, Washington DC 20036. https://www.rfa.org.