The CCP continues to annihilate Muslim traditions from the Hui people-inhabited areas by demolishing Islamic architecture and symbols; no signs in Arabic are allowed.
by Gu Qi
The Chinese government plans to completely "sinicize" Chinese Muslims outside of Xinjiang in five years. As part of this drive, the campaign to eliminate all Islamic symbols and signs in Arabic has already spread throughout the provinces of Henan and Shaanxi, as well as other areas of China. Inner Mongolia Autonomous Region is no exception.
Forceful demolition causes fire
Arabic-style architectural symbols – domes, arches, and colored glass tiles – were unique characteristics of the Islamic Cultural Street in Hohhot city, the capital of Inner Mongolia, primarily inhabited by ethnic Hui people. Today, these symbols have disappeared, and the once exquisite street has lost its elegance forever.
The Religious Affairs Bureau and the government of Hohhot's Huimin district ordered the removal of all domes and crescent moon and star symbols atop buildings on the street in April. Shortly after, a forced demolition storm swept across the entire 1,150-meter-long street.
On the morning of April 27, government-hired workers dismantled the dome on the top of Jiupeng Plaza on Islamic Cultural Street, resulting in a short circuit that caused a fire to break out. According to an eyewitness, the fire was massive, and the hotel on the first floor had to close for a few days to clean all its windows that had been blackened by the smoke.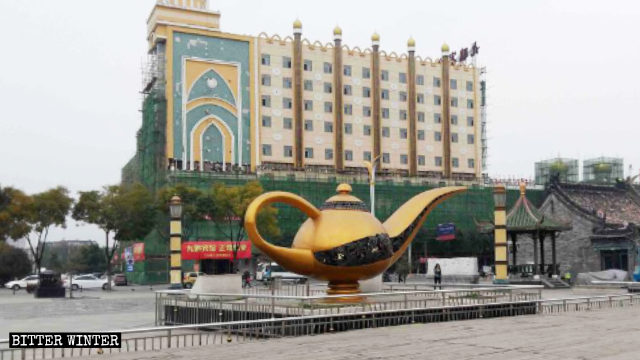 Residents in the area told Bitter Winter that a person was crushed to death during the demolition. So far, we were unable to reach the victim's family to confirm the matter.
All domes and other symbols with Islamic characteristics have now been removed from the buildings on Islamic Cultural Street. The reason cited by the government was that buildings with Islamic symbols are not allowed; all structures should be built according to Chinese cultural characteristics.
"Domes and crescent moons on the roofs of buildings show the unity of our ethnic group. They are symbols of our faith," a Hui resident told Bitter Witter. "Islamic architecture won't rebel! We had spent huge sums of money to construct these buildings, and now they are forced to be demolished. This is a waste of workforce and money!"
Another Muslim called the Communist Party "a one-party dictatorship." "On the surface, they claim there is freedom of belief in China, but in reality, they're suppressing religion," the man said. "The government is treating Muslims the same way as it was during the Cultural Revolution."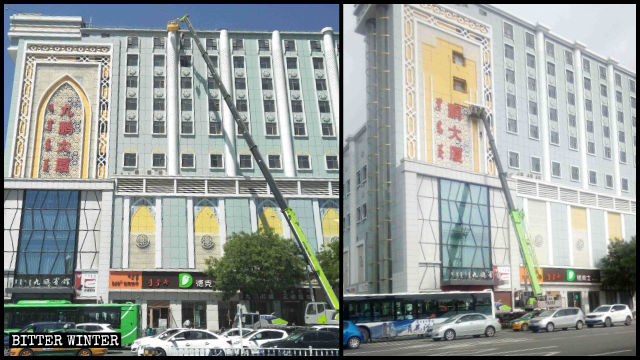 As Bitter Winter has reported, in January, all Islamic-style architecture on Jilin city's Beiji Halal Food Street, created at the cost of more than 100 million RMB ($ 14.5 million), was demolished. According to a local government official, China is now fully pursuing the "sinicization" of religion, and all Islamic symbols must be removed.
Arabic text replaced with Chinese characters and Mongolian script
Hohhot's Islamic Cultural Street is also home to a prosperous Hui business district. But under the policy to demolish all Islamic symbols, these ethnic Hui shops have been severely affected – all Arabic-language symbols on shop signboards have been forcibly dismantled or painted over.
"Now, even plastic bags for groceries aren't allowed to have signs in Arabic. Whenever officials see grocery bags with halal symbols, they will confiscate them immediately," said the owner of a shop whose signboard has been removed.
During a visit to the area, Bitter Winter discovered that all non-meat products, such as cellophane noodles, vegetables, and steamed buns, did not have halal symbols on their packaging – all had been ordered to be removed as part of the campaign against the so-called "generalization of halal."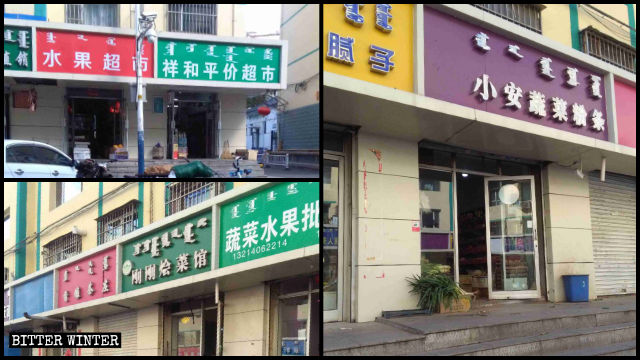 A local shop owner said that urban management officers inspect businesses on the street more than ten times per day. "As soon as they discover goods with Arabic-language symbols, they confiscate them immediately," the man said.
Personnel from Huimin district's Religious Affairs Bureau, Food and Drug Bureau, Health Bureau, and other departments have been dispatched to the street for inspections to ensure that all Arabic symbols have been removed.
"Last winter, officials from the local Religious Affairs Bureau prohibited us from posting Arabic-language symbols on the vegetarian products," another shop owner told Bitter Winter. "I still posted them, and after Religious Affairs Bureau officials saw this, they tore them down."
"The government doesn't let us have Arabic lettering on our signboards now. They must all be replaced with Mongolian lettering or Chinese characters," a local Hui resident said. "This used to be a street for the Hui people, with the Arabic word for 'halal' and Arabic symbols on shops' signboards. Now, they all have Mongolian lettering on top and Chinese characters on the bottom. You can't even tell that this is an ethnic Hui street anymore."
In the face of strict inspections and bans by the government, more and more Muslims chose to remain silent. When Bitter Winter asked a Huimin district proprietress about the government's suppression of the Muslim culture and traditions, she only said, "This is a sensitive year. We have to speak less…"
Source: Bitter Winter