As religious sculptures and other symbols are being destroyed throughout the country, Chairman Mao statues stand tall for people to worship.
by Xin Lu
The infinite number of Mao Zedong statues all around China during the Cultural Revolution was one of the representations of his personality cult. In the new Communist China, the "Mao worship" seems to be on the rise again, as new Chairman Mao statues are erected to worship him instead of Buddhist or Taoist deities.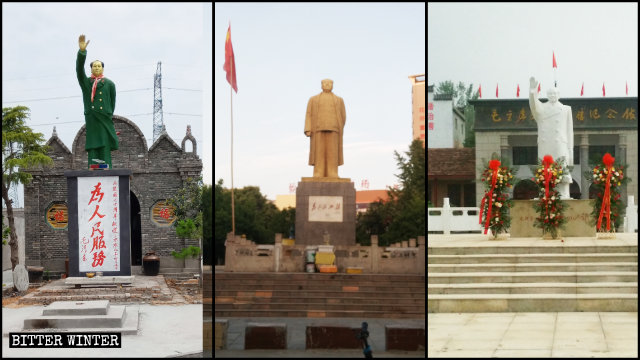 "So awesome!" Unlicensed Mao Zedong temples flourish
Next to one of the two roads leading to the top of Lotus Mountain, a Taoist holy land in Jia county in the central province of Henan, stands a "Mao Zedong Memorial Hall." A gold-painted statue of Chairman Mao immediately comes into view upon entering the hall; prayer mats, an incense burner, and a donation box are placed next to the figure.
On the other road, a temple worshiping Mao Zedong comes into view after walking up 122 steps. Smoke emanates in all directions from the incense burner. Pilgrims flock here to kowtow and worship; even minors are allowed, unlike other places of worship in China.
"Many licensed temples have been shut down and demolished now, but these two unlicensed Mao Zedong temples are still able to guard the foot of Lotus Mountain – so awesome!" a local villager explained mockingly.
Over in Henan's Shangqiu city, an outdoor statue of Mao Zedong stands on a public square. City residents say that on the first and 15th day of each lunar month, many locals come to worship. Even on ordinary days, some people come to the square to burn incense.
Video 1: On December 26, 2018, the 125th anniversary of the birth of Mao Zedong, the square was filled with people taking part in worship activities:
The square is located in a bustling area. Unlike other public squares and scenic spots, the government has neither ordered the square's outdoor statue to be demolished nor prohibited religious activities there. On the contrary, everything seems to be organized with state's tacit approval. Even police officers come frequently to direct traffic and keep order at the square.
CCP members and government officials also actively participate in Mao Zedong-worshiping activities. On August 8, a Mao Zedong memorial hall in Shangqiu city's Liangyuan district held a celebration. The secretary of the provincial Party committee, accompanied by more than 100 grassroots-level officials and villagers, came to the memorial hall. They gathered in front of a Mao Zedong statue, burned incense and paper offerings, knelt to worship. It was an animated scene.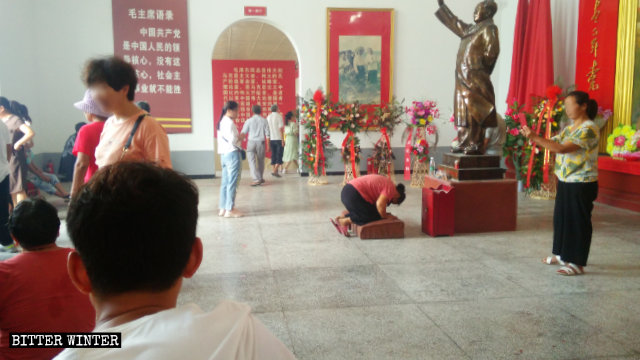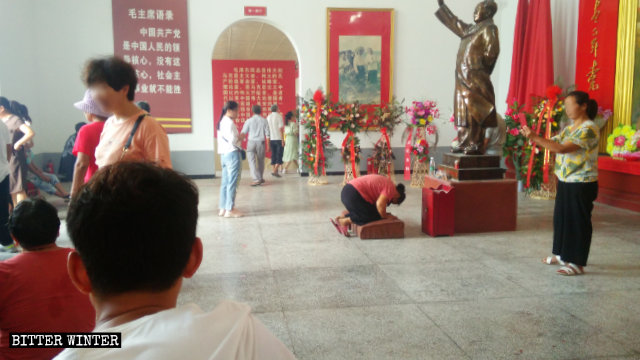 "Now, the entire Party and army throughout the country, under Xi Jinping's leadership, have started revering the 'Ten Great Marshals.' Mao Zedong, Zhou Enlai [(1898-1976), the first Premier of the People's Republic of China], and Zhu De [(1886-1976), a general and one of the pioneers of the CCP] have already become gods," a government official explained.
Chairman Mao's statues transpire in rural China
Since coming to power, President Xi Jinping has emulated every aspect of the Chairman Mao's personality cult, but at the same, he continuously supports "the Mao worship fever."
A nearly finished Mao statue in Zhushigang village in Henan was demolished in 2016, after a streak of criticism flooded the internet on the extravagance of the 36-foot-tall golden statue being built at the cost of nearly three million RMB (about $ 424,500) in the impoverished countryside.
The demolition didn't diminish the eagerness of local officials throughout Henan to build more memorials to Chairman Mao.
On August 15 and 16, Mao Zedong statues were unveiled in two villages in Shangqiu city's Liangyuan district, villagers waving their arms with raised fists and shouting "Long live Chairman Mao!"
At a ceremony to unveil the statue of Mao, villagers waved their arms while shouting, "Long live Chairman Mao!":
Mao becomes a "protected deity"
After officials from the Religious Affairs Bureau repeatedly ordered to cease burning incense or praying in a Taoist temple in Shangqiu city, the temple's leadership decided to build a statue of Mao Zedong. According to a local source, ever since the statue was built, inspecting teams stopped harassing the temple and don't' mind people making offerings to the Mao statue.
To preserve their places of worship, many other temples have erected statues of Mao Zedong and other leaders of Communist China.
"Now, if there is no Mao Zedong statue or Chinese flag inside the temple, the government will say that it's a xie jiao," a temple owner commented.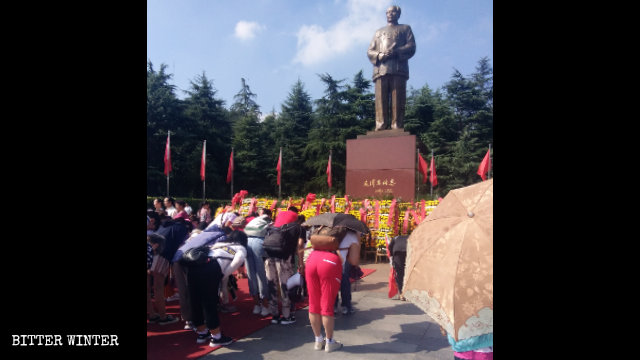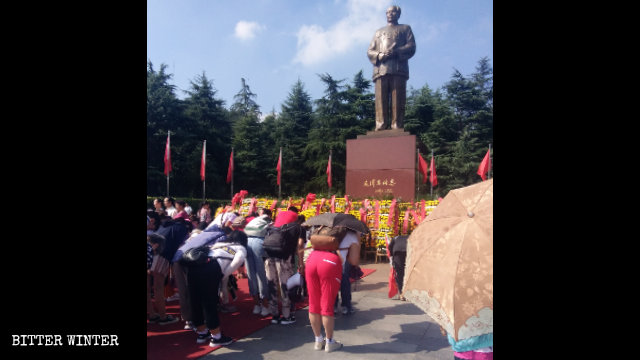 Zhao Dagong, one of the signatories of "Charter 08," a 2008 petition by Chinese activists, calling for greater human rights and democratic freedoms in China, wrote in an article: "Of the world's three major demons of the last century, Hitler has long been abandoned by the Germans, and the Soviet Communist Party denounced Stalin; only the ghost of Mao Zedong still roams around in China."
Source: Bitter Winter