The government has launched a campaign to force imams back to their places of origin, as part of a broader policy to weaken Islamic communities in China.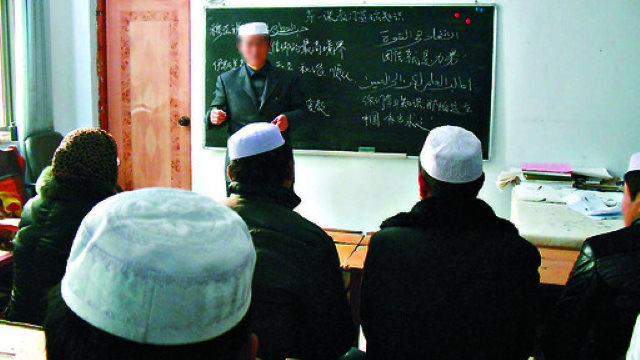 by Xin Lu
The government of central China's Henan Province issued a directive this year that demands to investigate imams serving in mosques and order those hailing from other provinces to leave Henan. An official from the Religious Affairs Bureau in one of Henan's cities told Bitter Winter that only the imams who have unquestionably submitted to the government's management and proactively promoted the policy of "sinicization" are exempt and can remain in the locality they serve for the time being.
But even those who have been allowed to stay for now are not safe. Imams' personal information should be recorded on the government's files, and they are to be put under intensified surveillance and subjected to annual inspections. Those imams who are found to be violating rules and regulations, especially if they falter in implementing the religion "sinicization" policy, will be ordered to leave the province.
"Before the order was issued, seven out-of-province imams worked in the area. Now, six have been driven away, and the remaining one is under constant government scrutiny," said the person in charge of a mosque in Sanmenxia city in western Henan.
In some localities, the new policy has resulted in no imams left to handle religious affairs in mosques and the daily lives of Muslims, such as officiating weddings and funerals, causing much inconvenience to the local Hui population.
An imam from the northwestern province of Shaanxi, who has worked in Henan for more than 20 years, was told in April by the China Islamic Association to leave his mosque.
"As older imams are retiring, the government does not allow the mosques to cultivate new imams," the imam told Bitter Winter. "In various areas, only a few officially-cultivated, CCP-controlled imams are left. They are not enough to serve the demands of congregations. Now that even the imams from other provinces are told to leave, some mosques will be left without anyone to lead them."
In order to stay in the province, some imams have tried transferring their household registrations from their places of origin to Henan. The imam said that his friends had suggested him to do the same. But he knows that it is not an easy thing to do. "If out-of-province imams are being driven away on orders by the government, it will not approve our applications for household registration transfers," the imam added.
To receive imam credentials in another province, one must go through a lengthy procedure. It includes, but is not limited to, getting an identity certificate and personal assessment from the local Religious Affairs Bureau, proof from the police that the person doesn't have a criminal record, and alike. Even having gone successfully through these bureaucratic procedures, a favorable outcome is not guaranteed.
"An imam I know applied for a certificate in another province half a year ago. He is still waiting," the imam said.
The person in charge of a mosque in Puyang, a prefecture-level city in north-east Henan, told Bitter Winter that he had petitioned the local United Front Work Department on several occasions to allow imams from other provinces to stay by transferring their household registrations to Henan. But to no avail: officials took a firm stand, claiming that they were following a national policy, so imams have to leave.
"Last year, the government launched the nationwide 'four requirements' campaign in mosques, many have been transformed, losing their Islamic symbols. This year, imams are being driven away. The CCP would not cease its persecution of Muslims," a Hui man from Zhumadian city in Henan's south commented. "Nobody talks to us about the Quran anymore. If this continues, our belief will gradually be weakened and even disappear. The next generation will know nothing about our religion; we'll just be called 'the Hui people who do not eat pork.'"
Source: Bitter Winter