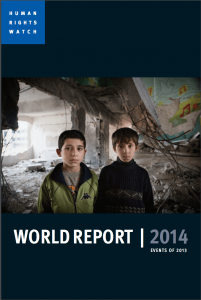 World Report 2014 is Human Rights Watch's 24th annual review of human rights practices around the globe. It summarizes key human rights issues in more than 90 countries and territories worldwide, drawing on events through November 2013.
Reflecting on the "Rights Struggles of 2013," Executive Director Kenneth Roth highlights the slaughter of civilians in Syria in the face of a weak international response; "abusive majoritarianism" among governments who voice commitment to democracy but in reality use the real or perceived preferences of the majority to limit dissent and suppress minorities; and new disclosures in the United States about the use of dragnet surveillance and targeted drone killings.
The World Report reflects extensive investigative work that Human Rights Watch staff undertook in 2013, in close partnership with human rights activists on the ground.
https://www.hrw.org/sites/default/files/wr2014_web_0.pdf 
Human Rights Watch. HUMAN RIGHTS WATCH: WORLD REPORT | 2014 Events OF 2013© 2014 by Human Rights Watch.