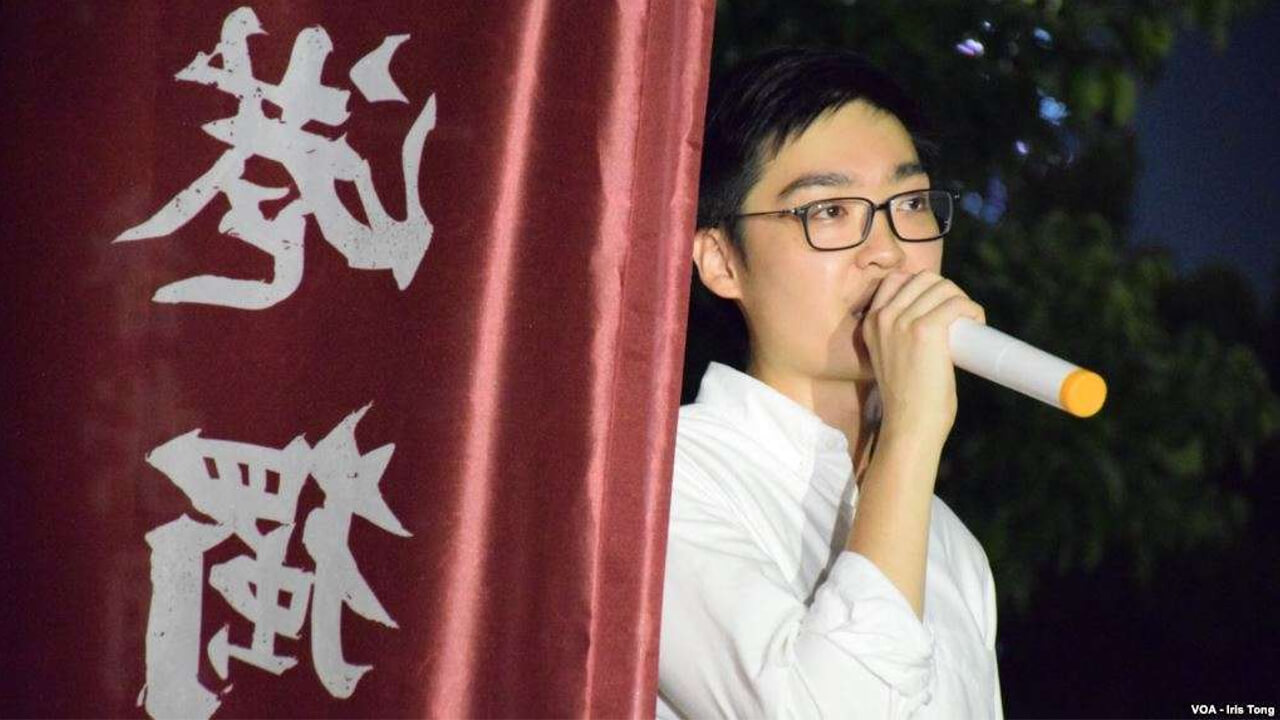 Officials in the Chinese capital, Beijing, and in Hong Kong have issued a string of warnings after a journalists' association broadcast a speech by an advocate for the city's independence. The immediate censure by Chinese and Hong Kong officials hinted that city lawmakers may soon be pressed to pass a law against sedition and treason, which could stifle protest in the partially autonomous territory.
Earlier this week, Andy Chan Ho-tin, convener of the Hong Kong National Party, told a crowd at Hong Kong's Foreign Correspondents' Club, or FCC, that "if Hong Kong were to become truly democratic, Hong Kong's sovereignty must rest with the people of Hong Kong. And there is only one way to achieve this: independence."
Chan, who was banned from being a legislative candidate in 2016, denounced China as a worldwide threat to freedom. He also called on foreign governments, including the United States, to help Hong Kong.
"China is, by nature, as an empire, a threat to all free peoples in the world," Chan told the audience. "Simply saying you are pro-independence is somehow the same as committing treason. … There is, in other words, no longer freedom of speech in Hong Kong, but instead, the freedom to think and say whatever Peking (Beijing) wants us to. Hong Kong is no longer that much different from China, and the international community has to acknowledge that."
Pressure to cancel appearance
Public officials had pressured the club to cancel the talk, which was carried live on Facebook. The local public radio broadcaster, RTHK, refused to air the speech live, saying it refused to be a platform for Hong Kong independence.
Soon after the speech, the director of Beijing's State Council's Hong Kong and Macau Affairs Office hinted the city should deploy national security legislation to protect against threats to the Chinese nation. Hong Kong last considered such a security law in 2003, when a half million people poured into the streets in protest. The bill was later shelved.
"The HKNP and people, including Chan, have plotted, organized and carried out activities with seditious intention. They want to break up the nation," Zhang Xiaoming said Thursday.
Pro-Beijing media groups, which often speak more directly than the government, have routinely denounced Chan, especially since last month, when Hong Kong police served the 27-year-old activist with a letter advising him to close his party. The police argued the party posed an "imminent threat" to national security even though neither Chan nor his few members have been accused of committing violence since the group formed in 2016.
In an interview with VOA before his speech, Chan said he had been given until early September to voluntarily end the political group. He said the letter from the police came as a surprise, but that he wasn't worried.
"I'm fine. I'm not arrested," he said.
China condemns correspondents club
China's Ministry of Foreign Affairs in Hong Kong condemned the FCC and accused the institution of abusing local freedoms by providing a platform for Chan.
"Freedom of expression is fully protected by the Chinese Constitution, the Hong Kong Basic Law and related laws in Hong Kong. Yet there are bottom line and limitations for such freedom. Advocacy for 'Hong Kong independence' violates the constitution and the law. It by no means falls within the purview of free speech," the ministry said.
The Hong Kong government scolded Chan and the FCC.
"Providing a public platform for a speaker to openly advocate independence completely disregards Hong Kong's constitutional duty to uphold national sovereignty. It is totally unacceptable and deeply regrettable," it said in a statement.
After the talk, the club's board said in a statement: "The FCC stands for freedom of speech and freedom of the press in Hong Kong and across Asia, and neither endorses nor opposes the views of its various speakers and panelists," it said.
The platform to speak at the club, an institution that routinely hosts talks by newsmakers, drew fire from the city's former chief executive. C.Y. Leung, who was once a target of a massive anti-government protest in 2014, urged the club to withdraw the invitation. He said the government should consider leasing the FCC's longtime headquarters in the city center to another tenant.
Beijing sovereignty
More than 30 Hong Kong lawmakers have issued a joint statement urging the government to take concrete measures to prevent local organizations from providing venues for separatists.
Chinese President Xi Jinping, during a visit to the former British colony last year, said no one should challenge Beijing's sovereignty over the city.
Since then, the city's courts have imprisoned several activists in the city's independence and pro-democracy movement. In June, Edward Leung, a onetime legislative candidate, was sent to jail for six years on charges of rioting and assaulting an officer.
Source: VOA