Hong Kong officials have hit out at calls for an end to one-party rule in China and greater autonomy for Hong Kong at Sunday's mass political rally marking 21 years since the city was handed over to Beijing.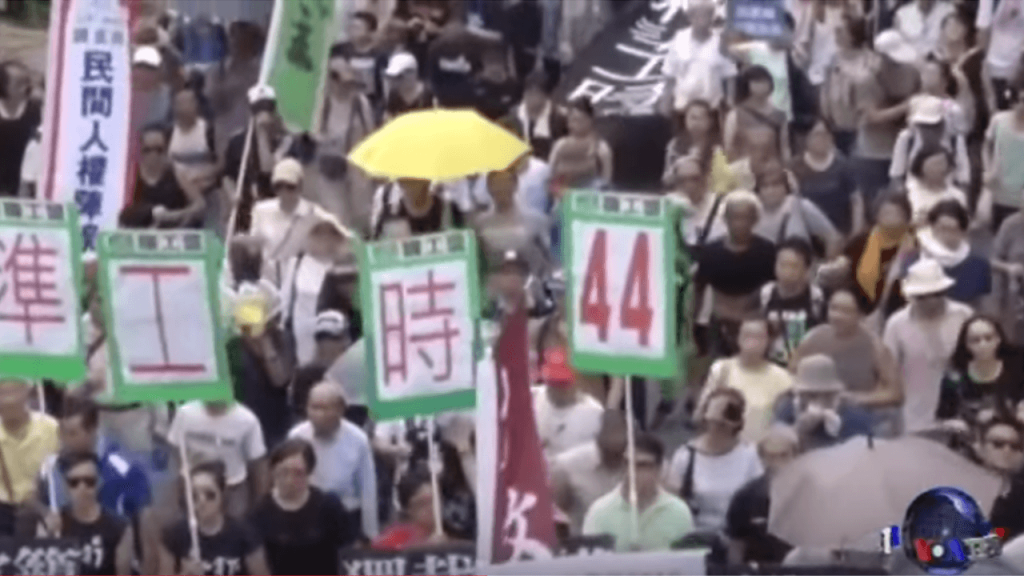 An estimated 50,000 people turned out for the July 1 march, chanting slogans and holding banners protesting against the administration of chief executive Carrie Lam.
Marchers highlighted a number of social, political, and economic issues, but the overall theme of the event was "An End to One-Party Dictatorship, Reject the Deterioration of Hong Kong," reflecting growing public anger over the rapid erosion of Hong Kong's political freedoms, human rights protections, and civil liberties in recent years.
Lam later told an anniversary celebration that her government has a "zero tolerance" approach to anything that goes against the ruling Chinese Communist Party's red lines, which include any talk of independence or local identity for the city.
She said the "one country" part of the "one country, two systems" deal promising the maintenance of the city's traditional freedoms and separate legal and political system was the foundation of post-handover life in Hong Kong.
A government spokesperson later issued a statement saying that "chanting slogans which disrespect 'one country' and disregard the constitutional order or which are sensational and misleading [is] not in line with Hong Kong's overall interests and would undermine its development."
For the second year in a row, march organizers were denied permission to start from the traditional rallying point at a football stadium in Victoria Park, while police also warned protesters not to try to join the march anywhere else along its route towards government headquarters, blocking the road at strategic locations to prevent this.

'I don't fear arrest'
Sammy Ip, convenor of march organizers the Civil Human Rights Front, made a point of joining the march later out of protest at ever-widening restrictions on public protest.
"I, Sammy Ip, convenor of the Civil Human Rights Front, am joining the march mid-way," Ip said. "I don't fear arrest, either here or later, at my home."
"The July 1 march to end one-party dictatorship and reject the deterioration of Hong Kong has officially begun," he said.
A protester surnamed Hong said Lam had failed to stand up for Hong Kong people, and called for full and direct elections.
"We have been paying our taxes to support the government for decades, but they don't listen to us," Hong said. "That's why we have to come out and demonstrate to end one-party dictatorship and campaign for truly democratic elections."
Rights groups and lawyers have warned that the city's freedoms have eroded considerably since the 1997 handover to Chinese rule.

Failure to protect
New York-based Human Rights Watch (HRW) said in a statement last week that the city's government is failing to protect its' citizens' civil and political rights in the face of growing interventions by Beijing in the day-to-day running of the city.
It cited the administration's public criticism of law lecturer Benny Tai for musing in public on the hypothetical question of independence and its debarring of would-be election candidates who are deemed to support independence, or too much autonomy, for Hong Kong.
It also called on Lam to reopen the process for political reform, and argue the case for fully democratic elections with Beijing.
A protester surnamed So said he was particularly worried about a joint checkpoint at a new high-speed rail station that will see mainland Chinese law enforceable within city limits for the first time.
"This government hasn't performed well, and has failed to do a number of things in response to public needs," he said. "They should also at least protect 'one country, two systems,' and defend us on the matter of the joint checkpoint."
A protester surnamed Chin told RFA said life has also become economically tougher for Hong Kong residents.
"We can't just get on and live and work in peace," Chin said. "My personal situation is OK, but I have seen that there are problems for young people, the elders, and with people's livelihoods and pensions."
A social work student at Shue Yan University surnamed Leung believes that Hong Kong people have the responsibility to speak out, especially when things are tough.
"The most important thing is that the democracy movement is currently at a very low ebb," Leung said. "We do not want to see Hong Kong being subjected to political scrutiny by Beijing. We are on the streets because this keeps happening."
The government spokesman said: "Since the return to the Motherland, Hong Kong has continued to enjoy prosperity and stability, and maintained its status as international financial, transportation, and trade centers, thanks to the strong support of the country and Hong Kong's inherent institutional strengths."
Hong Kong identity
But a recent opinion poll indicates that the number of people who identify as "Hong Kongers" rather than as Chinese citizens or other possible identities stands at a 10-year high, amid complaints that the city's autonomy is increasingly being eroded by diktats from Beijing.
A total of 41 percent of people surveyed by the University of Hong Kong public opinion survey this month described themselves as Hong Kongers, while a further 27 percent identified as "Hong Kongers in China," making a total of 67 percent whose primary identity is linked to the city and not to the People's Republic.
Only 30 percent picked a Chinese identity, while 39 percent said their identity was some kind of mixture of the two, the survey of 1,001 people found.
Political commentators said the changes in the way people describe themselves are likely the result of a sense that the city's once-promised "high degree of autonomy" has been giving way in recent years to high-profile interventions from the ruling Chinese Communist Party.
Tighter controls over the city's political life may have been prompted in part by the city's 2014 Occupy Central movement for fully democratic elections, sparking official concerns about the "gradual spread of ideas promoting Hong Kong independence" since the movement brought hundreds of thousands of people onto the streets at its height.
Chinese officials blamed the "illegal occupation" on a lack of patriotic education among the city's young people, and renewed calls for Beijing-backed programs of patriotic education in Hong Kong's schools.
Source: Copyright © 1998-2016, RFA. Used with the permission of Radio Free Asia, 2025 M St. NW, Suite 300, Washington DC 20036. https://www.rfa.org.