by Yang Guang'an
Labeled as most wanted criminals just for their faith, Church of Almighty God members are hunted by the regime, forced into hiding at great risk to their lives.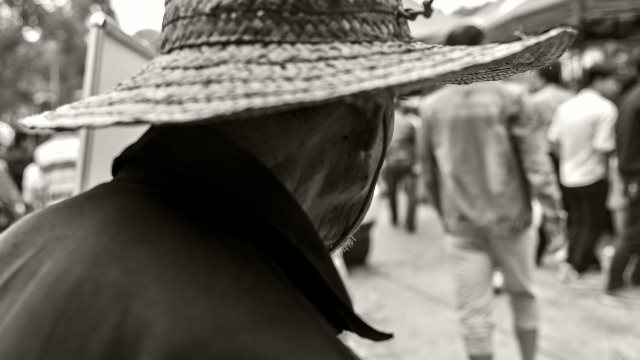 Xu Ming (pseudonym) is a 67-year-old member of The Church of Almighty God (CAG) from the southern province of Guangdong. Since 2012, he and his wife have been living the lives of fugitives after Xu Ming was reported to the authorities for sharing the gospel. He managed to escape arrest then, and the couple had to leave the hometown where they had spent half of their lives, moving to the city where their children lived.
However, the police never stopped searching for them. According to his relatives, Xu Ming was put on the list of wanted fugitives after his escape.
The CAG is the largest Chinese Christian new religious movement, which is the primary target of religious persecution in China. According to Article 300 of the Chinese Criminal Code, being a member of the CAG is punishable with imprisonment for three to seven years or more. Some CAG members can even be given a life sentence, and many were tortured to death while in detention. Faced with the life-threatening persecution, some CAG members have no choice but to go into hiding for years.
After the McDonald's Murder of 2014, when the CAG was wrongfully accused of killing a woman, the police have stepped up their efforts in hunting down members of the Church. Police officers even went to the school, which Xu Ming's grandson attended, to inquire about him and pressured Xu's daughter to reveal her parents' whereabouts. The woman said that she often saw a stranger following her.
Amid the unrelenting pursuit, the couple had to leave their children and grandson and flee their new home. Trying to evade being identified, they avoided showing their ID cards, which was especially tricky when renting an apartment and finding a job. After many attempts, Xu Ming managed to find manual work for which no ID card was required. Instead of enjoying his retirement, the elderly man was forced to labor hard to support their livelihood.
One day in August 2017, Xu Ming felt short of breath, started experiencing a splitting headache, and lost hearing in both his ears. A fellow believer with some medical knowledge examined Xu Ming and said that his condition was very grave; he was at risk of having a stroke. However, knowing that the police were monitoring his family, Mr. Xu couldn't seek help from them or go to the hospital despite his deteriorating condition. He understood well that through facial recognition surveillance, omnipresent throughout China, he would be recognized and arrested. He also was reluctant to show his ID card at the hospital, which is a mandatory requirement.
Most of the believers from groups included in the list of the xie jiao are registered on nationwide databases, which, as a rule, are connected to surveillance networks. Therefore, travels, visits to medical institutions, and any other daily activity in public may result in detention. Trying to evade being identified through surveillance systems or by medical personnel who are often required to register people's religious beliefs, many believers have died because they were afraid to seek medical assistance.
"I'm almost 70, but the CCP just would not let me be," Xu Ming lamented. "They are still trying to track me down. It's funny that the CCP spreads rumors that CAG members don't seek treatment when ill because of religious superstition, but, in reality, it is the CCP's persecution that prevents believers from seeking medical treatment and thus becomes the cause of their deaths."
Ms. Ye (pseudonym), a 66-year-old CAG member from the southwestern province of Sichuan, has been on the run for six years. Being a leader of her church, she had to flee when the local Domestic Security Protection Bureau proclaimed that "all believers in God are political criminals and should be arrested."
Residents from Ms. Ye's hometown told Bitter Winter that the village secretary gave her neighbors money, asking to report back as soon as they saw her. The secretary also went to harass her relatives frequently, pressuring them to reveal her whereabouts with threats to revoke their social benefits and government subsidies and hinder their children's education.
Police cars with Ms. Ye's ID information pasted on their windows were patrolling around her home. On holidays, like the Spring Festival, or her 60th birthday, the police would intensify their surveillance. Neighbors reported seeing officers outside Ms. Ye's home at night, waiting to arrest her, in case she returned.
Ms. Ye was unable to return home and had to go into hiding. Because of surveillance cameras on each corner in China, she doesn't dare to go outside at will, even when she has health problems.
The woman suffers from gastrointestinal bleeding, and in November 2017, her condition deteriorated. Afraid of being arrested, Ms. Ye couldn't go to the hospital. Her relatives who are medical workers helped to control the bleeding, but they warned that her condition was critical and she needs constant medical care. Ms. Ye is tormented by the hardships of life on the run, unable to take care of her health problems.
A 65-year-old CAG believer from Hainan Province in southern China has also been put on the wanted list, and she has been living the life of a fugitive since 2015. Her family members are continuously monitored and followed by law enforcement officers, demanding them to disclose her whereabouts, so the woman cannot contact them or ask for their help. She supports herself by selling wild vegetables. The hard labor of collecting them has weakened her body; she lost a lot of weight and developed gastrointestinal problems. Unable to go to the hospital, the woman went to a pharmacy to seek help. The pharmacist determined that the woman was at risk of severe anemia and needed to be hospitalized immediately. Knowing that doing so would lead to arrest, the woman refused. She continues to suffer, unable even to seek solace in talking with her family.
Source: Bitter Winter