ADHRRF — "Retake Hong Kong, Revolution of Our Times", "Go Hong Kong!"
At 7 p.m. on September 22, an alliance for human rights and religious freedom formed by more than ten organizations gathered at the gate of the Hong Kong Economic and Trade Office (HKETO) in Toronto to appeal and pray for Hong Kong's anti-extradition bill protest.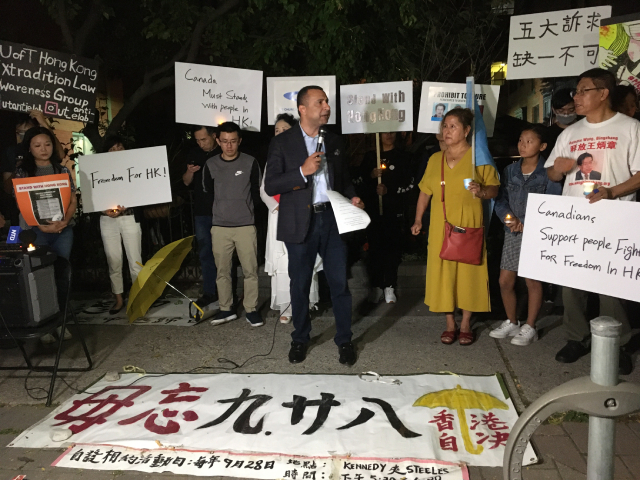 This anti-extradition bill protest in Hong Kong has continued for more than 100 days. Hongkongers abroad and other individuals and groups publicly expressed their support for Hong Kong people's fight for democracy through various activities and means.
On the evening of the event day, more than 100 people were in attendance, including those from Federation for a democratic China (FDC), United Christian Federation (UCF), The Association Against Religious Persecution (AARP), One Free World International (OFWI), East Turkestan Association of Canada, the Canadian Coalition Against Communism (CCAC), The Church of Almighty God (CAG), Students for a Free Tibet (SFT), and others. They held up cardboard signs reading "Stand with Hong Kong," "We want peace, not persecution," "End CCP's tyranny," and chanted slogans together to support Hong Kong.
Sheng Xue, vice-president of FDC, said that to support the resistance in Hong Kong requires a broad alliance. The CCP's tyrannical rule of terrorism uses all the means under the control of state apparatus, such as violence, force, military strength, technologies, intimidation, monopolization and consolidation. Its tyranny can only be defeated through collective efforts.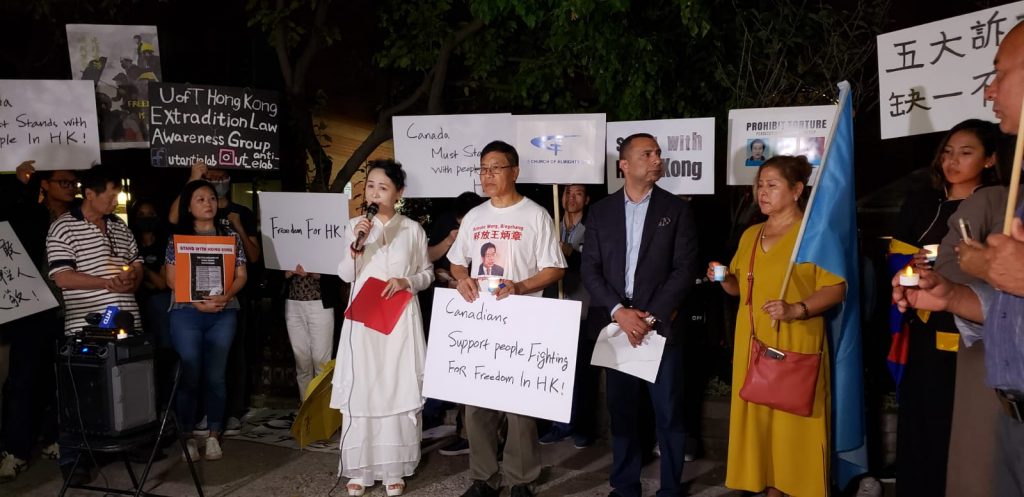 "Hong Kong is the ground zero in China's global strategy of bullying, infiltration and manipulation. Beijing suppresses dissent most brutally in Hong Kong as well as other parts of mainland China," said Canada Hong Kong Link Director Gloria Fung. "But I'm telling you right now, they will not succeed! We are showing them, we are here tonight and we will not be silenced. We will keep the light of freedom alive."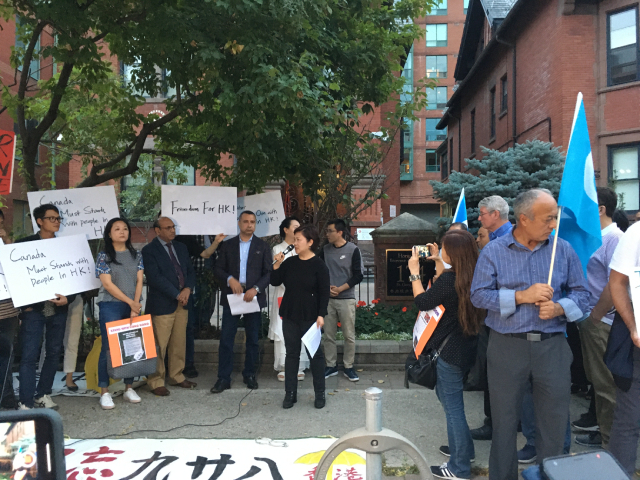 Ms. Fung urged all Canadian federal parties and the candidates to stand up for Hong Kong to sanction the official head, law makers, decision makers, as well as the police force, ban them from entering into Canada, freeze their assets, and prohibit their immediate family from entering into Canada. She requested the Hong Kong government respond to the demands of Hong Kong people, especially the setup of an independent commission of public inquiry.
The representative of AARP said that the CCP has a long history of trampling human rights, persecuting religious beliefs, and suppressing the dissidents. It treats human lives like wheat to be culled. Such an autocratic political party can never win the hearts and minds of the population.
The representative hopes people all over the world can see clearly that the evil forces which resist God are the very root of evils and that the dictatorship is the source of darkness in the world. She addressed that only when people who love peace and freedom unite in the fight against the dictatorship will the genuine peace, democracy and freedom be fulfilled.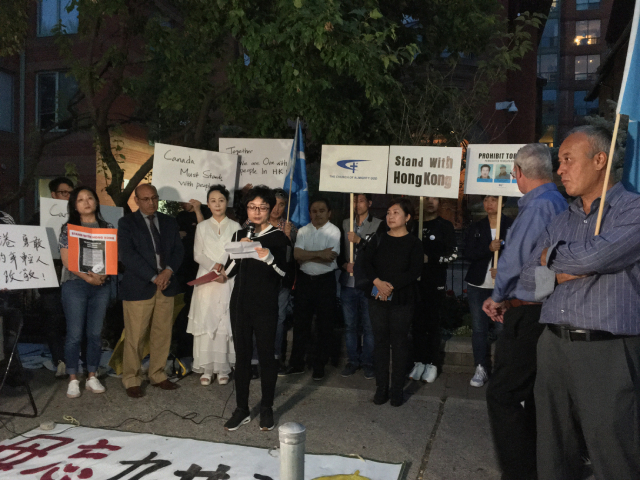 Chemi Lhamo, the president of the Student Union of the University of Toronto Scarborough Campus (UTSC), pointed out the CCP's intensified crackdown on Hong Kong people. "It's Hong Kong today, but this empire [China's communist regime] can target anyone next," said Lhamo, "The Chinese government is not going to change while you sit and watch. … It is through building coalitions with our fellow organizers, activists, mobilizers and students. … Let's continue to rise, continue to raise awareness and take action. Let's build on this. Change is bound to happen."
An international student from mainland China said that she, as a Chinese, felt a duty and obligation to express her view and stance despite the high pressure. She hopes that more Chinese people, including the students, can come to countries of democracy and freedom to be steeped in the ideas of democracy and freedom and integrate into the universal values, so that they can stand up bravely to express their frank opinions.
When night fell, the participants lit the candles, then pastor Majed EL Shafie, president of the OFWI, prayed for Hong Kong people and the peace of Hong Kong. "Glory to Hong Kong," the new "national anthem" of Hong Kong protesters, was echoed in the dark night.