ADHRRF – On February 18, 2018, a New Year celebration on the theme of "Gratitude" was held at the parish activity center of Saint-Germain Church by Christians of The Church of Almighty God (CAG) in France. This was the first New Year's event hosted by these Christians since being forced to flee overseas. This event also provided a platform for French friends to further understand the current situation of Chinese Christians in France.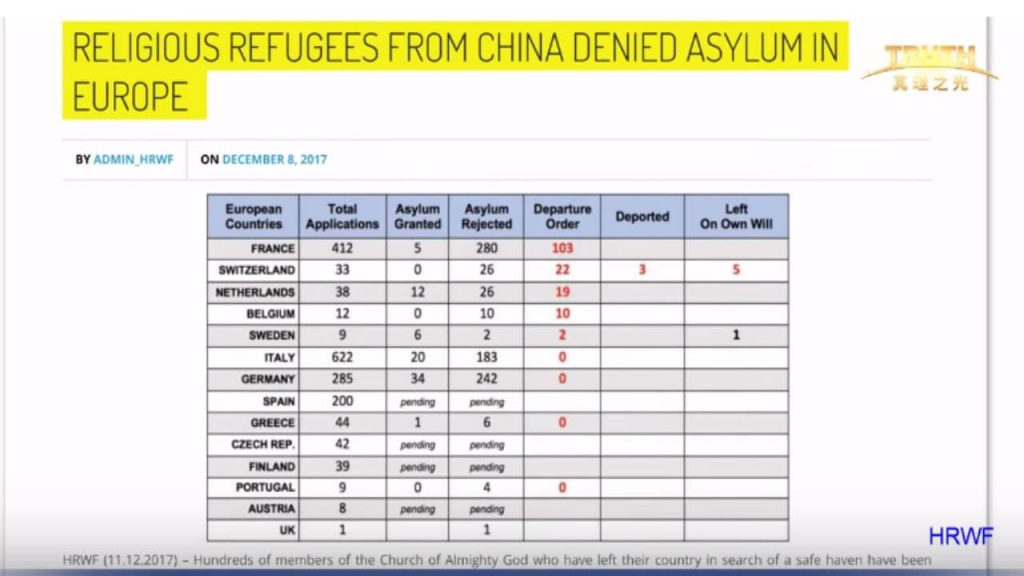 It's reported that due to persecution of the CCP government, the CAG Christians escape to France to seek asylum in recent years. But until now, the situation of those Christians is not optimistic. The data issued by Human Rights Without Frontiers International (HRWF Int'l) shows that as of Dec 1, 2017, of 412 asylum seekers from the CAG in France, 280 Christians have been rejected, 103 Christians have already received the departure order and are at risk of being repatriated. Their situation attracted concerns of the local French people, who expressed their sympathy and support.
During the celebration, the CAG Christians played a short video to share the photos of various human rights activities and volunteer work they attended in France. They expressed that even though they faced many difficulties in their lives in France, they had encountered many people who had cared for and helped them, including many human rights activists. This gave them a feeling of warmth and love in a foreign place and gave them more confidence to face any difficulties in the future. After the video, a guest said to them: "You've done so much—you're really amazing!"
Pastor Christian Tanon said: "You hold great hopes while also holding great concerns. I am a Christian pastor, and I'd like to invite everyone to consider what we can do as French citizens to let people know—through our deputies in parliament, through the mayors of our communities, or through any other possible avenues—to let people know how severe the persecution in China is. And if the French government sends these Christians back to China, for France, a place of refuge, this would be a disgrace. I'd like everyone to give some thought to that."
A French lady called on the French people and all the migrants living in France to take action and help all those facing repatriation and emphasized that any deportee should receive reception and understanding before repatriation and whether they can stay or not should be decided according to what they do.
Priest Adou Benoît of the Saint-Germain Church said, "You must go forward with courage, and we will pray for everything to proceed smoothly. You must have courage. We are proud of you, and we applaud you."
Priest François Barriquand said, "I want to share a single word with everyone and that is 'hope.' All of you are full of hope."
In addition, many guests wrote New Year's messages expressing their good wishes. They wrote "May there be religious freedom everywhere," "Wishes for peace, freedom, and faith in China and everywhere," and "May peace and love rule the world."