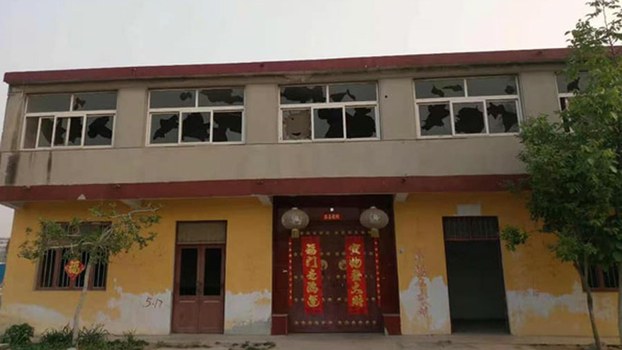 Authorities in the eastern Chinese province of Shandong have jailed a father and son who tried to resist the forced demolition of their home in Linyi county, RFA has learned.
Wang Xiuyan was detained last year after fighting back against a demolition team sent to knock down his home in April 2018, leaving one person injured and another dead.
Since then, his case had been repeatedly delayed.
His son was later detained by Linyi authorities after he went to petition for his father with the central government in Beijing.
Wang Xiuyan's daughter Wang Yiwen said her brother had protested about his father's detention on Beijing's Tiananmen Square, and had been intercepted by Linyi officials and brought back home.
He was sentenced by the Lanshan District People's Court in Linyi to two years' imprisonment on charges of "picking quarrels and stirring up trouble."
Wang Yiwen said she is now very worried about her brother's health, as he suffered kidney problems after being viciously beaten up by the people who detained him, and isn't receiving adequate medical care at Zoucheng Prison in Shandong's Jining city.
"Right now my brother has some health problems — a kidney he had transplanted has flared up, and he has edema in his feet," she said.
"The jail still hasn't given him any [medication], and it's been more than a month."
"The prison authorities won't admit that there is any problem, and my brother has been there since Aug. 20," she said. "They called me yesterday and told me to go there for a chat, the result of which that they are going to take my brother for a physical check-up, and see what's going on with his kidney."
She said the Wang family has been targeted by the local authorities since they first began opposing forced demolitions in 2015, with family members threatened, harassed and beaten by hired thugs and officials.
Wang Xiuyan has been detained in the Hedong Detention Center since April 25, 2018, and has reportedly been tried behind closed doors, although the family has little information about the proceedings.
Wang Yiwen's mother and husband have also been targeted by the authorities, and her ability to make a living has been affected by political pressure on her family.
"Our mother went to the State Council petitions center and was detained by our local government for 29 days," she said. "My husband used to run a small restaurant but they wouldn't let him do it any more."
She said thousands of petitioners from Linyi alone are believed to have been detained for petitioning in Beijing ahead of China's National Day on Oct. 1.
RFA was unable to confirm this report independently.
An employee who answered the phone at the Yinque neighborhood committee office in Lanshan district, where the Wang family lives, declined to comment when contacted by RFA on Thursday.
Calls to another number provided by the employee rang unanswered during office hours.
Land acquisition for development, often resulting in profitable property deals for local officials, sparks thousands of protests by local communities across China every year, many of which escalate into clashes with police.
But the authorities are quick to suppress news and social reports of such clashes, and anyone who posts details of such "mass incidents" risks detention for spreading rumors.
Suicides and suicide attempts are growing increasingly common among disgruntled petitioners, many of whom are forced evictees, and most of whom pursue complaints against local officials for years or even decades with no result.
Petitioners, who flood China's official complaints departments with more than 20,000 complaints daily across the country, frequently report being held in "black jails," beaten, or otherwise harassed, if they persist in a complaint beyond its initial rejection at a local level.
Reported by Wong Siu-san and Sing Man for RFA's Cantonese Service. Translated and edited by Luisetta Mudie.
Source: Copyright © 1998-2016, RFA. Used with the permission of Radio Free Asia, 2025 M St. NW, Suite 300, Washington DC 20036. https://www.rfa.org.