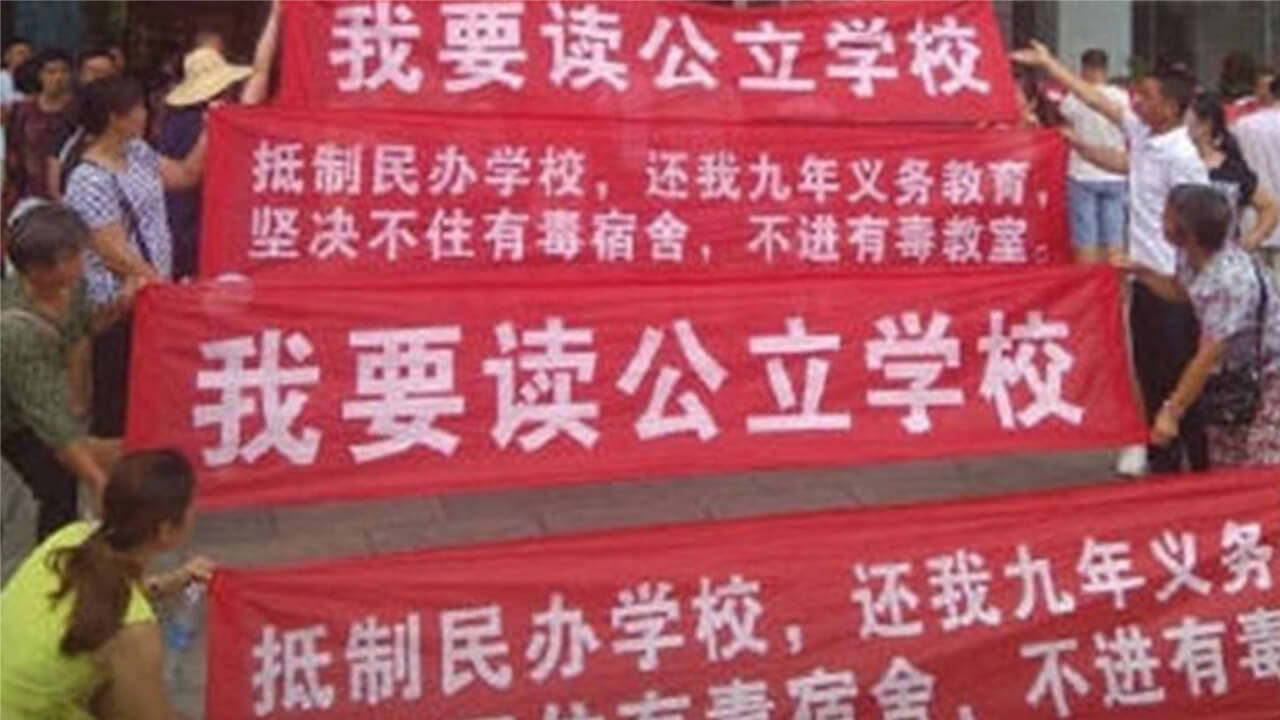 Authorities in the central Chinese province of Hunan have detained dozens of people following a mass protest over new schooling arrangements that led to the children of migrants from out of town being charged massively increased fees.
Police in Hunan's Leiyang city said they had detained nearly 50 people amid clashes with hundreds of protesters who gathered outside a police station over the weekend.
They said the 46 people were detained for "attacking" the police station and pelting local officials with bottles and bricks as they appealed for calm.
Video footage of the standoff showed police with riot gear facing off with an angry crowd, with a number of plastic bottles on the ground nearby.
Meanwhile, footage of a public meeting seen by RFA showed angry parents in a hall, shouting at a row of public officials seated on a dais.
The protest came after local education authorities announced a massive hike in the effective cost of dormitory accommodation for students in the fifth and sixth year of primary education, local sources said.
"The Leiyang city government has farmed out the year five and year six students," a local journalist surnamed Zhu told RFA. "They are being forced to pay more than 10,000 yuan [in dormitory fees] when before it was a little over 2,000 yuan."
"They are entitled to nine years' free and compulsory education, but they have put the fees up to more than 10,000 yuan," he said. "People here aren't rich, and it's a bit much for them to put the fees up so high."
Chinese students of all ages are increasingly staying in school dormitories during the academic year, either during the week or full-time, to enable their parents to hold down full-time jobs, often in other cities, to meet family expenses.
He said the arrests came after "protesters clashed with police. Nobody died, but some people were definitely injured."
Swift censorship of news
A doctor who answered the phone at the Leiyang City Hospital on Sunday confirmed Zhu's report.
He said ambulances from his hospital and others in the city had been called to the scene.
"We were on call and at the scene from Saturday onwards," the doctor said. "A number of hospitals got patients [from the incident]."
A Leiyang resident who gave only his surname Yang said the authorities had farmed out students for alternative accommodation under a new scheme that allowed them to split classes.
"[Saturday's protest] was about the fees, which meant that if your household registration [hukou] isn't in Leiyang, you will have to pay fees equivalent to private schooling," Yang said. "They didn't even make it clear whether it had to be an urban hukou, or whether people from the countryside around Leiyang [would qualify for the lower rate]."
Online comments had also complained of unsafe levels of formaldehyde in recently renovated dormitories, Agence France-Presse reported.
Government censors moved swiftly to delete social media posts about the incident, AFP said.
Yang confirmed these reports.
"The parents suspect that the [formaldehyde] readings would be over [the legal limit]," Yang said. "Yesterday's clashes happened because a lot of people are affected, and the authorities are now shutting down [online posts] about this."
Reported by Wong Siu-san and Lau Siu-fung for RFA's Cantonese Service, and by Han Qing for the Mandarin Service. Translated and edited by Luisetta Mudie.
Source: Copyright © 1998-2016, RFA. Used with the permission of Radio Free Asia, 2025 M St. NW, Suite 300, Washington DC 20036. https://www.rfa.org.