ADHRRF – Recently, the rejection of 70 Chinese Christians' asylum applications in the Czech Republic has aroused the concerns of local people from different walks of life. Mikuláš Vymětal, the pastor of the Evangelical Church of Czech Brethren, launched a prayer assembly to call upon the government to grant asylum to those 70 Christians. On March 16, 2018, this activity was held in front of the Memorial to the Victims of Communism in Prague.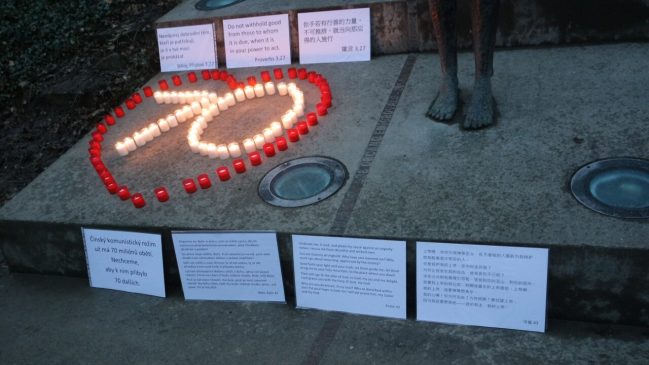 At 6 p.m., about 100 representatives of different religions, including Christians, Catholics, Jews, and Muslims, participated in the event. They congregated in front of the Memorial and lit the candles arranged in a heart shape with the number 70. In front of the candles, one of the placards reads "There have been 70 million victims of the Chinese Communist regime; we don't want to add another 70" in Czech. Behind the candles were three placards with Proverbs 3:27 written in English, Chinese and Czech, "Do not withhold good from those to whom it is due, when it is in your power to act." In this way, they called for more attention to the current situation of Chinese Christians' asylum application.
At the start of the activity, Pastor Mikuláš Vymětal said, the 70 Christians, who are not granted asylum in the Czech Republic, were persecuted by the government in China. Although they have fled to the Czech Republic, they are still worried about their families in China. He also expressed that they prayed not only for those 70 Chinese Christians, but also for all oppressed and persecuted in China, including religious minorities such as Uyghur Muslims and Tibetan Buddhists.
Ms. Táňa Fischerová, chairwoman of the Czech Helsinki Committee (a human rights organization), said many people are responsible for the 70 Chinese Christians not receiving asylum. First of all, Mr. Lubomír Metnar, Minister of the Interior of the Czech Republic, shall assume political responsibility for this. The silence of Czech people will eventually put these Christians at risk. She also emphasized that a few months ago, 130 Czech dissidents submitted a joint letter to Bohuslav Sobotka, the Prime Minister of the Czech Republic, urging the government to grant asylum to Chinese Christians. She believes that the public's appeal will prevent Christians from being repatriated.
Several pastors of different Christian churches said that there are also some Chinese Christians in their churches, and their experiences are very moving. They don't want those Christians to be expelled.
At the conclusion of this assembly, all of the participants recited the Lord's Prayer to pray for Chinese Christians seeking asylum in the Czech Republic.
It's reported that some Chinese Christians have escaped to the Czech Republic to seek asylum due to the CCP's persecution against their faith. They received the authority's decision on their asylum application after waiting for two years: of 78 Christians, only 8 Christians have been given asylum, while 70 have been rejected. After this news was issued in late February 2018, many local media have reported it. Multiple Human Rights Organizations and religious groups such as Christianity and Catholicism have made public appeals on behalf of these Christians and held prayer meetings and marches for them many times. However, the Czech authorities haven't made any response so far.