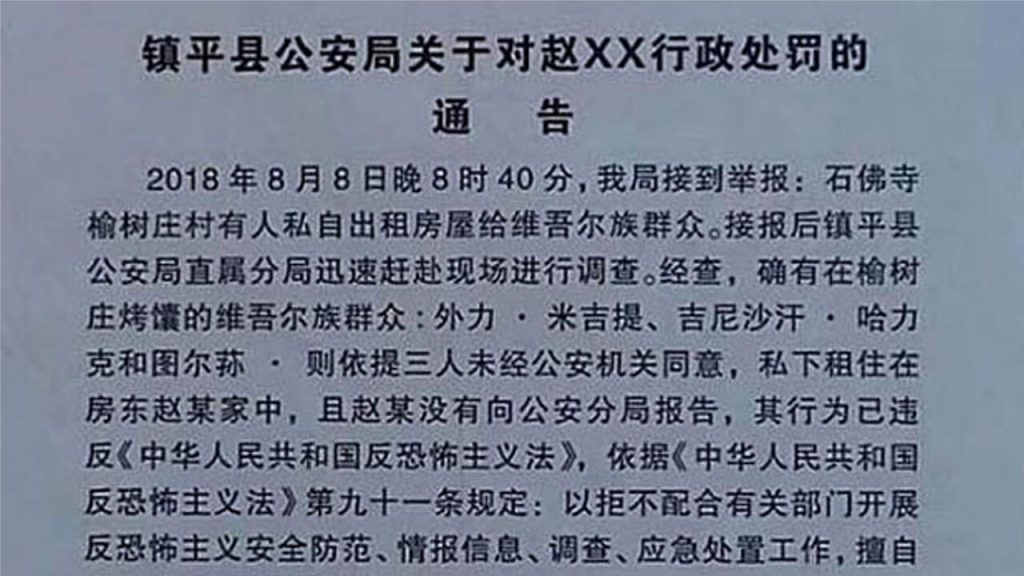 Police in central China's Henan province have arrested a Chinese landlord who rented his home to three ethnic Uyghurs without approval from the police, charging him with violating "safety precautions" under a provision of China's Counter-Terrorism Law.
The landlord, a Han Chinese identified by the surname Zhao in a police notice obtained by RFA's Uyghur Service, had rented his home in Zhenping county's Shifosi village to three Uyghur bread-sellers, and was turned in to police by an area resident.
"On Aug. 8, 2018, at 8:40 p.m., our police station received a report from a civilian revealing that someone in Shifosi village had privately rented out his house to some Xinjiang Uyghurs," the notice reads.
"This act is identified as a violation of Article 91 of the Counter-Terrorism Law of the People's Republic of China," the notice said.
The Uyghurs—identified in the police notice as Wali MIjit, Jinishahan Haliq, and Tursun Zayit—were not detained, and only Zhao was taken into custody, a police officer at the Shifosi station told RFA in a telephone interview.
"The Uyghurs weren't arrested. We only arrested the landlord," the officer said, adding that the three men were advised by police to return as soon as possible to their homes in northwestern China's Xinjiang Uyghur Autonomous Republic (XUAR).
"Of course, we will definitely inform the Xinjiang police about their situation," he said.
'Refusal to cooperate'
Article 91 of China's Counter-Terrorism Law, approved in December 2015 and put into force early the next year, punishes "refusal to cooperate with relevant departments' counter-terrorism safety precautions," levying fines of from 2,000 to 10,000 yuan, and from 5 to 15 days of detention in cases where "serious consequences are caused."
No mention is made in the law of prohibitions against renting to Uyghurs, but the racial profiling and banning of ethnic minorities has been a common practice in Chinese guesthouses and hotels, especially in the run-up to important international gatherings hosted by China, sources say.
Speaking to RFA, Uyghur American Association president Ilshat Hasan said that the expulsion of the Uyghurs from their rented home in Henan and the arrest of their Han Chinese landlord show that China's Counter-Terrorism Law is applied "mostly to Uyghurs."
"This tells us that the Uyghur people themselves are regarded as the enemy of China," he said.
China regularly conducts "strike hard" campaigns in Xinjiang, including police raids on Uyghur households, restrictions on Islamic practices, and curbs on the culture and language of the Uyghur people, including videos and other material.
While China blames some Uyghurs for "terrorist" attacks, experts outside China say Beijing has exaggerated the threat from the Uyghurs and that repressive domestic policies are responsible for an upsurge in violence there that has left hundreds dead since 2009.
Source: Copyright © 1998-2016, RFA. Used with the permission of Radio Free Asia, 2025 M St. NW, Suite 300, Washington DC 20036. https://www.rfa.org.