Concerns were growing on Monday for Beijing-based artist and activist Hua Yong, who has been incommunicado since last week after documenting the plight of evicted migrants.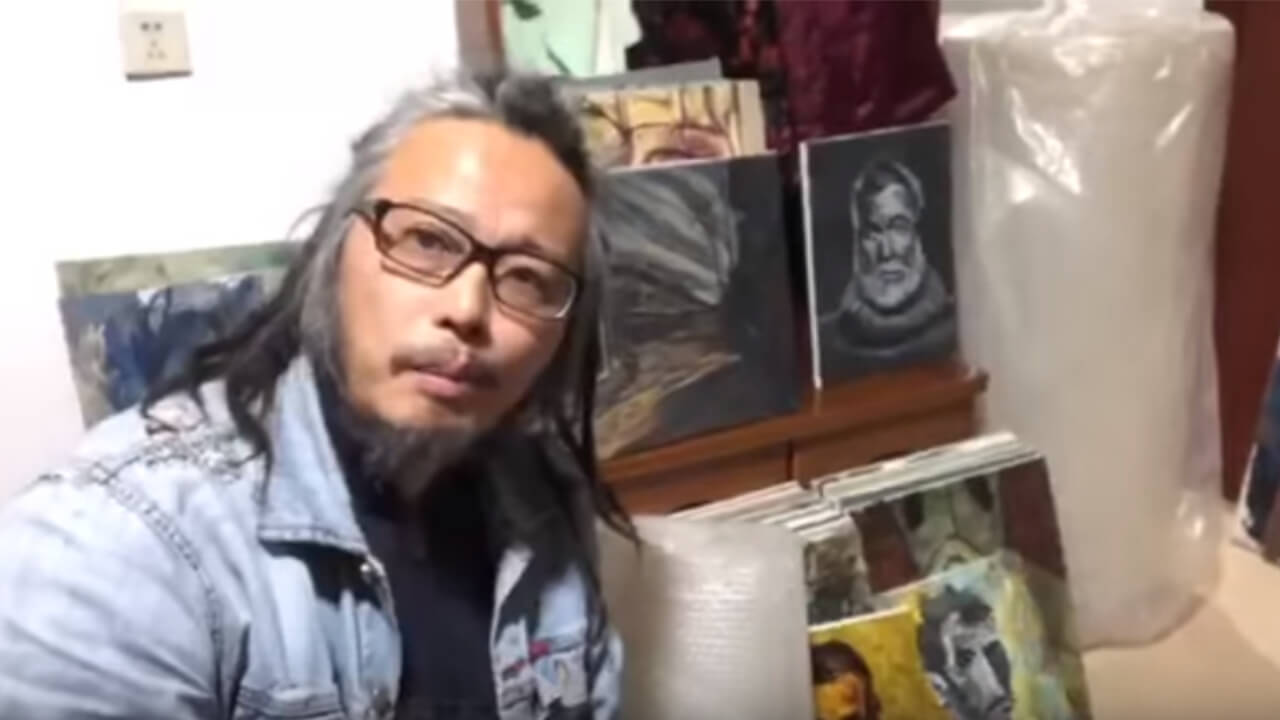 Hua, a resident of Beijing's Songzhuang Artists' Village, is believed to be hiding from the authorities after reporting on the authorities' bid to rid the city of its low-income, migrant population in the wake of a fatal fire in Daxing district last month.
His last communication with the outside world came in the form of video footage shared with RFA that showed around 100 residents of Daxing district blocking a major highway in protest at being evicted.
In the video, Hua alludes to his forthcoming "disappearance," and his desire to protect his loved ones from police harassment.
"This video today will be my last video, because I know that if I get arrested, a lot of my friends will be implicated, as well as my family," he says. "So, I won't be calling in to tell them I'm safe any more after today."
The Daxing protest, the latest of several in the district, erupted into violent clashes after police tried to move the protesters off the highway, where they had brought traffic to a standstill.
A friend of Hua's said the artist had been invited to observe the protest by its participants, and was last seen leaving the protest site under their protection.
But nothing has been heard from him since, she said.
"There's been no news of him," He said. "I haven't been able to get in touch with him since about 1.00 p.m. last Thursday."
A second friend of Hua's who asked to remain anonymous said he had made inquiries and heard that his friend is currently safe.
"I think he actually went missing just past 3.00 p.m. [on Thursday], that's when I lost touch with him," the friend said. "His cell phone just said it was unable to connect the call."
"I heard through [a contact] that someone had found out that Hua Yong is safe for the time being, but now [my contact] is also likely under surveillance," he said. "I can't really say any more than that, just that Hua Yong isn't in danger."
Mass incidents usually suppressed
Repeated calls to Hua Yong's cell phone went unconnected on Friday. Calls to the political police department of Hua's home district of Tongzhou also rang unanswered.
A third source who asked not to be named said Hua is currently on the run from police, and is no longer in Beijing.
"The police are looking for him, but he has already left Beijing," the source said. "He's safe for the time being."
"I am getting dozens of text messages a day asking if he's OK, but I have no way to respond to them," said the source.
A handwritten note left by him and posted to Twitter said Hua had decided not to leave China, however.
"I didn't expect things to get this serious," the note reads. "It looks as if I am facing a lot of risks, including that of secret detention and even assassination, but I still don't want to leave the country."
"If I am caught, I'll be as good as dead, and I want my blood, body and my ashes to be scattered on the earth of my homeland," it says. "There, I hope it will turn into stardust, and contribute to even more people's awakening … to civil rights for Chinese people."
Fellow Songzhuang resident and poet Wang Zang said he thinks Hua may not last long if he refuses to leave China, however.
"I think he will probably be detained," Wang said. "As we all know, China has such a thing as detention centers and black jails, and I worry that he will suffer."
"It would be better for him to leave, as long as he has friends who are willing to help him."
Wang said the authorities do everything in their power to crack down on "mass incidents" like the Daxing protest, and to ensure that news of them is never made public.
"They absolutely hate mass incidents, which is what they call them," Wang said. "He may be able to evade capture for a few days, but it won't take them long to catch him."
Source: Copyright © 1998-2016, RFA. Used with the permission of Radio Free Asia, 2025 M St. NW, Suite 300, Washington DC 20036. https://www.rfa.org.