China's detention of Swedish citizen and Hong Kong-based bookseller Gui Minhai has sparked further concerns and criticisms internationally following official confirmation by Beijing of his status.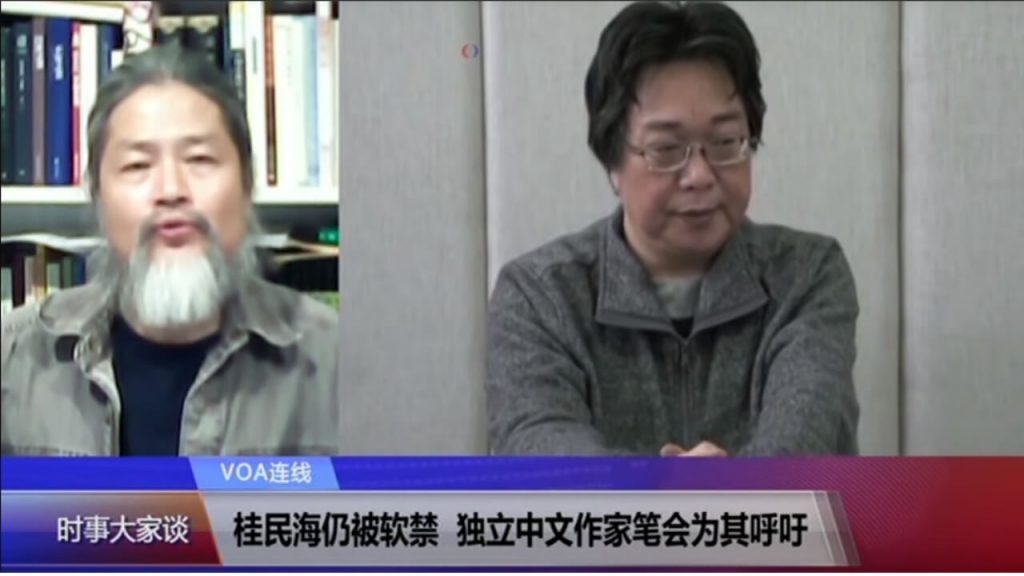 Last month, Gui Minhai's daughter Angela Gui told Radio Sweden he had been snatched by plainclothes police officers while traveling to Beijing from his parental home in the eastern city of Ningbo.
She said the detention took place while her father was on a train bound for the Chinese capital to seek medical treatment for neurological symptoms believed to be the first signs of ALS, or Lou Gehrig's disease.
A foreign ministry official confirmed on Tuesday that the bookseller is being held under "coercive measures."
Angela Gui told RFA that she still doesn't know his whereabouts, however.
She said she remains concerned at the direction in which events appear to be unfolding, given the severity of her father's illness, and that he may be detained on a new charge and denied medical treatment while in detention.
But she called for greater diplomatic pressure on the ruling Chinese Communist Party for Gui Minhai's release.
China has already indicated that further criminal charges may be on the way for Gui, who is one of five Hong Kong booksellers held in cross-border detentions for selling banned political books to customers in mainland China.
"Gui Minhai broke Chinese law and has already been subjected to criminal coercive measures in accordance with the law by relevant Chinese authorities," Chinese foreign ministry spokesman Geng Shuang told journalists on Tuesday.
The term "coercive measures" is often used to refer to detention at a residential location, under close police surveillance.
No adequate explanation
William Nee, China researcher at Amnesty International, called Geng's claim a "brazen and outrageous" one.
"They have yet to provide adequate explanation as to why they took Gui Minhai away while he was traveling with Swedish diplomats," Nee said in a statement. "Gui Minhai must be released. He and his family have suffered enough; their nightmare should be over, not recurring."
"The Chinese government … has shown utter contempt for fair trials and other human rights," he said, calling on the authorities to ensure Gui receives adequate health care and consular access, as well as legal representation.
"The Chinese government cannot simply sidestep international law because they arbitrarily deem a case to be 'serious,'" he said.
Meanwhile, Germany's ambassador to China, Michael Clauss, has said that all European countries with diplomatic representation in Beijing are concerned about China's actions, which he said could set a dangerous precedent.
"That China's authorities treat an EU citizen this way is without precedence," Clauss said in comments quoted in German and Swedish media. "There is a widespread fear that these violations of international laws, as well as (China's) refusal to allow consular assistance, could happen to other EU citizens in the future."
Under murky circumstances
Hong Kong-based Gui "disappeared" under murky circumstances from his holiday home in Pattaya, Thailand, on October 2015, only to reappear in China "confessing" on video to a decade-old alleged drunk-driving offense.
One of five Hong Kong booksellers detained by Chinese police for selling "banned books" to customers across the internal border in mainland China, Gui was "released" by the Chinese authorities last October, but his daughter said he was still not free.
Instead, Gui had been placed under various forms of control and surveillance in his birthplace, Ningbo, and had been reunited with his wife Jennifer, who is a German national, the Independent Chinese PEN writers' group said at the time.
Sweden's Foreign Minister Margot Wallstrom on Monday called Gui's second detention a "brutal intervention" that was "in contravention of basic international rules on consular support."
But Independent Chinese PEN co-founder Bei Ling said Sweden needs to do more to ensure Gui's release.
"The Swedish government shouldn't just release a single statement; they need to make public the precise circumstances under which Gui Minhai was snatched from under the noses of Swedish diplomats," Bei said. "[Also], whether or not he has his newly issued passport with him."
"They should release the whole story; this sort of thing can't just be left in a Top Secret diplomatic file," he said.
Gui's friend, Hong Kong publisher Meng Lang, said Sweden should ensure Gui is home in time for the Chinese New Year on Feb. 16.
"If Gui Minhai, as a Swedish citizen, has broken Chinese law, then the Chinese government should immediately offer an explanation to the Swedish government," Meng said. "I hope that he will be allowed to leave China before Chinese New Year."
Source: Copyright © 1998-2016, RFA. Used with the permission of Radio Free Asia, 2025 M St. NW, Suite 300, Washington DC 20036. https://www.rfa.org.