Authorities in the Chinese capital have revoked the student visa of a German national after he filmed the activities of human rights lawyers as part of an academic assignment.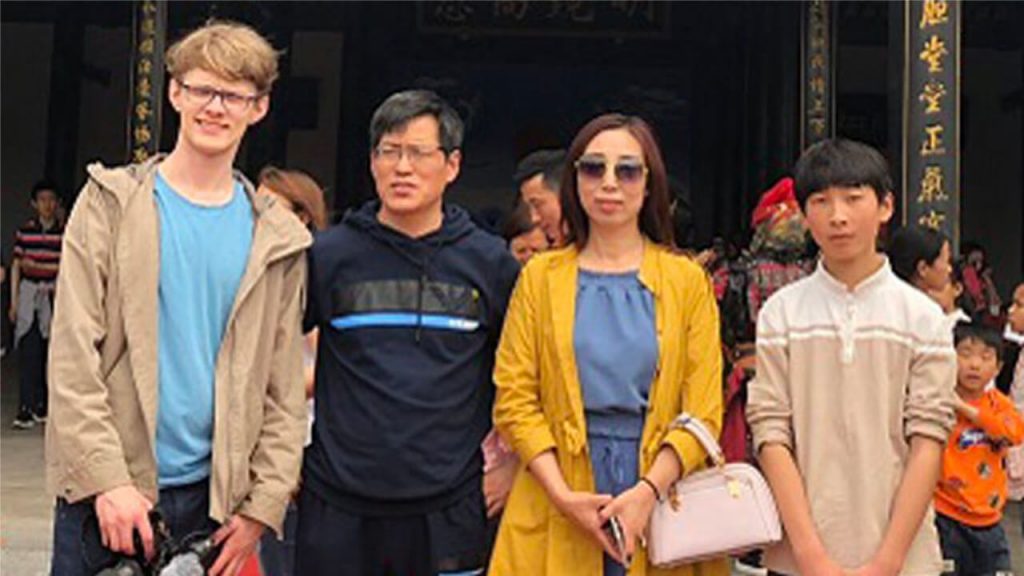 David Missal, a postgraduate student of journalism at Beijing's prestigious Tsinghua University, was approaching the second year of a two-year scholarship run by a German academic exchange body, the Deutscher Akademischer Austauschdienst.
His first-year student visa was up for renewal, so Missal put in an application to the Entry and Exit bureau of the Beijing police department, expecting it to be processed in around 10 days.
Instead, his visa was canceled, and a temporary visa issued until Aug. 12, giving him just 10 days to leave the country, according to photos posted to Missal's Twitter account.
"About two months ago, I needed to renew my visa, and I waited a couple of months," Missal told RFA in a recent interview. "I kept calling them, and they kept saying it wasn't ready yet, and that they were looking into it."
Last Friday, Missal got a phone call from the bureau telling him it wouldn't be renewed at all.
"They said I had to leave China within the next 10 days, because my activities weren't compatible with a student visa," he said. "I asked them what activities, and they said I should know very well."
"I'm so disappointed," Missal said. "China has been trying to create a positive international image lately, but based on this, I really don't think that's achievable."
Documentary on imperiled rights lawyers
Missal said his Tsinghua University professor had gone with him to the entry and exit bureau to protest at the move, but to no avail.
An employee who answered the phone at the Tsinghua International Students and Scholars Center declined to comment on Missal's case, saying everyone was currently on vacation.
An official who answered the phone at the Beijing Entry and Exits Bureau declined to respond to questions from RFA about the case.
On May 2, Missal was detained by police in Wuhan while shooting video footage for a short documentary about human rights lawyers in China, according to his blog.
Missal had accompanied rights lawyer Lin Qilei, who has been a prominent campaigner in the case of detained rights lawyer Wang Quanzhang and veteran democracy activist Qin Yongmin, who was jailed for 13 years on July 11 by the Wuhan Intermediate People's Court, which convicted him of "incitement to subvert state power."
China's embattled legal profession continues to be targeted in the wake of a nationwide police operation that has detained, questioned and otherwise restricted the freedom of more than 300 rights lawyers, law firm staff and rights activists and their family members since July 2015.
Video footage posted to his blog shows around eight police officers stopping Missal and asking him to come with them, repeatedly telling him to stop filming and promising that "we will look after your rights and interests." Eventually one officer makes a gesture, and the video ends.
"He pulled my shoulder," Missal wrote after the incident. "I told him: 'Don't touch me. Otherwise, I will call my embassy.' After saying this a couple of times, he finally stopped pushing me."
Ordered to delete phone footage
Missal was told to leave Wuhan after a long wait and requests by police for him to delete his mobile phone footage, which he refused to do.
Missal's expulsion comes as China's Ministry of Education ordered joint-venture colleges run by Chinese and overseas universities to set up committees of the ruling Chinese Communist Party as an integral part of their operations.
Li Xiaobing, director of the Western Pacific Institute at the University of Central Oklahoma, said the move is part of a bid to strengthen ideological control over all forms of academic activity.
"[They want to] promote a socialist direction in education, publicize Xi Jinping Thought and strengthen political education, as well as reducing the influence of the West," Li told RFA. "But more important is the party's leadership role in education."
"Chinese universities have long been led by party committees … which are in charge of ideology, including political reviews and project approval," he said. "They have a great deal of power, because they are responsible for orientation and control, so they play a huge role in the management of a university."
Hu Ping, editor-in-chief of the Chinese political magazine "Beijing Spring", agreed.
"It is not usually necessary to give a specific brief to the [party committee]," he said. "They can just leave it there, and when the time comes, they can make it work for them in the name of party organization."
"For example, [it can exert control over] teaching content, teacher salaries and training, as well as organizing events."
Source: Copyright © 1998-2016, RFA. Used with the permission of Radio Free Asia, 2025 M St. NW, Suite 300, Washington DC 20036. https://www.rfa.org.