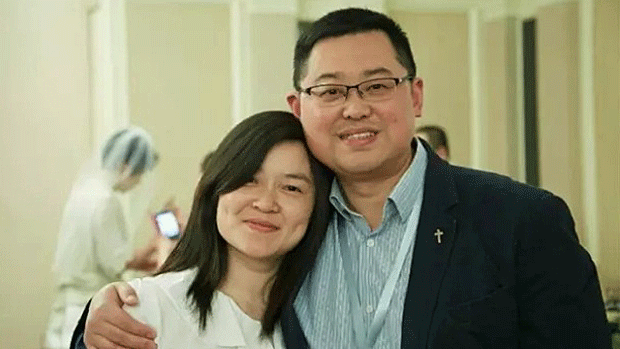 A court in the southwestern Chinese province of Sichuan on Monday handed down a nine-year jail term to Wang Yi, the Protestant pastor of the Early Rain Covenant Church.
Wang, who founded the church, was detained by police in Sichuan's provincial capital Chengdu on Dec. 14, 2018 on suspicion of "incitement to subvert state power," alongside dozens of church members in a raid that prompted an international outcry.
The Chengdu Intermediate People's Court issued a verdict and sentence after finding him guilty of "incitement to subvert state power" and of "running an illegal business" in a secret trial last week.
The court sentenced him to nine years' imprisonment, confiscating his personal property to the value of 50,000 yuan.
Wang's mother and wife were placed under house arrest and prevented from attending his trial, as were dozens of members of the now-shuttered church that he founded.
The trial came after Wang's lawyer Zhang Peihong was prevented from representing him because he had made comments deemed critical of the ruling Chinese Communist Party online.
A source close to the case told RFA that the government-approved lawyer who took his place, Qin Shaohua, had focused his attention on trying to get Wang to plead guilty in order to reduce his sentence, a strategy that appears to have been unsuccessful.
A church member said hundreds of plainclothes state security police were seen outside the court building on Friday, suggesting that the trial was under way at that time.
"Some church members went [to the court] and found that the street was full of plainclothes police, hundreds of them," the church member said.
"Some people were detained as soon as they arrived at the court gates, with a certain amount of violence, so overall the conclusion is that the trial was going on [on Friday]," he said.
Wang's wife Jiang Rong is currently out on "bail" after being detained alongside her husband during the initial raid on the church.
Both she and Wang's parents remain under close surveillance by state security police.
A miscarriage of justice
Bob Fu, president and founder of the U.S.-based Christian rights group ChinaAid, said the sentence was a miscarriage of justice, and indicated blatant religious persecution on the part of the authorities.
"This is a naked demonstration of total religious persecution," Fu told RFA. "It also shows that the entire regime of [President] Xi Jinping is openly opposed to the values of religious freedom and universal human rights."
Fu said he he would be informing the U.S. State Department and other government departments of Wang's sentence, and called on Washington to invoke the Global Magnitsky Act to impose sanctions on the officials linked to Wang's persecution.
San Francisco-based pastor Liu Yi said he believes the sentence was entirely politically motivated.
"The Chengdu court said on the internet that the trial was public. It was not public at all," Liu said. "Everything about the trial including the lawyer's defense and the verdict were kept secret."
"This attack on Wang Yi and the Early Rain Covenant Church is also an attack on house churches in China and to all religious believers and people of conscience," he said.
Trial held in secret
Former 1989 pro-democracy activist Fang Zheng, who is now settled in the U.S., said the entire process had taken place around Christmas to minimize publicity.
"Wang Yi was subjected to a secret trial for Christmas after being detained in secret for a year," Fang said. "Everything highlights the judicial murkiness of the Chinese Communist Party."
Fang called on the international community to put more pressure on Beijing to release prisoners of conscience.
Patrick Poon, China researcher at Amnesty International, said Wang had prepared a statement in advance anticipating the court's decision and negating any alleged "confessions" he reportedly made.
"Today's verdict makes a mockery of China's supposed religious freedoms," Poon said. "Wang Yi was merely practicing his religion and peacefully standing up for human rights in China."
"This nine-year sentence is appalling and unjust. Wang Yi is a prisoner of conscience and must be immediately and unconditionally released," he said. "In China, religious practitioners live under the permanent threat of politically motivated prosecution and conviction."
Reports of abuse
Some Early Rain Covenant Church members who were detained in raids on Dec. 9 and 10, 2018, and later released said the police had beaten them, and one detainee described being tied to a chair and deprived of water and food for 24 hours, rights groups reported at the time.
According to the New York-based Human Rights Watch (HRW), the authorities also ransacked and sealed Early Rain Covenant Church's properties, including offices, a kindergarten, a seminary, and a Bible college, and searched the homes of many of its members.
Police also forced church members to sign a pledge not to attend the church again, while the church's accounts on China's social media platform WeChat were removed, it said.
Around half of the church's original membership remain under close surveillance by police.
Wang Yi had earlier published an essay critical of the government's tight control over religion, and calling on China's Christians to resist and peacefully disobey new rules issued by the ruling Chinese Communist Party severely restricting the activities of religious organizations.
Wang, 46, founded the Early Rain Covenant church in 2008 after several years of political activism that saw him named as "one of the most influential public intellectuals" by the Southern Weekend newspaper in 2004.
A graduate of the Sichuan University Law School, Wang went on to teach at Chengdu University. He also founded an online forum to study progress in China towards constitutional government.
Tight controls over religion
The ruling Chinese Communist Party, which embraces atheism, exercises tight controls over any form of religious practice among its citizens.
China is home to an estimated 68 million Protestants, of whom 23 million worship in state-affiliated churches, and some nine million Catholics, 5.7 million of whom are in state-sponsored organizations.
The administration of President Xi Jinping regards Christianity as a dangerous foreign import, with officials warning last year against the "infiltration of Western hostile forces" in the form of religion.
Reported by Ng Yik-tung and Man Hoi-tsan for RFA's Cantonese Service, and by Qiao Long for the Mandarin Service. Translated and edited by Luisetta Mudie.
Source: Copyright © 1998-2016, RFA. Used with the permission of Radio Free Asia, 2025 M St. NW, Suite 300, Washington DC 20036. https://www.rfa.org.