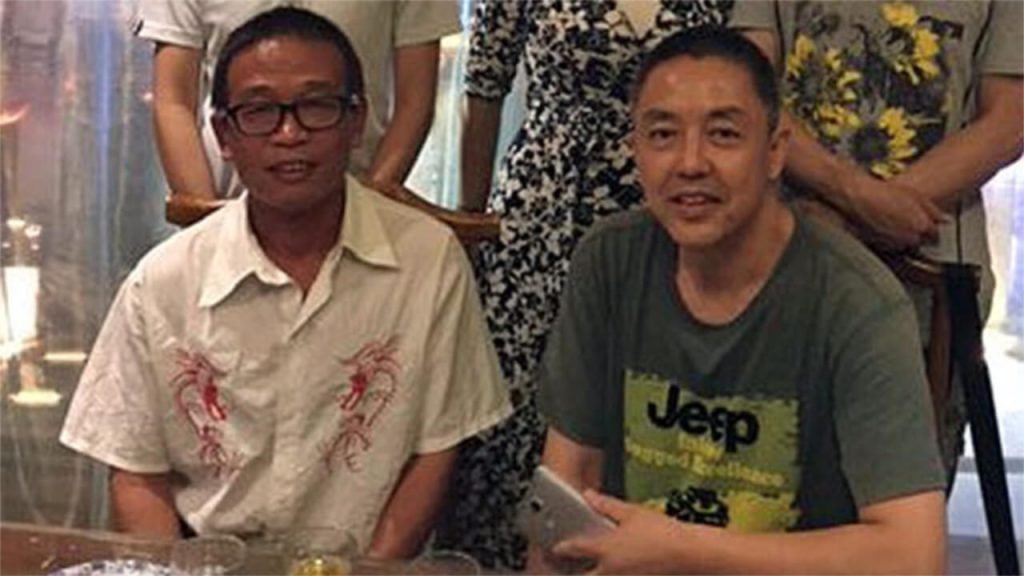 Authorities in the southern Chinese province of Guangdong on Friday handed down a three-year jail term to a musician who sang about late Nobel peace laureate and political prisoner Liu Xiaobo.
Singer-songwriter Xu Lin was sentenced to three years' imprisonment after the Nansha District People's Court in the provincial capital Guangzhou found him guilty of "picking quarrels and stirring up trouble," his lawyer Liu Hao told RFA.
Xu was detained last year after he penned songs in memory of Liu, who died in police custody of late-stage liver cancer in July 2017.
"I don't think the charge stands up, and we will be appealing," Liu Hao said after the sentencing hearing. "But it's hard for me to talk about this kind of case, because there's a lot of pressure on lawyers right now."
"I am already subject to special restrictions by the relevant authorities, and if I don't comply I will lose my license," he said.
"I won't say any more; you need to understand the specific situation that lawyers are in," he said.
According to a copy of the judgment seen by RFA, the court found that Xu Lin had "commented on the internet and repeatedly insulted the country's leaders, causing adverse social impacts," as well as posting "false messages" online.
"The relevant information was widely disseminated and commented on, causing serious disturbance to public order," the judgment said. "The court found the case to be serious and therefore requiring a custodial sentence."
Back to the Mao era
Xu's wife, who gave only her surname, Wang, said the hearing only took a few minutes, after which her husband was taken away again.
She rejected the charges and verdict, saying Xu had only written about factual matters.
"There will always be some people who stand up when faced with injustice," Wang said. "Aren't we even allowed to leave a comment? So what if we have a go at our leaders? Are they going to charge me?"
She said the administration of President Xi Jinping is taking an ever-harder line with any form of public dissent or criticism.
"They seem to be heading back to the era of [late supreme leader] Mao Zedong. What year are we in?" she said. "This sort of thing would never happen in a democratic country."
She said Xu had likely received a harsher sentence because he had refused to cooperate with the authorities by producing a "confession," or by pleading guilty.
Security was tight around the court buildings on Friday morning ahead of the hearing, with a strong police presence in the streets outside meaning Xu's supporters were unable to approach the building.
"They had set up a checkpoint on the left-hand turn you make to get here, so nobody could get anywhere near [the court]," Wang said. "If anyone dared to hold up [a banner or placard], they would have detained them, and they wouldn't let anyone hang around there; they were chasing them away before they had even gotten close."
Blow to freedom of expression
Guangzhou-based rights activist Huang Yongxiang said Xu's jailing was a further, serious blow to freedom of expression in China.
"If people can be detained just for making casual comments, then it shows things are getting stricter and stricter," Huang said. "Of course, this is going to strike fear into the majority of people."
"The suppression of freedom of speech will definitely result in more people censoring themselves," he said.
He said ever-expanding controls on public speech could be seen in the Chinese authorities' recent focus on the use of Twitter, a platform that is blocked in China but accessible using circumvention tools, by dissidents and commentators.
"Quite a few people are now being detained on the basis of something they wrote on Twitter," Huang said.
Xu Lin was formally arrested for "picking quarrels and provoking trouble" on Nov. 2, 2017. His case was handed over to the state prosecution service in January, which sent it back to police "for further investigation" in April.
He requested not to have a lawyer, following a pattern set by other detained activists who strike a deal to plead "guilty" in return for more lenient treatment, although his associates said he simply had no wish to take up valuable resources.
London-based rights group Amnesty International has previously warned that Xu Lin is at risk of torture and other ill-treatment.
Xu was hospitalized while being held in the Nansha Detention Center in Guangdong's provincial capital Guangzhou, sparking fears that he may have been tortured or mistreated while in a police detention center, possibly in the hope that he would produce a video "confession."
Liu Xiaobo died weeks after being diagnosed with late-stage liver cancer, and repeated requests from his family to seek medical treatment overseas were ignored.
Police have since detained a number of activists who staged memorials in Liu's honor, including Zhuo Yuzhen, detained in Guangdong's riverside town of Jiangmen for taking part in a seashore memorial a month after Liu's passing.
Reported by Wong Lok-to for RFA's Cantonese Service, and by Gao Feng for the Mandarin Service. Translated and edited by Luisetta Mudie.
Source: Copyright © 1998-2016, RFA. Used with the permission of Radio Free Asia, 2025 M St. NW, Suite 300, Washington DC 20036. https://www.rfa.org.