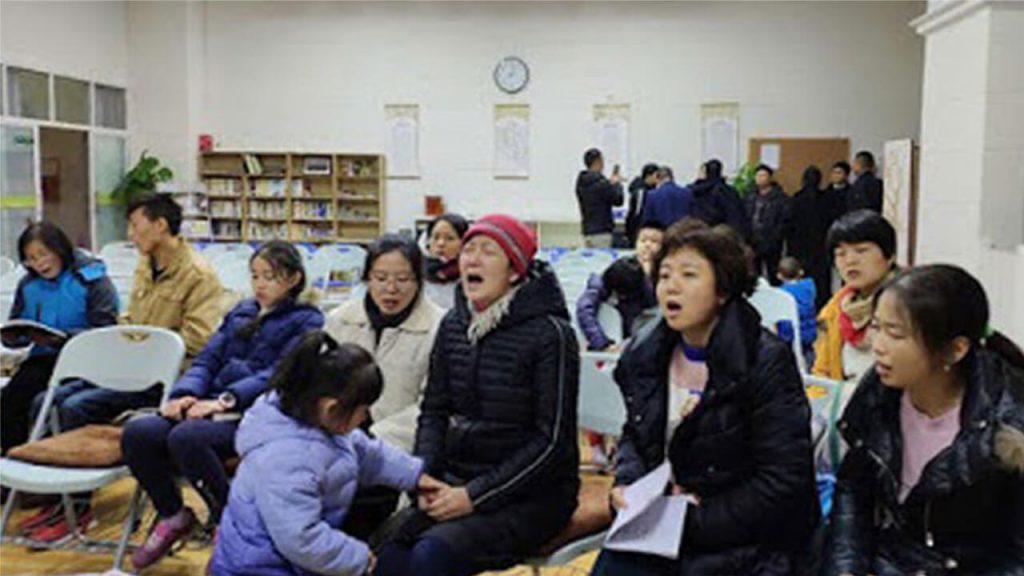 Authorities in the southwestern Chinese province of Sichuan are holding the pastor of the Early Rain Covenant Church on suspicion of "subversion," amid calls from a U.S.-based rights group to release him and dozens of detained members of his church.
Pastor Wang Yi of the Early Rain church in Sichuan's provincial capital Chengdu was detained as part of a series of police raids on Dec. 9 and 10 that saw more than 100 people initially detained, although some were subsequently released under surveillance, church members have told RFA.
Dozens of church members remain in police custody, the New York-based Human Rights Watch (HRW) said in a statement on its website on Thursday, calling for their immediate release.
Repeated calls to to the Chengdu police department rang unanswered during office hours on Thursday. An official who answered the phone at the Chengdu municipal bureau of religious affairs declined to comment.
"I don't know! I don't know! I have nothing to say about this matter, and I don't know which department can answer your questions," the official said.
Some church members who were later released, said the police had beaten them, and one detainee described being tied to a chair and deprived of water and food for 24 hours, HRW said.
While the families of some detainees said they had received police detention notices, others were left with no information at all about their loved ones' whereabouts, it said.
Mockery of Chinese claims
"The shutdown of a Protestant church in Chengdu epitomizes the Xi Jinping government's relentless assault on religious freedom in China," HRW China researcher Yaqiu Wang said in the statement.
"It makes a mockery of the government's claim that it respects religious beliefs."
Pastor Wang is now under criminal detention on suspicion of "incitement to subvert state power, an Early Rain church member surnamed Su told RFA.
"I heard from the other church members after it was announced by the church that Pastor Wang is being charged with incitement [to subvert] state power," Su said. "That was the response given by police to his family."
Su rejected the charges against Pastor Wang. "He never did anything wrong," he said. "He was just the pastor of a church, who read and explained the Bible. I really don't know why they have charged him with this."
According to HRW, the authorities also ransacked and sealed Early Rain Covenant Church's properties, including offices, a kindergarten, a seminary, and a Bible college, and searched the homes of many of its members.
Police also forced church members to sign a pledge not to attend the church again, while the church's accounts on China's social media platform WeChat were removed, it said.
Wang Yi had earlier published an essay critical of the government's tight control over religion, and calling on China's Christians to resist and peacefully disobey new rules issued by the ruling Chinese Communist Party severely restricting the activities of religious organizations.
'Killing the chickens to frighten the monkeys'
He had vowed to "use peaceful means… to resist every and all governmental and judicial measures that persecute the church and interfere with Christian belief," HRW said.
Su said church members are now powerless to help those who have been detained.
"Right now, there isn't anything we can do," he said. "We don't even know where they are right now, and all of our communication tools have been restricted. We are just carrying out fasting and prayers in our own homes."
Professor Chang Chia-lin, of Taiwan's Aletheia University, said the charges against Wang are likely intended to make an example of him to other unofficial Protestant churches in China.
"The Chinese Communist Party fears this sort of organization that refuses to toe the line more than anything," Chang told RFA. "It won't take direction."
"There are probably other underground church pastors with a similar background to Pastor Wang Yi, who might want to stand up for their rights in the same way, so this will have the effect of killing the chickens to frighten the monkeys," he said.
China is home to an estimated 68 million Protestants, only 23 million of whom worship in state-affiliated churches, and some nine million Catholics, 5.7 million of whom are in state-sponsored organizations.
But the Chinese Communist Party, which embraces atheism, exercises tight control over any form of religious practice among its citizens.
The administration of President Xi Jinping regards Christianity as a dangerous foreign import, with officials warning against the "infiltration of Western hostile forces" in the form of religion.
Reported by Wong Lok-to for RFA's Cantonese Service, and by He Ping for the Mandarin Service. Translated and edited by Luisetta Mudie.
Source: Copyright © 1998-2016, RFA. Used with the permission of Radio Free Asia, 2025 M St. NW, Suite 300, Washington DC 20036. https://www.rfa.org.