Voice of America's Mandarin Service correspondent and a multimedia journalist working for VOA were detained Monday evening by Chinese police while attempting to interview a retired Chinese professor who was taken away by authorities during a live television interview with VOA nearly two weeks ago.
Correspondent Yibing Feng and VOA contractor Allen Ai were taken into custody in Jinan, Shandong province after talking to professor Sun Wenguang, 84, through a closed door of his apartment. Sun told Feng details of his detention and thanked VOA for allowing him to express his freedom of speech on the air.
Authorities in the apartment hallway attempted several times to disrupt the interview and ordered Feng and his Chinese assistant to leave the building. The two reporters were then held by police at the building exit. They are still believed to be in police custody.
"It is outrageous that two journalists have been detained for nothing more than doing their jobs," said VOA Director Amanda Bennett. She called for them to be released immediately.
Sun Wenguang, who was detained earlier this month, was only recently allowed to return home under strict security, close friends told VOA on Monday. Chinese authorities have refused to comment on his detention.
On Monday, the professor shouted answers to VOA's questions from behind a locked door saying that he was moved to several locations after being detained August 1, including Yanzi Mountain Villa at Jinan Military Region, a military-linked hotel and reception center in Jinan, his hometown. He was taken to four places, often staying for one or two days under a security watch, he said.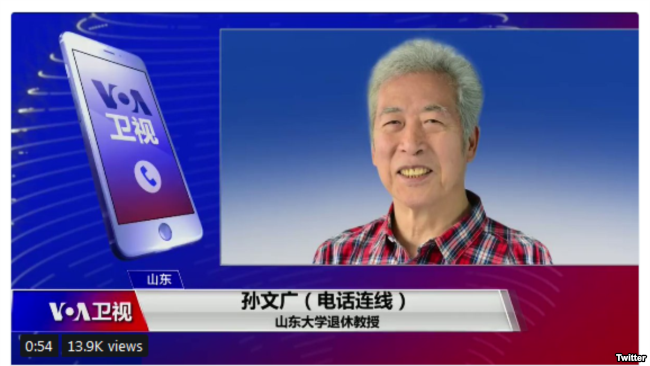 "Now I have been locked in at my dwelling," he said. "My wife and I have been in a forced trip outside our residence for 10 days and we stayed in four hotels. And now we are back to our home finally. But they sent four security guys to sleep in our home.
Here in China, we have a lack of freedom of press," the professor said. "Authorities have blocked and suppressed press freedom. Chinese authorities have a practice of trade barrier and press barrier. Why can Chinese reporters act as journalists in the U.S. freely while U.S. reporters cannot do normal journalistic work in China?"
When the VOA journalists first arrived at Sun's apartment, they encountered a few security people outside the door.
After they identified themselves as journalists, correspondent Feng told security: "Please don't interrupt our work."
A security officer asked them to go downstairs where they were later detained. The two VOA journalists were then taken away separately in police cars.
"Where are you taking me?" Feng asked police in a conversation that was overhead on a cell phone call to VOA editors in Washington.
"You will know," an officer responded.
"I need to talk to your leader," Yibing told the officer.
The police then apparently asked Yibing to turn over his equipment.
"This is (US) government property, you cannot take it," Yibing told them, referring to VOA's status as a U.S. government broadcasting entity.
Before the cell phone line went dead, the sound of footsteps could be heard.
"Don't grab me," Yibing said. "I will go with you."
Earlier this month, professor Sun was taken away during a live telephone interview on the VOA Mandarin television show Issues & Opinions as he was criticizing China's foreign aid and diplomatic strategy in Africa. During the interview, he told VOA that authorities were breaking into his house in an attempt to prevent him from speaking out against the government.
* This is a developing story which will be updated
Source: VOA