Manipulated and lied to by the government, relatives of believers from banned religious groups are forced to mistreat their loved ones to save themselves.
by Lu Xiaojing
Members of The Church of Almighty God (CAG) – the single most persecuted religious group in China – have been suffering at the hands of the communist regime for years, especially since 1995, when it was included in the list of the xie jiao. To ensure that as many believers are arrested as possible, authorities throughout the country have been offering considerable monetary rewards to encourage people to report CAG members. Alongside, the government also imposes pressure on families of believers, inciting them to force their religious relatives to give up their belief.
Such government manipulations result in tragedies for entire families. An octogenarian CAG believer recently recounted to Bitter Winter her story.
The woman's problems with the family started more than a year ago, on September 2, 2018. That day, her daughter, a school teacher, with whose family the elderly woman lived, left for work as usual. "In the morning, my daughter looked happy when she left. I never expected that she would drive me out of her home the same evening," the woman remembered with emotion – the evening is still deeply imprinted in her memory. "I couldn't stop weeping while listening to all the ruthless things my daughter was telling me that evening."
The daughter had known about her mother's religious belief and had supported her, thinking that believers are good people. But everything changed when a group of local government officials came to her school on September 2 and demanded every teacher to sign a "My family rejects xie jiao" card. By signing it, all were pledging to report to the government their family members who belong to banned religious groups on the government's list of the xie jiao. The signees were also obliged to call the police immediately if they learn about a CAG member or discover their gatherings, even of two or three believers. Those who are found failing to report such instances could be punished for harboring criminals. Not only will they be expelled from jobs and have all their welfare allowances revoked, but their children could also be disqualified from taking university or college entrance exams.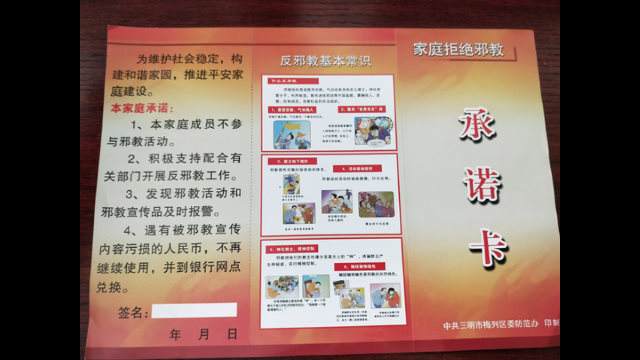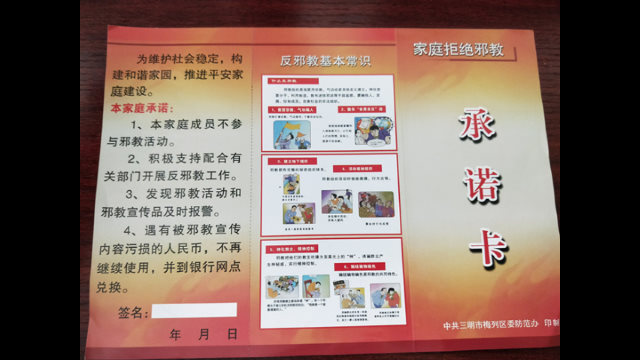 Pressured by the government, the old woman's daughter had to make a clean break with her mother. She told her later that she was doing this to save the rest of her family. Because she and her husband both worked in government-run institutions, they would lose their jobs because of her mother's faith. Without their income, the family would be ruined.
According to a CCP internal document obtained by Bitter Winter, "My family rejects xie jiao" cards are part of the nationwide propaganda campaign, intended to aid the authorities in exposing members of religious groups listed as xie jiao by using families and grassroots communities. The document demands to treat families as "the first line of defense against xie jiao, and encourage the masses to proactively join the anti-xie jiao battle." The CCP has used the guilt by association or "familial exterminations" policy for years to pit people against their religious relatives.
To aid this process, government-run media outlets wantonly spread false propaganda and rumors defaming the CAG and other religious groups, encourage people to report them to the police so that they don't have safe spaces, even at home, to practice their faith. As a result of such misinformation and propaganda campaigns, believers are subjected to mistreatment, even violence from their families, neighbors, communities, also work colleagues.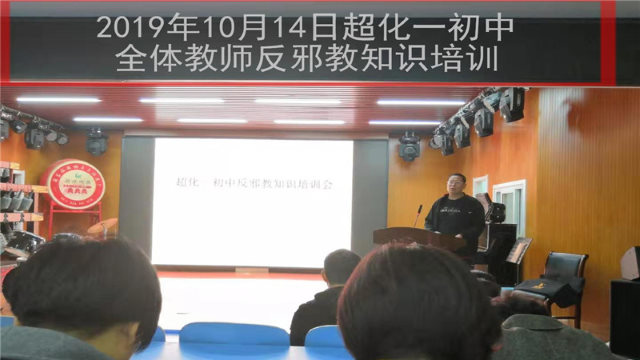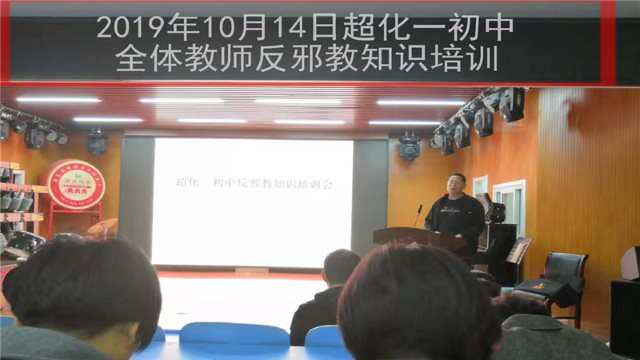 "The villagers shouted by my house's gate, 'Beat her to death and she will not believe in God anymore,' 'Beat her to death if she continues believing in God and implicates us,'" a CAG member from Guangxi Zhuang Autonomous Region told Bitter Winter, recounting events on the day her neighbors learned about her faith.
Before that day, the woman was respected in the village and got on well with her neighbors. But all changed after government officials convened a meeting for village residents to slander her, saying that by being a member of the CAG, she was "opposing the state" and "disturbing public order." She was made the villagers' public enemy and consequently suffered continuous attacks and abuses from them.
To make matters worse, her husband started beating her violently, trying to force her to renounce her faith. Once, after he hit her black and blue, the husband started crying and admitted to her that he was driven to do this because he could not stand daily attacks from villagers.
Several government documents from around China, obtained by Bitter Winter, indicate that the CCP has been implementing a series of propaganda campaigns against groups designated as xie jiao, especially the CAG. The documents stress that such drives should be carried out in "companies, families, schools, public institutions, villages, and communities." The companies and communities are required to "manage their people" and intensify efforts in controlling and transforming members of the CAG.
The police investigated a CAG member who was a teacher in Liaocheng, a city in the eastern province of Shandong, and had put her file on record. Subsequently, her school started pressuring her, in cooperation with officials from the Public Security Bureau, to give up her faith. Unable to bear this overwhelming stress, the woman killed herself by jumping into a lake in September 2019. An unsent message was found on her phone after the tragedy: "I don't want my husband and child to be implicated. I love them!"
Source: Bitter Winter