Refusing to be controlled by the government, house churches are deemed illegal and are suppressed in the name of eliminating "gangs and evil forces."
by Li Mingxuan
On October 13, a house church in Jinan, the capital city of the eastern province of Shandong, was ambushed by a group of local officials. "From now on, you are not allowed to meet here, nor are you allowed to read the Bible," members of the congregation were threatened. "According to orders from the central government, the Bible is banned. You're designated as a target of the campaign to 'clean up gang crime and eliminate evil.'" The officials declared that "house churches all over Shandong Province are to be shut down."
"What kind of government is this?" commented an elderly Christian. "They turn a blind eye on evil-doers and criminals, but persecute us Christians."
In early September, a house church meeting venue in Dongping county, administered by Shandong's Tai'an city, was raided by local officials who demanded to hang the national flag, register all congregation members and sign an agreement to join the Three-Self Church. They threatened to confiscate church assets and shut down the venue if orders were not obeyed. The believers refused, so the venue was closed down.
From late September to early October, two meeting venues of Guangming House Church in Jixi city in the northeastern province of Heilongjiang were closed in succession. According to a congregation member, the church was designated as an "illegal venue," even though believers applied to the local Ethnic and Religious Affairs Bureau for a license, but officials refused to consider their application.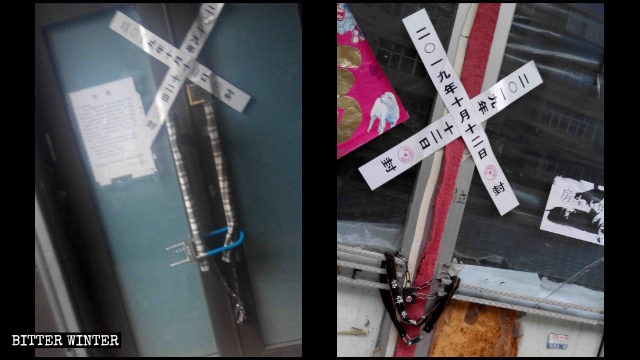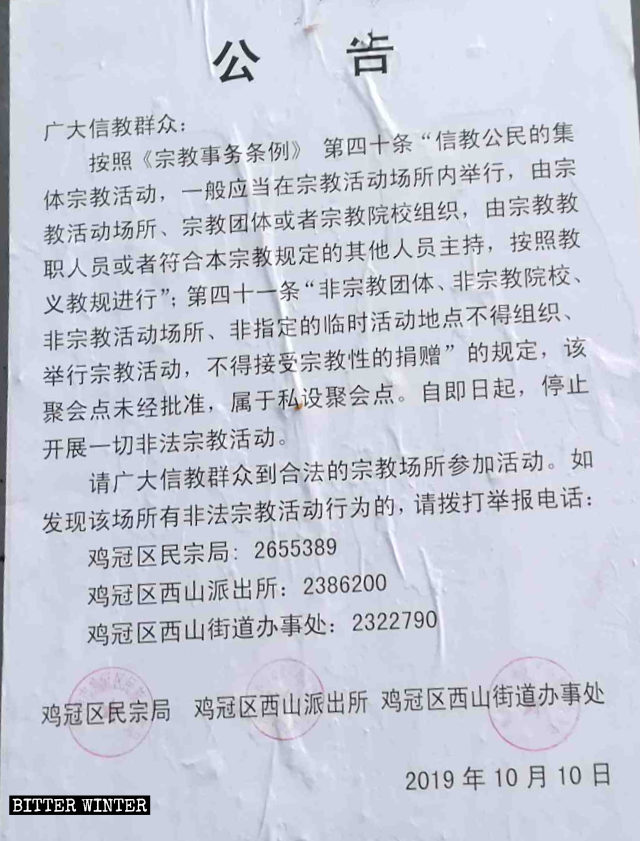 Meanwhile, many house church meeting venues in the southwestern province of Yunnan have been closed down under the pretext of "holding illegal gatherings."
In late August, police officers and Religious Affairs Bureau officials raided a house church in Yunnan's Honghe Hani and Yi Autonomous Prefecture, claiming that the venue was not licensed and, therefore, illegal. They ordered the congregation to join the Three-Self Church. The church they were assigned to was thousands of miles away, so it would be impossible for the believers to attend it, even if they agreed to join it. Having no other choice, the churchgoers signed a document that prohibits them from holding religious gatherings. Officials confiscated all valuables, assigned local personnel to watch over the venue, and threatened to arrest believers if they continued gathering.
As if the believers were not intimidated enough, police officers raided the houses of at least eight congregation members, confiscating religious books and tearing down religious paintings. An officer slapped one of the believers for refusing to hand over her religious books.
"The government persecutes us because it fears that the church's growing membership and rapid development would be unfavorable to them," a church member told Bitter Winter. "These officials are acting like devils."
On September 5, officials from Yuanmou county in Yunnan's Chuxiong Yi Autonomous Prefecture closed down a local house church meeting venue, which was founded more than thirty years ago. They threatened to impose a 300,000 RMB (about $ 42,000) fine if the venue continued to hold religious gatherings.
In late September, eight government officials from the county-level city of Dali in Yunnan stormed into a house church meeting venue and plundered all valuables. More than 100 religious books published abroad were confiscated because having them "was not in accordance with the Chinese laws," the officials claimed.
The local government summoned members of the congregation for "a talk" later that day. They were told that because the venue's preacher did not have a permit issued by the United Front Work Department, his activities constituted "illegal preaching." Officials also threatened to imprison the believers if they met again with the preacher for religious practices.
Source: Bitter Winter