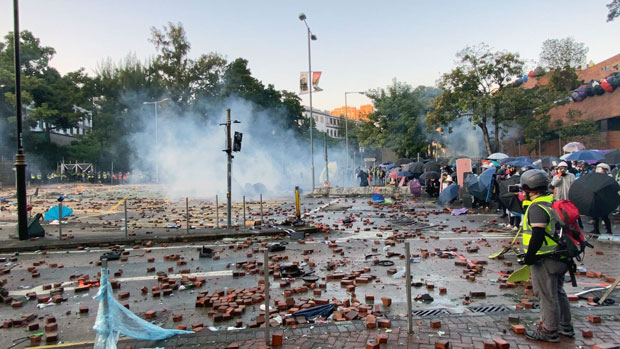 "I'm pretty scared," one masked protester on the front line of the Hong Kong Polytechnic University (Poly U) barricades told RFA on Sunday night. "But the people of Hong Kong will still come out in protest even if they're scared. The people of Hong Kong are united."
Police on Sunday told all students to leave Poly U via the Lee Shau Kee Building at the Core-Y area of the University, sealing off all other routes out of the campus in downtown Kowloon's Hung Hom district.
"We have just seen that all the exits have been blocked so that students inside can't leave," Poly U student spokesman Owen Lee said, before breaking down in tears on a live video stream after multiple media posts reported that police were armed with AR-15 assault rifles.
We call on everyone to help our students, or we fear that they won't survive," he said.
Social media reports said many who did leave via Core-Y as requested were then arrested, including medical personnel.
Photographs posted to Twitter showed dozens of volunteer first-aiders and people wearing vests identifying themselves as doctors and paramedics seated in rows on the tarmac, their hands restrained with cable ties.
"Medical volunteers arrested, their hands tied and locked like fugitives," pro-democracy activist Joshua Wong tweeted on Sunday.
"This is outrageous. The HK govt has lost control over police force. A violent bloodshed is under way."
Streets in nearby Tsimshatsui East were jammed with traffic as citizens responded to calls for aid, either by seeking to block police access to the university, or by ferrying food, water and other essential supplies to besieged students.
Pro-democracy political party Demosisto tweeted video footage of a mass of stationary vehicles being tear gassed by a passing police vehicles, amid loud chorused expletives from the drivers.
Deadly force
"#hkpolice are now out of control," the tweet said. "A long queue of traffic stuck in a traffic jam in Tsim Sha Tsui. A patrol car passed by and #police suddenly fired rounds of teargas at citizens and cars."
Police spokesman Louis Lau warned via a Facebook live feed that police may start responding with deadly force against protesters, who have dug in to prevent police entering their university campus since last week, setting fire to a connecting pedestrian bridge and flinging petrol bombs at an approaching armored vehicle, forcing it to retreat.
Footage from behind the students' barricade, which was protected by a now-familiar wall of umbrellas, showed students loading Molotov cocktails into a makeshift catapult similar in design to medieval siege equipment, and flinging them out towards police lines.
"Stop using petrol bombs, arrows, vehicles or any other lethal weapons to attack police officers, and stop all acts of assault," Lau said.
"If they continue these dangerous acts, we will have no choice but to use the necessary minimal force, including live ammunition, to hit back."
The warning comes after at least three live-ammunition shootings since anti-government protests escalated amid a wave of public anger over plans by chief executive Carrie Lam to allow extradition to mainland China, which for many signaled the end of Hong Kong's traditional freedoms.
Lau said a group of police officers had fired on a private white car that allegedly tried to ram them at around 10.00 p.m. in the vicinity of Poly U. A police officer was taken to hospital after being hit in the leg by an arrow, police said in a statement on the official government website.
A large group of protesters had also dug in on Cheong Wan Road, not far from Poly U, throwing petrol bombs at riot police who fired tear gas and water cannon in a sporadic clash that lasted several hours into the night.
Peaceful march organizers the Civil Human Rights Front called on the international community to come to the aid of Hong Kong's students, and to help broker a deescalation in the violence.
"Bloodshed and crackdown are no longer a nightmare but a concrete possibility," the group said in a statement on Sunday.
"Protesters are now unable to leave," it said. "With the tense atmosphere and escalation of the use of force by police, we worry that the protesters, most of whom are our young and future generation, will face arrest with bloodshed."
Humanitarian crisis
The group said Hong Kong was now in a state of humanitarian crisis after police fired more than 10,000 rounds of tear gas in recent months, with around 20 percent of those fired into the Chinese University of Hong Kong (CUHK) campus during a raid last week.
"The excessive use of tear gas brings Hong Kong into a [state] of chemical pollution," it said. "We … urge the international community to join our appeal for de-escalation of state violence, and the retreat of riot police near the campus."
It called on all protesters to support the students in peaceful ways.
British MPs and a rights group called on Lam's administration to show restraint in handling the protests at Poly U.
"Hong Kong's Chief Executive has the responsibility to do everything possible to prevent a massacre," former foreign secretary Malcolm Rifkind said in a statement published by the rights group Hong Kong Watch, which is backed by leading members of the ruling Conservative Party.
"She must order the police to exercise restraint and not to use live ammunition or other forms of lethal force," he said. "A bloodbath on a Hong Kong campus would be devastating for Hong Kong as a whole."
Rifkind also called on students to stop engaging in any violence in return, so both sides could "pull back from the brink."
"Hong Kong is at a critical juncture tonight," Lord Alton of Liverpool, a patron of Hong Kong Watch said, calling on Lam to prevent a tragedy.
"I do not condone the violence on the part of some of the students, but equally it is important to understand that the disproportionate police brutality and cynical, manipulative, provocation by agents provocateurs is what has brought Hong Kong to this crisis point," he said.
"I urge Hong Kong's authorities not to escalate the crisis further, but rather to de-escalate it and seek ways to address the protesters' grievances rather than respond to them with force."
Student journalists arrested
The Hong Kong Journalists Association (HKJA) issued an urgent appeal on Sunday, saying police were planning to arrest any media worker who couldn't produce a police-approved form of accreditation.
Police would only recognize identification issued by newspapers, news agencies, television stations and radio stations, an HKJA membership card or a Hong Kong Photojournalists Association membership card, it said.
Live video stream reports said at least six student journalists were arrested for failing to produce a police-recognized press card.
Violence has escalated across the city since police raided CUHK, firing more than 1,000 canisters of tear gas in a single day.
Lam formally withdrew a planned amendment to the city's extradition laws last month, fulfilling the first of the protest movement's five demands.
But protesters say they will continue until there has also been an amnesty for thousands of people arrested, the withdrawal of the official term 'rioting' to describe the movement, an independent inquiry into police violence against protesters, and fully democratic elections to the Legislative Council and for the post of chief executive.
Government officials have repeatedly ruled out these measures, while calling at the same time for "dialogue" with protesters.
In recent weeks, calls have been growing for the current Hong Kong police force to be disbanded, particularly after widespread reports of the sexual abuse and torture of detainees at the hands of police.
Reported by Lee Tsz-Tsz for RFA's Cantonese Service, and by Wang Yun for the Mandarin Service. Translated and edited by Luisetta Mudie.
Source: Copyright © 1998-2016, RFA. Used with the permission of Radio Free Asia, 2025 M St. NW, Suite 300, Washington DC 20036. https://www.rfa.org.