Authorities in the Chinese capital have indicted a 22-year-old kindergarten teacher for abusing those in her care, after denying allegations of sexual abuse of children at the school made last year.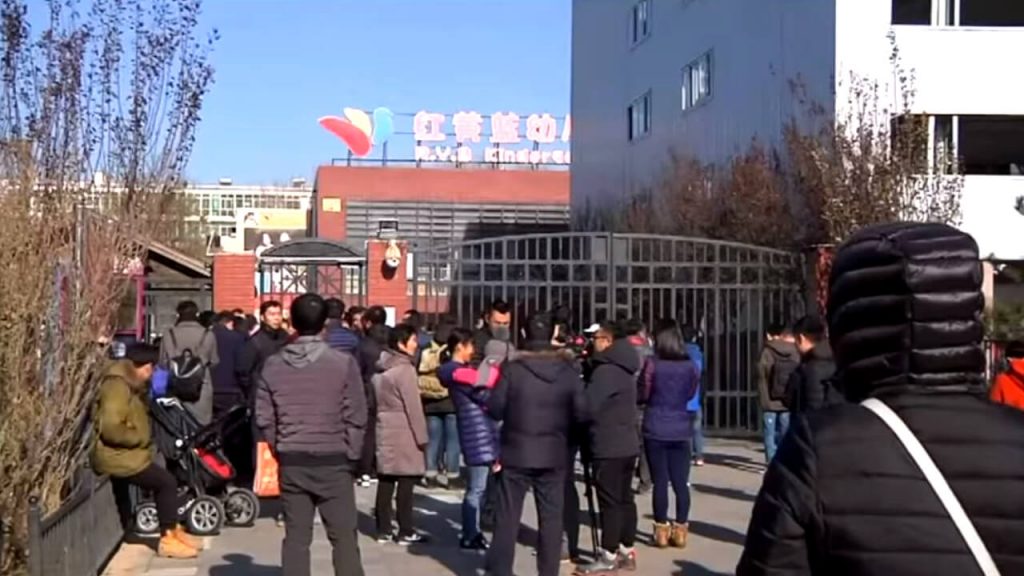 The former teacher at the RYB New World Kindergarten in Beijing's Chaoyang district was indicted by the state prosecutor, which identified her only by her surname, Liu.
She had been fired from her job last November after being accused of pricking the children with needles, because they refused to take a nap.
Parents told RFA at the time that they found the scapegoating of Liu highly suspicious, coming as it did after the announcement that there were "gaps" in the surveillance footage from cameras inside the building.
State-run Xinhua news agency had earlier reported that police were investigating allegations that children were "reportedly sexually molested, pierced by needles and given unidentified pills."
But the ruling Chinese Communist Party's propaganda department swung into action, limiting media reaction to the scandal and arresting at least two parents for "rumor-mongering" about the allegations.
At least 10 parents had reported finding pinpricks on their children's legs, arms and bottoms, according to state broadcaster China Central Television. Others said their children had been given "white pills" before their afternoon nap.
Though three teachers were suspended in November, there has been scant mention since then of the sexual abuse allegations initially reported by Xinhua.
A parent at a Beijing kindergarten surnamed Zhang said government censors had also been hard at work deleting any social media posts referencing the incident.
"They have been deleting large numbers of posts," Zhang said. "I don't really hold out much hope because I think that this teacher is just carrying the can for the whole situation."
She said her son had previously been pricked with needles by a teacher, giving him nightmares for more than a month, during which he shouted: "Teacher, don't hurt me!"
But police had sided with the kindergarten, she said, adding that stories of child abuse in the Chinese education system are becoming very common.
"My kid was in the kindergarten for two months, and he was physically abused in there," Zhang said. "I couldn't figure out what the little red marks on his face were. He said they hurt and that they were made by the teacher with a needle."
"But when we reported it to the police, they said he must have done it to himself," she said. "When we went to the kindergarten, they called the police on us, and I was taken down to the police station."
Education system is to blame
A Beijing-based rights activist surnamed Yu said the problem runs throughout society, and is far too serious to be blamed on a single teacher.
"Of course, we hate this teacher for doing what she did, but behind this is the entire education system, the question of how kindergartens are run and the protection of young children of preschool age," Yu said.
"The entire education system and the whole of society should be concerned about this, not just go blaming it on this teacher," he said. "If it happened again tomorrow, it would be pointless just to blame it on that teacher, too."
China's Ministry of Education and city-level education officials called for tighter regulation of the preschool education sector and tougher supervision of staff in the wake of the scandal.
The kindergarten is one of around 1,800 kindergartens and daycare centers run by New York-listed RYB Education.
The company has claimed a zero tolerance policy regarding child abuse, but it has also filed official complaints against parents who made "false accusations," state broadcaster CGTN reported.
Source: Copyright © 1998-2016, RFA. Used with the permission of Radio Free Asia, 2025 M St. NW, Suite 300, Washington DC 20036. https://www.rfa.org.