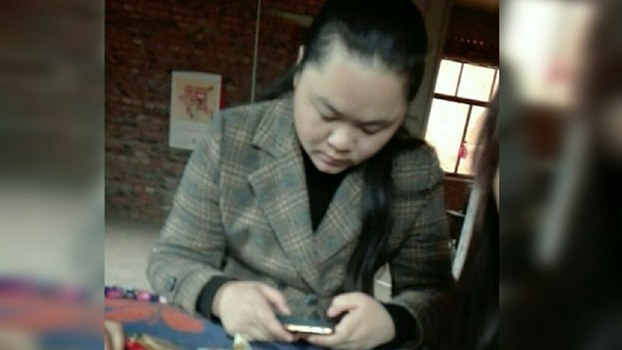 Authorities in the central Chinese province of Hunan have released a woman incarcerated in a psychiatric hospital for splashing ink on a poster of China's President Xi Jinping in a live-streamed protest on social media.
Dong Yaoqiong was sent for "compulsory treatment" after she streamed live video of herself splashing ink on a poster of President Xi in protest at "authoritarian tyranny" on July 4, 2018.
She was then committed as a psychiatric patient in a women's ward in Hunan's Zhuzhou No. 3 Hospital. Her father, Dong Jianbiao, who was detained when he tried to visit her, has suggested the authorities put extreme pressure on her mother to sign the committal papers.
Dong saw his daughter — who is now living with her mother in Hunan's Taoshui township in Youxian county — for the first time since her release on Tuesday.
"She's changed," Dong said. "She used to be very lively, but now she's not. She doesn't really say much."
Dong said he believed the change in his daughter's demeanor was likely the result of her being force-fed medication while in the psychiatric hospital.
"I asked her about [her time there] but she didn't tell me anything," he said. "Now I just want to help her, take care of her, and help her get back to the way she was before."
Dong Yaoqiong was discharged from the hospital around a month ago, Dong said.
An employee who answered the phone at the Zhuzhou No. 3 Psychiatric Hospital on Friday declined to comment.
"For this specific case you'll have to ask the department involved," the employee said. "I don't really know about it."
Forced 'psychiatric' treatment
Hunan rights activist Ou Biaofeng said Dong Yaoqiong's forced "psychiatric" treatment came after her initial protest video garnered widespread support, and the authorities wanted to take her out of the public eye.
"It seems that there are various medications that she is still taking, which would account for [the change in Dong Yaoqiong]," Ou told RFA. "The authorities must be using this to intimidate her, so that she no longer speaks out in public."
"The illegal detention [of Dong Yaoqiong] in a psychiatric hospital comes from their fears of anyone who protests, and it's meant to create a climate of fear," he said.
Dong 's incarceration in the Zhuzhou No. 3 Hospital, a psychiatric institution, came after she accused the authorities of "persecutory brain control," an allegation some activists have said could be linked to attempts to disorient her through psychiatric medication or even technology.
"There is a portrait of Xi Jinping behind me," she said in the July 4 livestreamed video protest. "What I want to say is that I am using my real name to oppose Xi Jinping's tyranny and dictatorship, and the oppressive brain control perpetrated on me by the Chinese Communist Party." She then threw the ink across Xi's image on the poster and shouted her slogans again.
Dong, who had reported being under surveillance by the authorities for around a year, later said via her @feefeefly Twitter account that there were uniformed men outside her apartment. Her Twitter account was later deleted.
Reported by Wong Lok-to for RFA's Cantonese Service, and by Jia Ao for the Mandarin Service. Translated and edited by Luisetta Mudie.
Source: Copyright © 1998-2016, RFA. Used with the permission of Radio Free Asia, 2025 M St. NW, Suite 300, Washington DC 20036. https://www.rfa.org.