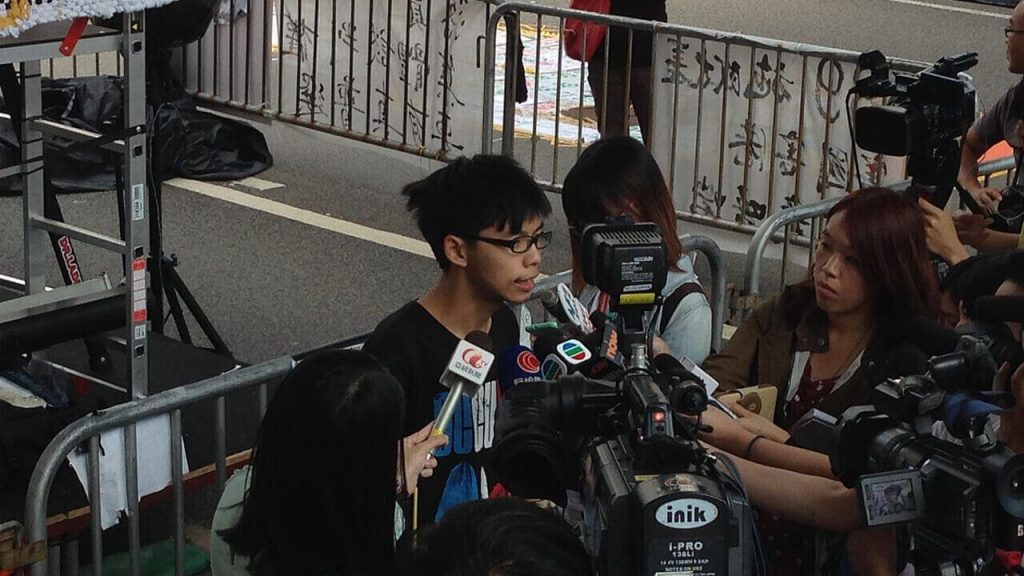 Four years after he helped to launch a mass civil disobedience movement for fully democratic elections, activist Joshua Wong is still facing a travel ban.
Wong, who had begun serving a six-month jail term for his part in the storming of police barriers outside government headquarters on Sept. 26, 2014, at the start of the Occupy Central democracy movement, was acquitted alongside fellow defendants Nathan Law and Alex Chow by Hong Kong's Court of Final Appeal in February.
But he was also handed a three-month sentence for "contempt of court," for trying to block the police clearance of an Occupy protest site in Mong Kok at the tail-end of the Umbrella Movement, which gained its nickname from the use of umbrellas by peaceful protesters to ward off pepper spray and tear-gas attacks by riot police.
He was released on bail in January, but his passport was confiscated. Now, the city's High Court has denied his request to ease his bail conditions pending a hearing in the "contempt of court" case scheduled for April next year.
"I've been unable to retrieve my passport, since the 'contempt of court' case is scheduled to be heard on April 3, 2019," Wong said on Friday via his Facebook page. "This means I'll be unable to travel for another eight months."
"I'm deeply disappointed by the court's decision not to review my bail conditions, which means I'll continue not to have access to my passport," he wrote. "This not only limits my official work but is also an infringement of my freedom of movement."
The ban will mean Wong is unable to accept invitations to speak at the Cambridge Union debating club and the Conservative Party conference in the U.K. from Sept. 29 to Oct. 8.
Wong will also be unable to travel to Geneva, where United Nations human rights experts will be evaluating China's, and also Hong Kong's, human rights record in October.
He will also be forced to turned down a visit to Washington in December to receive the Lantos Human Rights Prize, and speaking engagements on the democratic island of Taiwan, and in Berlin, Wong said.
The Lantos Human Rights Prize is an annual award aimed at raising global awareness of human rights violations around the world, and to support individuals committed to fighting against them. Previous recipients have included Hillary Clinton, Chen Guangcheng, Prof. Elie Wiesel, and the Dalai Lama.
Wong will also be unable to attend a ceremony at Dublin University, where the Philosophical Society has awarded him a Gold Medal of Honorary Patronage for his work in politics and activism.
'Last outpost'
On Friday, hundreds of people marked the anniversary of the Umbrella Movement in Admiralty district, home of the wall of posters, stickers and impromptu artwork that became known as the Lennon Wall.
The use of tear-gas, pepper spray and batons against the student-led protesters who occupied a main road in the district brought hundreds of thousands of people onto the streets at the height of the movement.
But political freedoms in the city, which was promised a "high degree of autonomy" by China after the 1997 handover, have been shrinking rapidly.
Across the internal border in mainland China, rights activists said they fear being detained by the authorities if they call for greater democracy or more freedom.
But Xie Changzhen, a resident of Changsha city in the central province of Hunan, said it was important to mainland Chinese activists that Hong Kong people were still able to speak out.
"Internet controls are pretty tight right now, and my social media accounts have been shut down a number of times," Xie told RFA on Friday. "They are also tightening controls in Hong Kong, aren't they, so things are regressing everywhere."
"Hong Kong is the last outpost of the fight for freedom and democracy," said Xie, who was held for 10 days' administrative detention after he held up a placard in an online selfie supporting the Occupy Central movement. "Even if we have lost all hope, we still have to carry on."
"To the people of Hong Kong, I have only two words to say: Go them!"
Party ban
But the anniversary falls just days after the Hong Kong government announced a ban on a pro-independence political party, in a move strongly criticized by rights groups and pro-democracy politicians for curbing freedom of speech in the city.
Using colonial-era legislation once used to target "triad" criminal gangs in the city, Hong Kong's secretary for security John Lee announced the ban on the Hong Kong National Party (HKNP), after Hong Kong police said the group and its leader Chan Ho-tin, also known as Andy Chan, posed an "imminent threat" to China's territorial integrity and national security because Chan had refused to rule out the use of force or civil disobedience.
Rights groups have called on the Hong Kong government to overturn the ban, so as to meet Hong Kong's commitments under the International Covenant on Civil and Political Rights.
Reported by Wen Yuqing for RFA's Cantonese Service. Translated and edited by Luisetta Mudie.
Source: Copyright © 1998-2016, RFA. Used with the permission of Radio Free Asia, 2025 M St. NW, Suite 300, Washington DC 20036. https://www.rfa.org.