Authorities in the central Chinese province of Hubei on Wednesday handed down a 13-year jail term to veteran pro-democracy campaigner and rights activist Qin Yongmin after finding him guilty of subversion.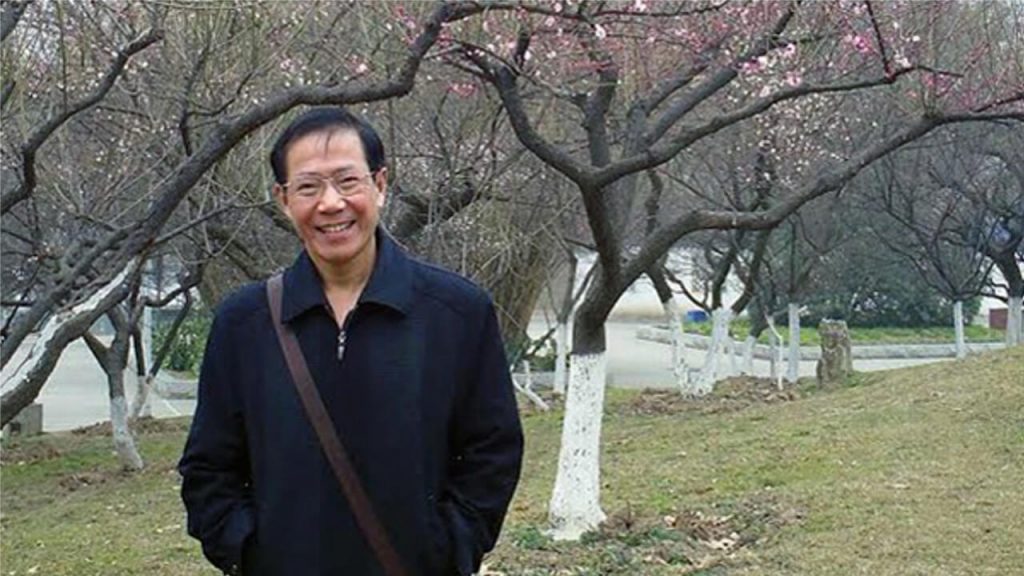 Qin, 65, was sentenced to 13 years' imprisonment by the Wuhan Intermediate People's Court, which convicted him of "incitement to subvert state power."
Calls to both of Qin's defense attorneys rang unanswered following the announcement.
A friend of Qin's said she was devastated by the harshness of the sentence, which she believes is intended to send a message to anyone expressing public dissent or opposition to the ruling Chinese Communist Party.
"I was in floods of tears when I heard the news," the friend said. "But it's also something of a badge of honor to this elderly man, who will have served nearly 39 years behind bars [by the end of the sentence]."
She said Qin is innocent of any crime.
"There is no wrong-doing here; Qin Yongmin has always been innocent," she said. "It's the duty and responsibility of every citizen to bring up issues with the government, to oversee what they are doing, and to demand that they do better."
Security outside the court buildings was tight ahead of the sentencing hearing, while state security police were holding Qin's wife Zhao Suli incommunicado, under 24-hour surveillance, sources told RFA.
Police detained around a dozen people who came to show support for Qin on the day of the hearing, including rights activist He Jiawei.
"The authorities were on high alert," He said, as he was traveling back to his hometown on the high-speed railway under police escort on Wednesday. "We were at the gates of the court getting ready to take photos, when we were dragged away by a bunch of plainclothes cops."
"I'm on the high-speed train being escorted home right now," he said. "We went there to let the party and the government know that they can't fool us, no matter how much power they have. People will still notice whatever they do."
Police visits
Meanwhile, Wu Lijuan, the editor of the website for the Rose China rights group founded by Qin, was visited by state security police ahead of the sentencing and warned not to go to the court, and not to speak to journalists.
Anhui-based rights activist Zhu Xiaoping said she was detained on Tuesday by Wuhan police as she arrived at the Hankou railway station, and held overnight at a local police station, before being sent home again the next day.
"The [Wuhan] police detained me at Hankou railway station at 3.42 p.m. yesterday," Zhu said. "They forced me into their vehicle, and I scraped my leg in the process, then took me down to the local police station."
"Ordinary people have no rights or freedoms in this one-party dictatorship," she said. "Qin Yongmin is getting old now and they still hand down such a long sentence. I don't know if he'll even last 13 years."
Qin's friend Chen Jiahong agreed.
"There are no human rights and there is no rule of law," Chen said. "It's pretty clear that they are a dictatorship because of the amendments to the constitution earlier this year."
In March, China's parliament, the National People's Congress, nodded through constitutional changes allowing President Xi Jinping to begin a second term in office with no time-limit attached.
Activist's wife
Qin was detained alongside his wife Zhao Suli in 2015, and both were initially held in an unknown locations. Zhao later disappeared for three years, resurfacing briefly in February before being confined once more to residential surveillance.
Qin was eventually tracked down by friends and lawyers to the Wuhan No. 2 Detention Center, where he has already been held for three years' pretrial detention. It is unclear whether time served will be taken into account in calculating his release date.
Chen said Zhao Suli had been spotted attending the sentencing hearing, in a poor state of health.
"There was somebody propping her up as she walked in; her health is very poor," he said. "This was seen by two or three people."
Zhao's sister Zhao Yulin said her sibling is allowed to take phone calls, but isn't free to leave her home.
"I can't really give you her number, because her phone is being monitored," she said.
A contemporary of exiled dissident Wei Jingsheng, Qin was sentenced to eight years in prison for "counterrevolutionary propaganda and subversion" in the wake of China's Democracy Wall movement in 1981.
He served a further two years' "re-education through labor" in 1993 after he penned a controversial document titled the "Peace Charter."
Qin then served a 12-year jail term for subversion after he helped found the China Democracy Party in 1998 in spite of a ban on opposition political parties.
Source: Copyright © 1998-2016, RFA. Used with the permission of Radio Free Asia, 2025 M St. NW, Suite 300, Washington DC 20036. https://www.rfa.org.