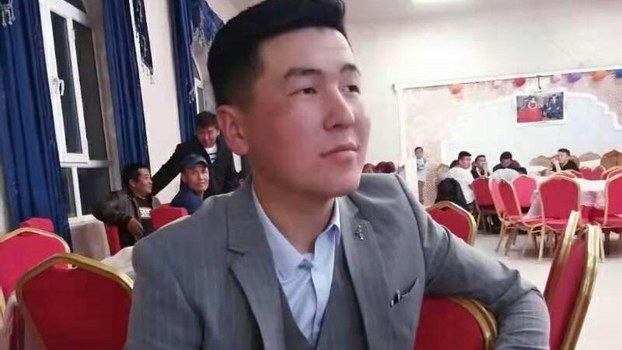 Authorities in northwest China's Xinjiang Uyghur Autonomous Region (XUAR) have sentenced a young ethnic Kazakh wrestler to 15 years in prison for sharing a song by a Kazakhstani musician on social media, according to a former internment camp detainee.
Kastar Polat, a 20-year-old man from Chaghantoqay (in Chinese, Yumin) county, in Ili Kazakh (Yili Hasake) Autonomous Prefecture's Tarbaghatay (Tacheng) prefecture, was detained on July 7, 2019 after posting a song by Kazakhstani singer Didar Kamiev on Douyin—the Chinese version of TikTok—ethnic Kazakh former camp detainee Baqytali recently told RFA's Uyghur Service.
According to Baqytali, who is now living in Kazakhstan, Polat's family received a written notification of his detention from a local branch of the Public Security Bureau in their home township of Qarighay listing the reason as "promotion of religious extremism" for sharing the song.
A month later, Polat was handed a 15-year prison sentence and a 30,000-yuan (U.S. $4,500) fine by court authorities, Baqytali said.
"On Aug. 15, they held a trial and sentenced him to 15 years and told him he had to pay a fine of 30,000 yuan," he said.
"He's so young. He's also famous [for his wrestling]. He's done nothing wrong other than sharing that song [on Douyin]."
Polat had won back-to-back first-place accolades in a series of wrestling matches held throughout Tarbaghatay over the past three years, Baqytali told RFA, describing him as "a very strong young man."
He said Polat, a member of a Kazakh minority in China that numbers about 1.4 million people, had no prior history of arrest or trouble with law enforcement.
RFA spoke with a number of people in Chaghantoqay government offices who refused to divulge any information about the case.
An employee with the Chaghantoqay government said, "We can't tell you about that," when asked about Polat by an RFA reporter.
A court employee in the county deferred questions about the case to the national security office, where a representative refused to provide any information.
A police officer named Azarkan, who Baqytali had identified as responsible for detaining Polat, confirmed that he had done so when contacted by RFA, but hung up the phone when asked about details of his case, including his sentencing.
'Extremist' music
According to information available online, Kazakhstani singer Didar Kamiev's music is beloved not just in Kazakhstan but throughout the Turkic world. The singer, who accompanies himself on a short-necked two-stringed lute called the dombra, has performed in several large festivals, including an international festival celebrating Turkic music.
Juret Nizamidin, a U.S.-based Uyghur community member who previously worked in the Kazakh division of the official Xinjiang Daily, told RFA that the lyrics of the song Polat had shared including nothing that "directly challenged China."
Instead, he said, Kamiev invites his Kazakh listeners to be people of morals and faith, criticizing those who violate cultural norms.
"It says things like 'let's be people of faith,' 'let's preserve the traditions and culture of the Kazakh people,' 'let's live with faith,'" Nizamidin said, calling the lyrics "really good rhyming verse."
"Ever since … the Chinese began finding examples of 'religious extremism' in everything, they've not been allowing [Kazakhs] to pass on and live according to their tradition … That's why they took this young man and locked him up," he said.
"There's not a single word that signals religious extremism in this song."
According to Nizamidin, the authorities likely see such expressions, which center on non-Han identity and norms, as inimical to China's national interests.
Since early 2017, authorities in the XUAR are believed to have held up to 1.8 million Uyghurs and other Muslim minorities in a vast network of internment camps.
Beginning in October 2018, Beijing acknowledged the existence of the camps, but described them as voluntary "vocational centers," despite reporting by RFA which has found that detainees are mostly held against their will in poor conditions, where they are forced to endure inhumane treatment and political indoctrination.
Reported by Shohret Hoshur for RFA's Uyghur Service. Translated by the Uyghur Service. Written in English by Joshua Lipes.
Source: Copyright © 1998-2016, RFA. Used with the permission of Radio Free Asia, 2025 M St. NW, Suite 300, Washington DC 20036. https://www.rfa.org.